Gold Baby Shower Invitations
What customers have to say about our Baby Shower Invitations
January 26, 2019
I would buy this again definitely!
"This invitation is beautiful I just wish the liners that came with it stuck better"
January 25, 2019
Perfect invite
"These are so cute and came exactly as I expected. Love them!"
January 24, 2019
In love with the shower invites
"These invites are so cute. They came just as ordered. I love shutterfly. They never disappoint."
January 22, 2019
I would buy this product again.
"Bought this for my baby shower invitations and it exceed my expectations."
January 21, 2019
I really liked my purchase experience
"I needed to order baby shower invites. I was pleasantly surprised to find out I could have Shutterfly take care of the invitees addresses, return addresses, and stamps! What a time savor! And the invitations are adorable!!"
The Difference Made By Details
Nothing is as exciting as expecting a new baby. If you are currently planning for the arrival of your bundle of joy, a baby shower is likely on the agenda to celebrate your pregnancy and the impending birth. There are plenty of details to attend to, including a guest list, menu, and entertainment for attendees, and it can all seem a little bit overwhelming.

It's the more meaningful details, though, that will make the event special. Putting in the extra effort can turn a small get-together into a cherished memory, and you can find everything you need to do so at Shutterfly. Whether you're looking for baby shower invites or prints to enjoy after the event, we make adding a personal touch just as easy as it is special.
Customized Invites for Gorgeous Results
When you are hosting an event like a baby shower, every part of it is necessary, including the invitations. By inviting guests to attend, you involve them in the joy of your expectancy, and that is nothing to take lightly. It's why beautifully crafted invitations make all the difference in the impression guests get.

Gold foil baby shower invitations are beautiful and elegant, and the additional level of detail makes them a unique keepsake of the event. You can customize the invite further by adding a photo, choosing from a range of design options and personalizing the text that appears. A special invitation like this lets guests know that they're special, too.
Write Your Baby's Story
From the moment you learn that you are expecting, your child's story begins, and you get to write the people and events that shape it. A baby shower is the beginning of this journey. The people you invite should be there to provide support along the way.

Shutterfly knows how important this day and all of its details are. From proper baby shower etiquette and baby shower themes, we're here to help. We strive to make planning a beautiful celebration so easy you never need to worry about the details. You just have to add your personal touch and leave the rest to us. With rush and next day shipping options available, you don't even need to worry about whether or not your invites will arrive on time.

Shutterfly is here to offer support along every step of the process and ensure that your gold foil baby shower invitations meet all of your expectations. Easy personalization and personal service make us the best bet for all of your stationery needs before and after your baby's arrival.
Related Products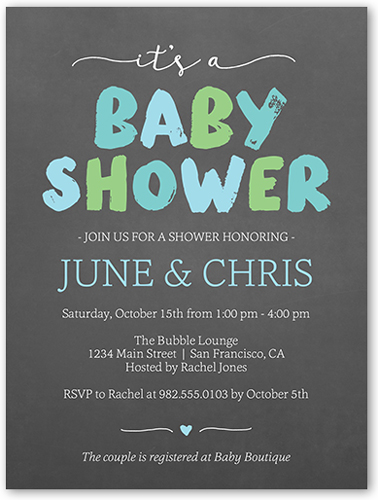 Brushed Letters Boy 4x5 Baby Shower Invitation Cards. Shower her with love and a stylish baby shower invitation. Personalize it with the party details.
Cute Cradle Boys 5x7 Stationery Card by Hello, Kelle. Shower her with love and a stylish baby shower invitation. Personalize it with the party details.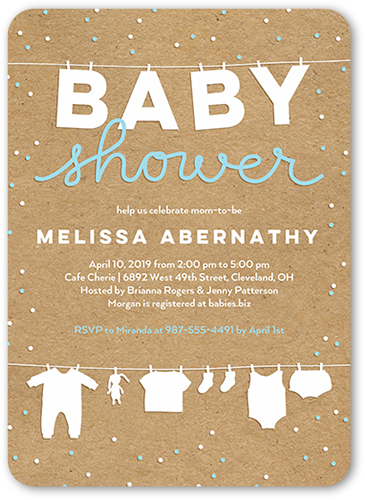 Cute Linens Boy 5x7 Baby Shower Invitation Cards. Shower her with love and a stylish baby shower invitation. Personalize it with the party details