Green Baby Shower Invitations
What customers have to say about our Baby Shower Invitations
January 26, 2019
I would buy this again definitely!
"This invitation is beautiful I just wish the liners that came with it stuck better"
January 25, 2019
Perfect invite
"These are so cute and came exactly as I expected. Love them!"
January 24, 2019
In love with the shower invites
"These invites are so cute. They came just as ordered. I love shutterfly. They never disappoint."
January 22, 2019
I would buy this product again.
"Bought this for my baby shower invitations and it exceed my expectations."
January 21, 2019
I really liked my purchase experience
"I needed to order baby shower invites. I was pleasantly surprised to find out I could have Shutterfly take care of the invitees addresses, return addresses, and stamps! What a time savor! And the invitations are adorable!!"
Green Baby Shower Invitations
A special baby is on the way, and it's time to celebrate in style! Whether you're throwing a shower for a girl or boy, using green baby shower invitations from Shutterfly is a unique choice that won't go unnoticed. Your guests will love the soft shades of green paired with any of our fabulous design options.
First Impressions Make a Difference
Make a great first impression and give the parents-to-be a wonderful keepsake with custom green baby shower invitations. Choose an adorable woodland animal theme or keep it classic with a floral pattern. Will the gender be a surprise? No problem! Consider a neutral chalkboard design or light green animal print.
No matter what you choose, you can personalize your green invitation with custom paper or a fun trim. Add a scalloped edge for a delicate touch or rounded corners for a clean look. For a more sophisticated event, wow your guests with a gorgeous bracket trim and Pearl Shimmer Cardstock. Change the look with a different font or make it your own with a photo and personalized message on the back.
Personalize a Green Baby Shower Invitation
At Shutterfly, you don't have to stop at personalized invitations for your baby shower. Choose from a variety of envelope colors or slip-in liner patterns that will add just the right amount of detail. Use Shutterfly's recommended colors to complement your green invitation or get creative with a bold choice. Short on time? Shutterfly can even stamp and mail your cards for you! If you're not quite ready to send them, be sure to add matching or coordinating baby address labels to save time later.
Your custom green baby shower invitations will definitely get the party started, but you can make an even bigger impact after it's over with a thoughtful photo gift of the event. Your guests of honor can relive every silly and sentimental moment throughout the years with a personalized photo book or premium posters. With Shutterfly's incredible prices and unbeatable selection, you can be sure your baby shower will be one to remember from start to finish.
Related Products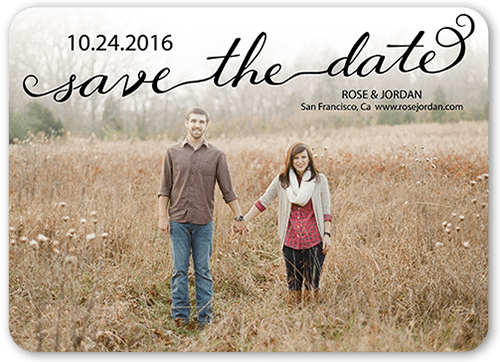 Perfect Bond 5x7 Stationery Card by Yours Truly. Make sure they mark their calendars with this stylish Save the Date card. Just add a photo and your nuptial details.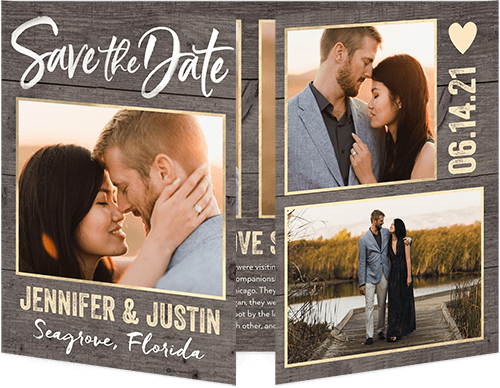 Sweetly Saved Gate Fold by Stacy Claire Boyd. Make sure they mark their calendars with this stylish Save the Date card. Just add a photo and your nuptial details.