What customers have to say about our Thank You Cards
January 27, 2019
Grateful for my thank you cards
"I ordered these cards to give out with my closing gifts to my buyers and I am so glad that I did. The quality is amazing and the print was perfect. Can't wait to use them!"
"Love the size, love the card stock, love how our photo fit so nicely."
January 27, 2019
Love these cards.
"Shutterfly always does a great job."
"Once again, Iove my end result from Shutterfly. The people love their personalized cards too."
January 26, 2019
These turned out so CUTE!!!
"The card stock is very heavy and makes it a nice writing experience. Quality, thick, great bright colors on the card. This is a great product and a wonderful purchase."
Green Thank You Cards
When you have something special going on in your life and your friends and family members are there to share it with you, it's important to recognize them and thank them. You could throw a thank you party, send out cards or simply give them a call to express your thanks. With so many ways to personalize neutral thank you cards, it's a fun and unique way to show gratitude. Green thank you cards can be used for the following occasions:
After a Housewarming Party – If you have just moved into a new home, chances are your friends and family members helped you get there. Whether they physically moved your furniture for you or threw you a housewarming party, every little action is helpful and generous. The color green represents life, freshness and renewal. These are some perfect words that describe a new chapter in your life associated with your new home purchase. Sending green thank you cards to those who helped you get into your home is the perfect symbol.
When You Receive a New Job – If you want your boss or manager to understand how truly grateful you are after receiving a new job or a promotion, use a thank you card in blue or green. This color is often associated with money and ambition. Searching through our options, you may find the perfect color of green to portray this message and can send your new boss the perfect thank you card.
When You Become Pregnant – If you had to have help from a fertility specialist to become pregnant, it's a good idea to send the specialist a card when you have success. The color green also symbolizes fertility, making it the perfect choice for this situation.
Whether you have recently moved to a new home, have received a job promotion or are finally pregnant, show those who helped you out how grateful you are with green thank you cards. Our personalization options make it easy to get your message across in a fun and colorful way.
Related Products
Cheery Fizz 3x5 Wedding Thank You Card. Show just how much you appreciate them with this stylish thank you card. Add your favorite photos and a message of thanks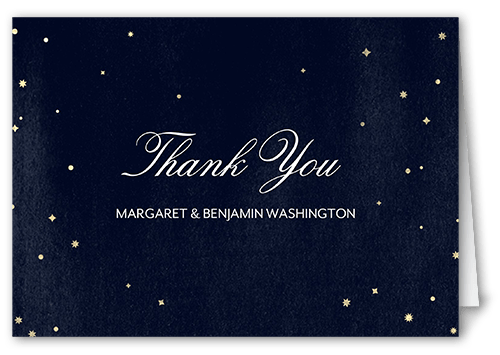 Elegant Sky 3x5 Folded Wedding Thank You Card. Show just how much you appreciate them with this stylish thank you card. Add your favorite photos and a message of thanks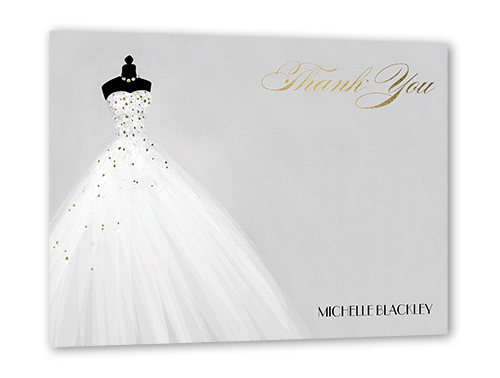 Exquisite Bride 3x5 Folded Wedding Thank You Card. Show just how much you appreciate them with this stylish thank you card. Add your favorite photos and a message of thanks