Grey Baby Shower Invitations
What customers have to say about our Baby Shower Invitations
January 26, 2019
I would buy this again definitely!
"This invitation is beautiful I just wish the liners that came with it stuck better"
January 25, 2019
Perfect invite
"These are so cute and came exactly as I expected. Love them!"
January 24, 2019
In love with the shower invites
"These invites are so cute. They came just as ordered. I love shutterfly. They never disappoint."
January 22, 2019
I would buy this product again.
"Bought this for my baby shower invitations and it exceed my expectations."
January 21, 2019
I really liked my purchase experience
"I needed to order baby shower invites. I was pleasantly surprised to find out I could have Shutterfly take care of the invitees addresses, return addresses, and stamps! What a time savor! And the invitations are adorable!!"
Gender Neutral Gray Invites Will Keep Your Secret
There are plenty of reasons you may not want to reveal the sex of the baby that's on the way. Maybe you yourself have chosen not to know or perhaps you have simply chosen to keep the details private. Guarding the gender of your baby doesn't detract from the excitement at all, and when it comes to throwing a baby shower, you can still host an amazing event.

One of the most crucial parts of your party will be the invitations you send out. When you go to the store, you may have difficulty finding invites that are stylish, personal and gender neutral, but Shutterfly has an array of baby shower invitations that provide the perfect platform to share your good news.
Share Only as Much as You Want to
With fully customizable options, grey baby shower invitations from Shutterfly make it easy to include all of the details that are important and none of the ones that aren't. This means you can include the text you want and even insert photos if you wish.

This level of customization is exactly what makes Shutterfly the go-to source for grey baby shower invitations. You can select from an array of gorgeous templates and add the personal touch that makes the difference between an invitation and a keepsake. If you need help along the way, we're always here to offer guidance, advice, and assistance with any step of the process.
Select a Baby Shower Theme That Fits
You might think that looking for gender neutral shower invites will limit your available options, but that simply isn't the case at Shutterfly. Just a few of the customization options you can select include the following:
Scalloped trim
Bracket trim
Animal theme
Signature cardstock paper
Photo paper
Pearl shimmer cardstock
In addition to all of these options, you can personalize the invitation to include information about your registry or any RSVP requirements that you may have. Guests will appreciate your attention to detail, and the personalization makes the invitations that much more special. Don't be surprised if your guests compliment the look, style, and contents of your invites as much as they do the baby shower itself. Check out our shipping options to ensure that your invites arrive on time.

Your baby shower is important, and the invitations you use are, too. When you decide to maintain gender neutrality, it might seem like everybody is pressing you for a big reveal, but opting for beautiful gray baby shower invitations will help you keep the secret in style.
Related Products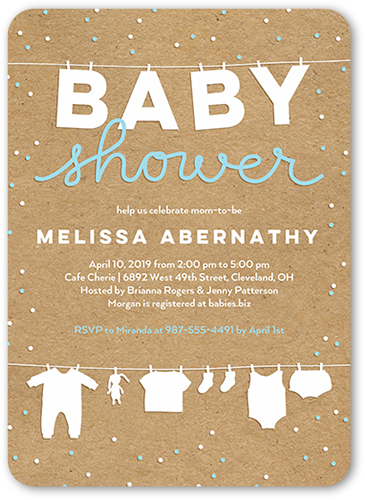 Cute Linens Boy 5x7 Baby Shower Invitation Cards. Shower her with love and a stylish baby shower invitation. Personalize it with the party details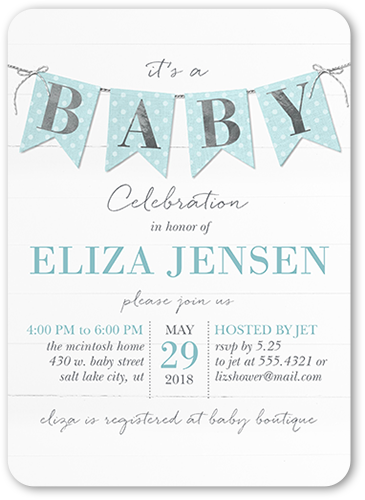 Cute Pennant Boy 5x7 Baby Shower Invitation Cards. Shower her with love and a stylish baby shower invitation. Personalize it with the party details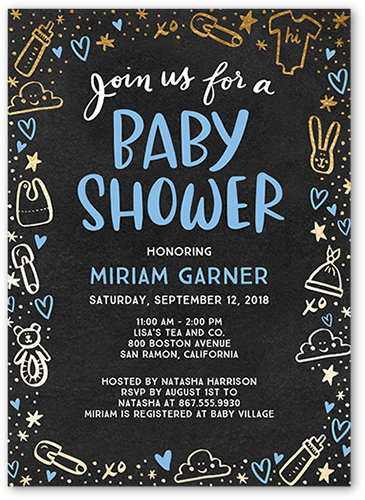 Doodle Border Boy 5x7 Baby Shower Invitation Cards. Shower her with love and a stylish baby shower invitation. Personalize it with the party details