Classic Halloween Cards
What customers have to say about our Halloween Cards
January 22, 2019
Personalized Card Bliss
"Great quality card made from personal photo and personalized captions. Sometimes a store bought card doesn't capture the sentiment you're trying to portray. This is a fantastic option to create your own!"
January 19, 2019
They LOVED my Thank-You Card!
"I made a couple of thank-you cards for my grandkids and my daughter. It was easy to make a professional-looking card and the paper was of good quality"
January 12, 2019
Shutterfly products always look great!
"If you love one of your photos, turn it into a card! Whether it's a Thank you card, a sympathy card, a birthday card or any other kind of card, it'll turn out great!"
January 10, 2019
It exceeded my expectations
"Great, professional results"
"quick and easy. Great pricing."
Send Halloween Greetings to Family and Friends
Halloween might be synonymous with candy, but that doesn't mean trick-or-treating is the only way to celebrate the season. Send Halloween greetings to family and friends near and far by creating Halloween cards and stationery. These themed cards will be a welcome greeting in your recipient's mailbox and allow you to celebrate the holiday in a new way. Whether you want to be fun, frightful, or a little bit of both, these Halloween cards will deliver.
Celebrate the Spooky Season
Use Halloween-themed classic cards and stationery to send your greetings for a frightfully fantastic season. These personalized cards can feature a picture of you and your family members wearing costumes, which adds even more fun and festivity to these cards. Get creative when selecting a photograph for these fun cards. Showcasing Halloween's classic orange and black color palette, these cards help your recipients get in the Halloween spirit long before superheroes, princesses, and zombies ring their doorbell looking for treats. Start their Halloween celebrations early with these personalized cards.
Create a Ghoulish Halloween Greeting
Creating a customized Halloween card does not take a lot of time, but it will brighten the day of your recipient. Start your Halloween card by selecting a paper type -- Signature Cardstock or Pearl Shimmer Cardstock. Then, choose a trim, including rounded, square, scallop, or bracket. Next, upload your favorite photos, which can be Halloween themed, to your festive card. You're an order away from delivering ghoulish greetings to your friends and family, whether they live across the street or across the country.
Say Trick-or-Treat to Friends and Family
Shutterfly knows that every occasion deserves celebration, and Halloween is no exception. Get your friends and family in the spooky spirit by delivering customized cards to their mailbox. With cards for every occasion, Shutterfly allows you to surprise your family and friends year-round with personalized greetings. After you've ordered your Halloween cards, remember that Thanksgiving, Christmas, and Hanukkah are just around the corner.
Related Products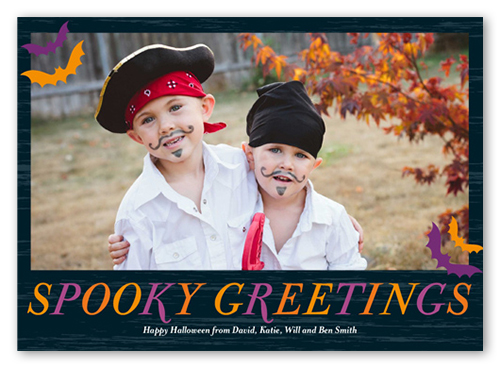 Bright Bat Frame 5x7 Halloween Photo Cards. Invite friends & family to party or trick-or-treat with fun Halloween cards. Shop now!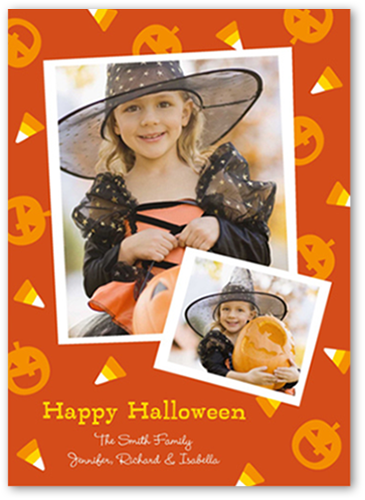 Candy Corn Frames 5x7 Halloween Photo Cards. Invite friends & family to party or trick-or-treat with fun Halloween cards. Shop now!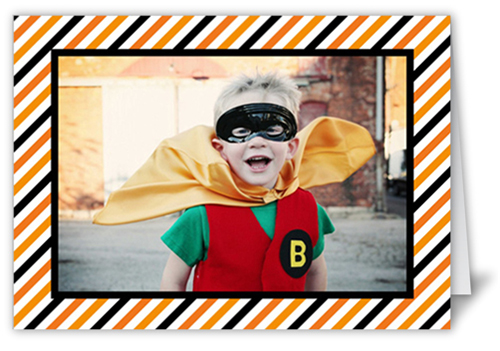 Candycorn Stripe Frame 5x7 Halloween Cards. Invite friends & family to party or trick-or-treat with fun Halloween cards. Shop now!