Halloween Address Labels
What customers have to say about our Halloween Address Labels
January 21, 2019
My family looks forward to this every year!
"Each year I make a calendar for my very large family and include the 75+ birthdays and anniversaries with pictures to enjoy. It's always a holiday favorite!"
January 19, 2019
I would order more labels if needed
"To mail out letters or cards to family & friends. Like the color & font"
January 16, 2019
Address Labels
"I love these address labels, they are so pretty. Everything was correct on the order and it came really quickly!"
January 15, 2019
Outstanding Holiday Cards
"Announcing our new address, retirment to Family & Friends - Wishing All a Happy New Year! Loved the full page text box for announcing big changes in our life and summary of year 2018."
January 7, 2019
I would buy this product again
"Quality is great just as all Shutterfly products! I'm so excited to use these when I send out my Halloween invitations to my grand-children every year for our Annual Halloween Party! The address label will match the invitation perfectly!"
Personalized Halloween Address Labels
If you are the type of person who sends out cards for every season, chances are your friends and family look forward to your greetings. Halloween should be no different. This fall, send out your Halloween cards in style. Step up your game and finish your correspondence with one-of-a-kind custom Halloween return mailing address labels.
Designing Your Custom Halloween Labels
With Shutterfly, it's easier than ever to create unique stationery for every season. This Halloween, custom return mailing address labels will bring your cards up a notch. Shutterfly has more than ten different Halloween return mailing address label options and all can be personalized to match your distinct personality. Once you pick your favorite, you can customize the font colors and sizes, the messaging and even the design elements. All labels are easy to peel and come shipped to your door ready to be sent out with your greetings. It doesn't matter whether you prefer tricks or treats for Halloween, your stationery will be top of the line.
Fun Halloween Ideas
Anyone can trick or treat, but it takes someone special to have the coolest haunted house on the block. Help build a great memory with the kiddos this autumn and turn your front yard into a spooky graveyard. You can turn old cardboard boxes into a ghoulish cemetery, accented by spider webs. Turn old sheets into ghosts and hang them with fishing line from the trees. Don't forget to photograph their delight as you turn your front yard into a ghostly cemetery. Use large coats and wrap them around stacks of objects in front-facing windows to add a level of spookiness to your decorations. Reuse white Christmas lights for a fun effect.
Labels for Every Season
Custom labels from Shutterfly are a classy way to elegantly finish all of your correspondence. Shutterfly has hundreds of custom return mailing address label options for all seasons, holidays, events and greetings. Whether you are looking for the perfect finish to your wedding invitations or just a fun way to show off your family's unique personality, custom labels are a great way to send a polished hello.
There is a reason Halloween is a favorite holiday for so many people. It's fun, you get to dress up and there is plenty of treats and candy. This Halloween, send out your greetings with extra style using custom Halloween return mailing address labels from Shutterfly.
Related Products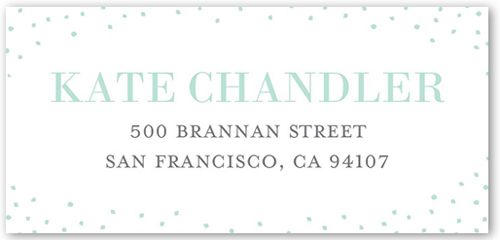 Dreamy Wedding Address Label. Address your envelopes with stylish address labels. Corresponding invitations, gift tags and thank you cards are also available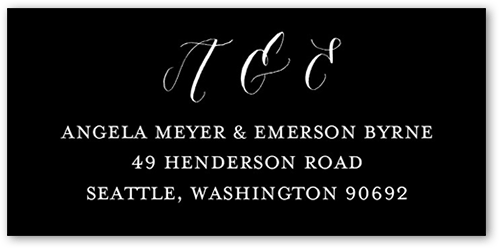 Fine Forever Wedding Address Label. Address your envelopes with stylish address labels. Corresponding invitations, gift tags and thank you cards are also available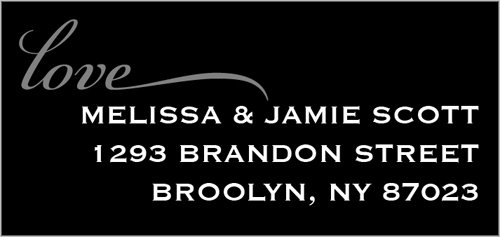 In Script Wedding Address Label. Address your envelopes with stylish address labels. Corresponding invitations, gift tags and thank you cards are also available