Halloween Invitations
What customers have to say about our Halloween Invitations
January 22, 2019
Personalized Card Bliss
"Great quality card made from personal photo and personalized captions. Sometimes a store bought card doesn't capture the sentiment you're trying to portray. This is a fantastic option to create your own!"
January 12, 2019
Shutterfly products always look great!
"If you love one of your photos, turn it into a card! Whether it's a Thank you card, a sympathy card, a birthday card or any other kind of card, it'll turn out great!"
January 10, 2019
It exceeded my expectations
"Great, professional results"
"quick and easy. Great pricing."
January 4, 2019
I love these Birthday Invitations!
"These invitation look even better than I expected. The Pearl Shimmer added a nice touch to it!"
Custom Halloween Party Invitations
Create custom Halloween invitations with Shutterfly. Halloween is the perfect excuse to hold a gathering for your friends and family. After they trick or treat, bring together the ghouls and goblins for an All Hollow's Eve they'll always remember. Invite your loved ones over to your haunted house with custom Halloween invitations from Shutterfly. Sending custom Halloween invitations will help make your Halloween party spooktacular for all who attend. With Shutterfly, you can customize invitations that will wow your guests. Whether you're hosting a costume party or a spooky event, you'll be pleased with your Halloween invitations designed by you.
Designing Your Halloween Party Invitations
Shutterfly has everything you need to design the perfect Halloween party invitation so you can send your Halloween cards and ready the party supplies. Whether you want to feature one of your favorite photos from years' past or simply use a Halloween invitation design, Shutterfly has you covered. Once you choose your favorite invitation template, you can upload your spooky image. The design assistant makes it super simple to customize and select your favorite fonts, colors and message to create truly personalized invitations. Deciding on what to write on your Halloween invitation can be spooky, so make sure that it goes with the overall Halloween theme of the bash. You can choose your favorite premium cardstock and even finish your invitations with custom Halloween return mailing address stickers. Make sure you include all of the important details like the time, date and location of your witch Halloween party. An RSVP by date, accompanied with your contact information will help you plan your Halloween costume party with ease.
Halloween Party Invites and Decorations
Shutterfly has a vast collection of Halloween party invites and templates. Whether you want to decorate your invitations with ghouls, monsters, vampires, or ghosts — you design greeting cards that are perfect for any Halloween bash. If you're hosting a kids Halloween party, let your little ones help you design the invitations and choose a template that they love. If you're looking for quick Halloween costumes for children, check out our custom kids capes and more kids gifts they can use to dress up. To decorate the home for the party, check out our vinyl banners, bunting banners, yard signs, and selfie frames to get the party started. Shutterfly is here to help get you invitations designed, printed, sealed and delivered. Our best photo books let you share the memories of your bash for years to come.
Related Products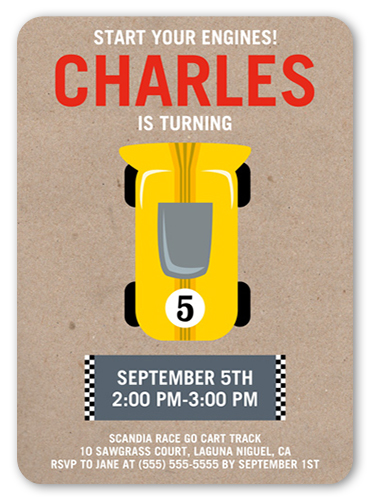 Race Car Party 5x7 Boy Birthday Invitations. Invite all the guests with this stylish birthday invitation. Just add your favorite photos and all the event details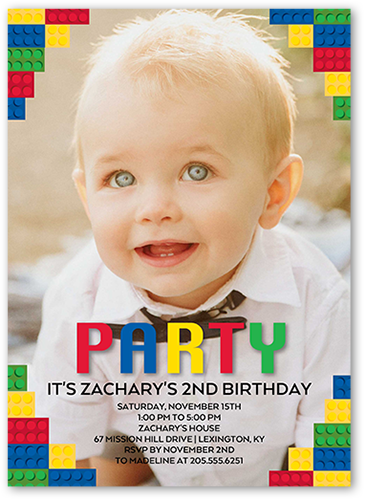 Terrific Party Blocks 5x7 Boys Birthday Invitations. Invite all the guests with this stylish birthday invitation. Just add your favorite photos and all the event details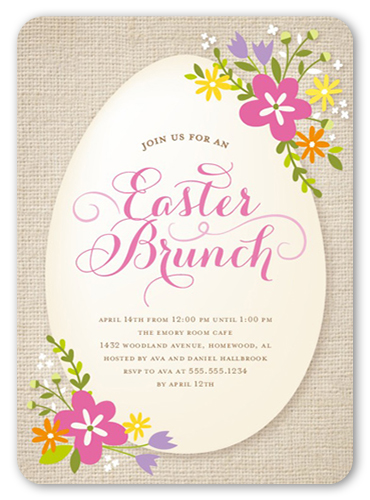 Easter Blooms Easter Party Invitations. A lovely vintage yellow brocade decorates this greeting card. The elegant and classic style is perfect for showing off a favorite picture