Halloween Invitations
What customers have to say about our Halloween Invitations
January 22, 2019
Personalized Card Bliss
"Great quality card made from personal photo and personalized captions. Sometimes a store bought card doesn't capture the sentiment you're trying to portray. This is a fantastic option to create your own!"
January 12, 2019
Shutterfly products always look great!
"If you love one of your photos, turn it into a card! Whether it's a Thank you card, a sympathy card, a birthday card or any other kind of card, it'll turn out great!"
January 10, 2019
It exceeded my expectations
"Great, professional results"
"quick and easy. Great pricing."
January 4, 2019
I love these Birthday Invitations!
"These invitation look even better than I expected. The Pearl Shimmer added a nice touch to it!"
Custom Halloween Party Invitations
Halloween is the perfect excuse to hold a gathering for your friends and family. Bring together the ghouls and goblins for an All Hollow's Eve they'll always remember. Invite your loved ones over to your home with custom Halloween invitations from Shutterfly.
Designing the Invitation
Shutterfly has everything you need to design the perfect Halloween party invitation. Whether you want to feature one of your favorite pictures from years' past or simply use a spooky design, Shutterfly has you covered. Once you choose your favorite invitation template, you can upload your image. The design assistant makes it super simple to select your favorite fonts, colors and message to create truly personalized invitations. Deciding on what to write on your halloween invitation can be spooky, so make sure that it goes with the overall theme of the party.
You can choose your favorite premium cardstock and even finish your invitations with custom Halloween return mailing address labels. Make sure you include all of the important details like the time, date and location of your Halloween party. An RSVP by date, accompanied with your contact information will help you plan your party with ease.
Planning the Party
Bobbing for apples might seem like a thing of the past, but there are plenty of fun games you can play to keep your brood of witches and zombies entertained at your Halloween party. Once you have all of your RSVP's in, you can plan the food. Halloween is the best excuse to play with your menu. Pizza is always a crowd favorite, but it's the season for other fun treats. Instead of pigs in a blanket, turn hotdogs into mummies. A little food coloring and sliced black olives can turn deviled eggs into creepy yet delicious appetizers. If the weather still permits grilling, you can cut jack-o-lantern faces out of cheeseburgers for a very memorable main course. What party would be complete without dessert? Turn normal chocolate cupcakes into spooky and tasty spiders with the addition of licorice legs, candy corn teeth and M&M eyes. For more ideas, check out our Halloween party ideas or brainstorm Halloween party themes.
Host your Halloween pageant costume contest and have various treats and prizes. Make lots of categories, such as most creative, scariest, and overall favorite, so everyone can feel included. Have your little monsters karaoke the monster mash or other ghoulish jams. Don't forget to create some fun and inventive Halloween party games to keep everyone engaged!
Halloween is one of the best holidays to throw a party because there is so much room to express your creativity. Pull out your favorite spooky decorations and get funky with the menu. Shutterfly is here to help get your invitations designed, printed, signed, sealed and delivered.
Related Products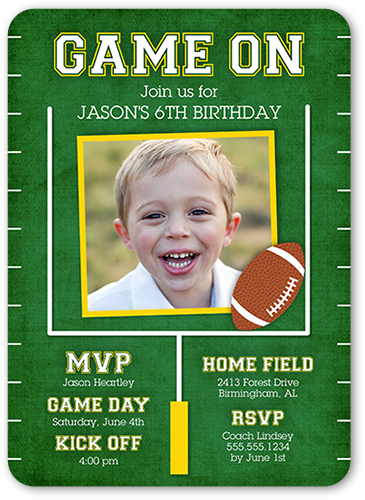 Game On Party 5x7 Custom Birthday Boy Invitations. Invite all the guests with this stylish birthday invitation. Just add your favorite photos and all the event details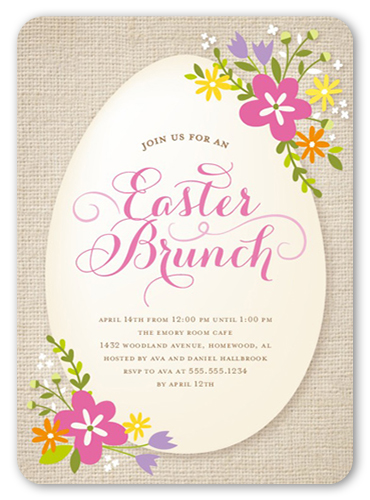 Easter Blooms Easter Party Invitations. A lovely vintage yellow brocade decorates this greeting card. The elegant and classic style is perfect for showing off a favorite picture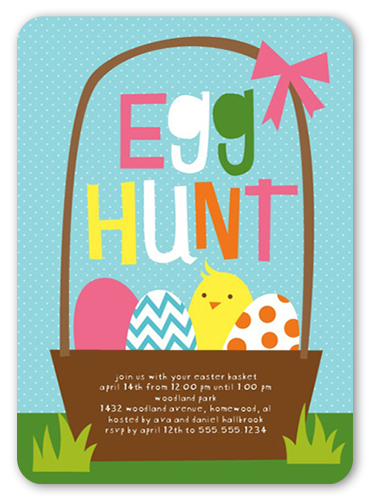 Egg Hunt Easter Party Invitations. This charming Easter invitation chirps its way into our hearts. Event details appear in elegant script lettering below the iconic Easter chick