What customers have to say about our Birth Announcements
January 25, 2019
A Hit With All the Family!
"We used this card as a birth announcement and thank you card for our baby shower attendees. It's on a nice heavy cardstock, and the print was super clear. With my first order there was a smear on the return address on the back of the envelope, but no big deal. With the first order I also didn't receive the blank envelopes I ordered. The second order everything was perfect. I would highly recommend!"
January 24, 2019
Very nice cards
"Super classy cards"
January 24, 2019
Great buy
"Looks and feels great. Came so quickly and is such great quality!"
January 22, 2019
So sweet
"Easy to create!sweet design"
January 22, 2019
Love this product!!
"I love the simplicity of this birth announcement, it was easy to make and arrived on time!"
Welcome Your Little One with Heart Birth Announcements
Becoming a parent is one of the greatest joys in life, and it's an experience you want to share with your loved ones and those closest to you. Many new parents send out baby birth announcements to let friends and family know about their new baby boy or girl.
If you're bursting with love for your new bundle of joy, try sending out a sweet pink heart birth announcement. For families who now have big siblings, consider a sibling baby birth announcement that showcases the sweet addition to your family. At Shutterfly, you can design a baby announcement that is customized to fit your individual personality and style.
How to Create a Baby Birth Announcement
When creating a custom baby announcement card, it can be confusing figuring out where to start. What should you include in it? When do you send your heart birth announcement out? Shutterfly has options that make it easy for you to create the perfect baby birth announcements to celebrate your new bundle of joy.
On baby announcement cards, parents generally include a sweet introduction like a unique baby quote, the baby's full name, the date and time of birth, and the family names. Some parents also choose to add special details of the event to the birth announcement, like the location of the birth and the baby's length and weight.
When creating Shutterfly baby announcements, you can choose details like the orientation, size, paper finish, and trim. You can even upload photos of your newborn to the baby announcement card, so your loved ones have a sneak peek at your new baby. For inspiration, check out our list of birth announcement photo ideas.
Send Your Loved Ones a Baby Announcement Card
For a sweet keepsake of bringing your new baby into the world, you can send your loved ones a baby announcement card. Your heart-themed birth announcement will warm the hearts of your loved ones, and can even match with the theme of your pregnancy announcement cards!

If you're getting started on your baby announcement cards but are lost on how to phrase it, check out these birth announcement wording ideas to inspire your creativity. You can gain ideas on how to word all types of birth announcements, from traditional birth announcement cards to funny card wording that will surely get a laugh out of your loved ones.
Related Products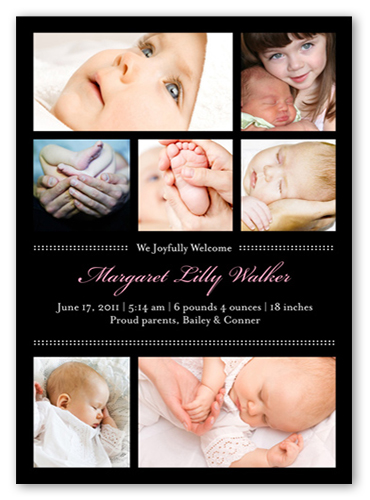 Picture Frames Pink 5x7 Baby Girl Birth Announcements by Stacy Claire Boyd. For all your precious pictures. Show them all off in this girl birth announcement. Add your baby's name and favorite photos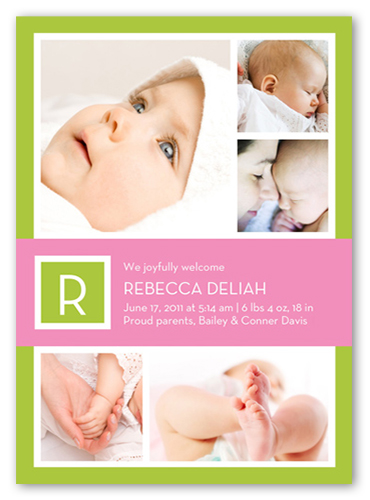 Spring Field Birth Announcement 5x7 Stationery Card by Stacy Claire Boyd. What a stylish way to be welcomed into the world. A chic lime-green border frames your favorite photos while a pink ribbon holds your baby girl's name, birth details ...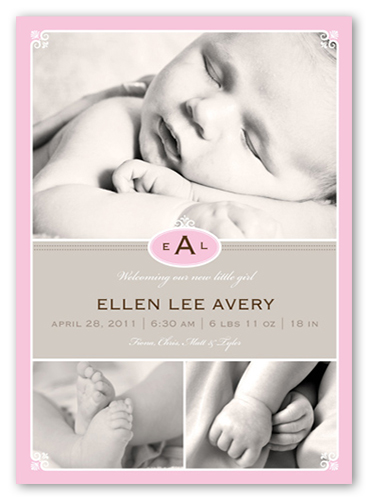 Victorian Frame Rose 5x7 Baby Girl Birth Announcements by Stacy Claire Boyd. What a beautiful way to welcome baby. Elegant swirls on pretty pink frame three photos of your little one in this birth announcement