What customers have to say about our Holiday Cards
January 27, 2019
I highly recommend this card!!
"Absolutely love this card they came out perfect!"
January 23, 2019
good purchase
"Paper is excellent quality as is the envelope. Shipping can be high unless you are ordering a larger number of cards but I only bought one."
January 23, 2019
I will absolutely use this product again.
"The first time I have used Shutterfly for our annual greeting card. Very pleased and will use again."
January 22, 2019
Chinese New Year
"Christmas came too soon. No cards went out. New Year's came and went! Still no cards were sent out. But thanx to Shutterfly, made it for a Chinese Greeting! Beautiful cards front and back with pictures of family sent! Halleluah!!!!!"
January 22, 2019
I looved these cards and they arrived so quickly!
"Shutterfly makes last minute projects easy .. I love these holiday cards and continue to make photo books each month with their app as well as edits on desktop site. I love Shutterfly!"
Custom Holiday Cards
Whether you are dreaming of a white Christmas, looking to share photos of an amazing year or simply trying to keep in touch with a loved one, chances are this holiday season snuck up on you once again. This year, instead of sending boring holiday cards to your friends and family, turn your favorite picture memories into one-of-a-kind photo cards.
Designing Your Holiday Cards
Are you worried that you don't have a workshop to rival Santa? Fear not, because Shutterfly has everything you need to turn your best and brightest memories into beautifully printed holiday cards. Simply upload your favorite pictures into one of the templates. Shutterfly features an easy-to-use design assistant that will allow you to customize your text, design elements and messaging for cards that truly reflect your personality. Shutterfly offers tips and ideas on what to write on your Holiday card to make it special. Make sure to include personalized address labels. You can choose your preferred cardstock option and, before you know it, your cards will arrive at your door with a few clicks of a mouse.
Make the Most of the Season
The best part of the winter season is bringing everyone together. If you don't have the means to host a giant holiday party, consider inviting a few close friends or family members over to bake cookies or make festive decorations. If you live in a warmer climate, consider adding fun elements like paper snowflakes to your decorations. If it's colder where you live, use the season as an excuse to drink cocoa by the fire. If you need to wear the little ones out, consider challenging them to a snowman-building contest (where everyone wins their own unique award). The holidays are a wonderful excuse to see the people you love and to have a little fun.
Give Holiday Gifts with Style
This season, give those on your nice list thoughtful gifts that will show just how much you care. Shutterfly has dozens of unique options to turn your favorite memories into one-of-a-kind, personalized gifts. For the athletes on the go, there are water bottles and reusable tote bags. For the mindful and contemplative people in your life, you can create custom journals and notebooks. It is easier than ever to match the perfect gift to each unique personality on your list.
Whether you celebrate Christmas, Chanukkah or simply want to send out a New Year's Card to those you love, Shutterfly has the perfect holiday card for you. This holiday season, it is easier than ever to share light and joy with thoughtful, elegant holiday cards.
Related Products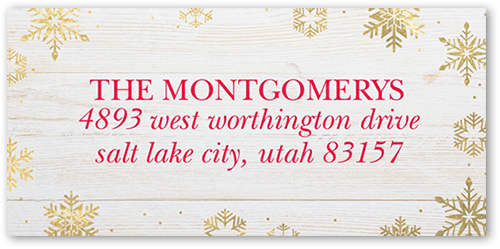 Cool Kraft Snapshots Address Label by Petite Lemon. Address your envelopes with stylish address labels. Corresponding invitations, gift tags and thank you cards are also available.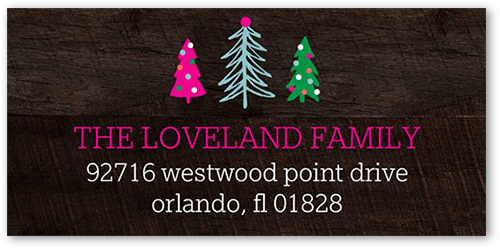 Joyful Whimsical Trees Address Label by Petite Lemon. Address your envelopes with stylish address labels. Corresponding invitations, gift tags and thank you cards are also available.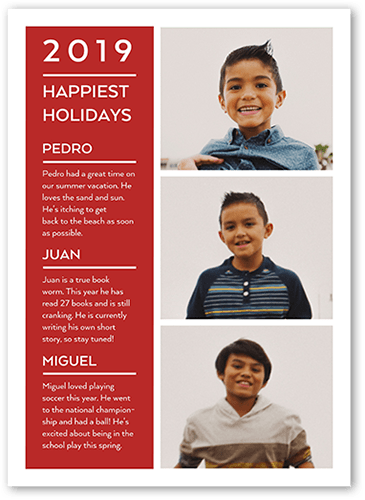 Cheerful Stories 5x7 Stationery Card by Clover. Send a holiday card friends and family will love. Add your own greeting and everyone's names. There's room for more photos and wishes on the back, too.