Photo Baptism Invitations
What customers have to say about our Baptism Invitations
January 23, 2019
Adorable!
"Exactly what we were looking for in an invitation for our son's baptism. The paper and print quality was fantastic!"
January 5, 2019
Beautiful quality cards
"I love these cards and have ordered many over the years. The paper is very nice and heavy for both the cards and envelopes."
December 27, 2018
Yippee Skippee!
"Just PERFECT as to what I wanted... Brilliantly depicted. Graciously received..."
December 23, 2018
This website for placing a simple card order is the worst.
"Impossible. All the other reviews that express frustration with using the Shutterfly website are correct. It is worse than frustrating."
December 18, 2018
Turned out great!
"These invites turned out great. I would definitely recommend!"
Commemorate Your Baby's Special Day With Photo Baptism Invitations
The first few months of your baby's life are a whirlwind, and it can be tough to take some time to reflect and breathe through the fog of being a new parent. That's why so many families choose to celebrate their little one's arrival with a baptism day party. You can make this important date even more memorable with photo baptism invitations that capture this extraordinary time and help you remember the love and laughter for many years to come. Here at Shutterfly, we can also help you mark your baby's initiation into your church with a glorious celebration of life, love, God and family.
Spread the Joyous News
When it's time to get your child's baptism party up and running, photo baptism invitations can help spread the joyous news. In addition to choosing the perfect portrait of your angelic bundle of joy, you can look for the right way to say it and make it even more meaningful. We can help with unique and special baptism quotes you can use on your child's party invitation. Then, it's time to figure out some ways to make the look capture the importance of the day. You can try something with a simple texture or pattern along the frame of your child's smiling face, or you can use the iconic cross design as a backdrop to your little one's portrait.
Make a Memorable Photo Keepsake
Another great thing about photo baptism invitations is they can help families give out a unique and affordable photo keepsake to all their closest friends and family members. In today's digital society, there's often little time to sit down and craft a personalized photo memento that your loved ones can enjoy holding or hanging on their refrigerator. When they get your unique invitation in their mailbox, it can be so much more than a phone or computer notification of a special event honoring your baby. Our quality designs and luxe looks can help your photo invitation be proudly displayed for all to see.
Get an Easy Way to Customize Your Look
We know that during those first few months of your new baby's life, things can get a little crazy. With all the laundry, diapers, spit up and other messy things that come with a new baby, there's rarely time to sit down and work on a custom set of photo baptism invitations. At Shutterfly, we make it simple to quickly upload your picture and choose a few options so your invitation looks amazing. Then, you can simply send it out and start getting ready for your celebration.
Related Products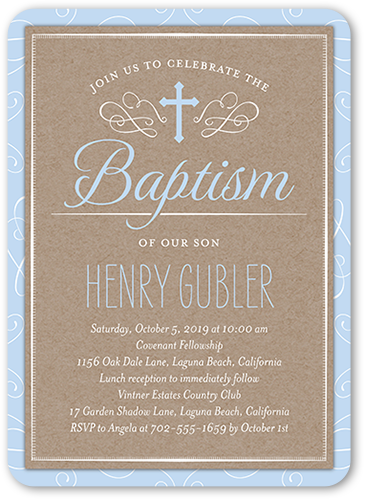 Bordered Purification Boy 5x7 Stationery Card by Blonde Designs. Invite everyone to this memorable and blessed occasion. Personalize this baptism invitation with all the event details.
Filigree Cross Rose 4x5 Christening Invitations. A beautiful filigree cross and pattern adorn this baby pink baptism invitation. Add all the celebration details for this momentous event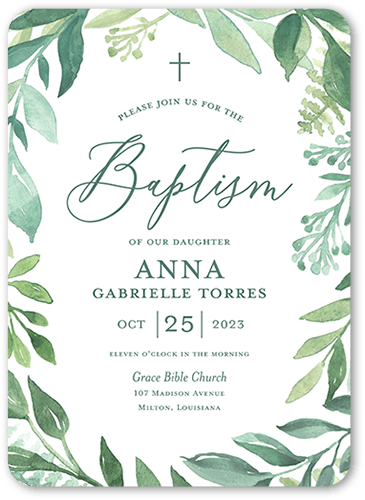 Framed by Florals 5x7 Stationery Card by Stacy Claire Boyd. Invite everyone to this memorable and blessed occasion. Personalize this baptism invitation with all the event details.