2 Photo Graduation Invitations
What customers have to say about our Graduation Invitations
January 22, 2019
Perfect!
"These are just right for any invitation. Very beautiful. We loved them"
January 18, 2019
Great product and shipped quickly!
"I used this for my graduation announcements. The quality of the product was great."
January 15, 2019
Perfect quality.
"We used these for my husband's graduation invitations.. they came out so perfect! We loved putting our in touch on them versus the plain ones the University would of sent out."
November 29, 2018
Definitely recommend!!
"Deloivery was fast! Everything came in a week! Got them delivered off and everyone loved them!"
November 29, 2018
Color is perfect
"They turn out just how I pictured them"
2-Photo Graduation Invitations
Create a custom graduation invitation that properly showcases the grad and their achievements. With Shutterfly's graduation invitations, you can add photos of the student in their cap and gown or other photos of them at school activities, sports events, and more. Your family and friends will love receiving a 2-photo graduation invitation and looking forward to the celebration. After the party is over, you'll still be able to keep the graduation invite as a unique keepsake.
How to Create 2-Photo Custom Grad Invites
To design your graduation party invitations, start by deciding what photos you'd like to feature. Classic choices include photos of the grad in their cap and gown and posing with other friends who are graduating at the same time. With a 2-photo graduation invite, you can also choose one professional grad headshot and more candid photo of the student at school or on campus. Depending on your photos, you may also want to pick a graduation card theme that complements each one. Shutterfly offers collegiate invitation styles just for the college grads as well as more universal styles like sparkle and shine invitations. You can also filter your graduation invites by size to make sure you have enough room for your needs. Create a flat party invitation with the most important party details, or go bigger with a gate fold party invitation that leaves plenty of room for a sweet graduation message or quote about graduation. Once you have your theme and size, customize further by selecting the font and colors that work best for your invite text. Shutterfly will also let you choose between Smooth Cardstock or Pearl Shimmer Cardstock to make sure every detail looks great in print.
Ideas for Graduation Invitation Cards
Make your grad party invites memorable by including photos and messages you love. At a bare minimum, be sure to include your graduation party date, location, and time. You can also include your graduation season and year so guests can know when your graduation ceremony will be. For the photos, consider a fun photoshoot with the family pet. If you or your student plays sports, it's always fun to do a shoot with them dressed in their uniform and posing on their field or court. Create a whimsical style invitation for a highschool grad to highlight the joy of their teenage years, or stick with a modern theme if you're having a more elegant graduation party. As far as the messaging, consider adding a quick note about what the grad has planned for the future, whether they're going to college, starting a new job, or moving elsewhere.
Shop Graduation Party Decor
Once you've sent out your graduation invitations, it's time to get the party supplies ready. Create a custom vinyl banner with the grad's name and graduation year. If they're graduating high school and heading off to college, style the banner with their future school's colors and logo! You can also design yard signs to show off your pride to all the neighbors. Design a fun selfie frame so everyone at the party can take photo-booth style photos. With everything from Shutterfly, you'll have a graduation party that loved ones won't forget anytime soon.
Related Products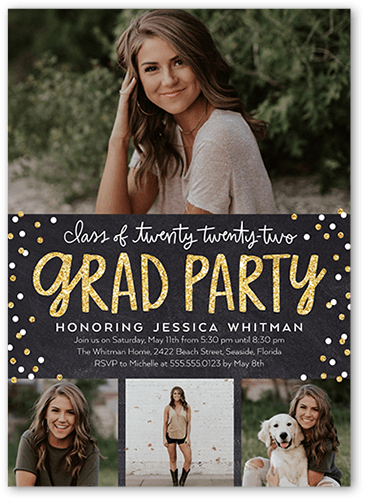 Bokeh Grad Party 5x7 Stationery Card by Stacy Claire Boyd. Invite the guests to the celebration with stylish graduation invitations. Personalize with all the event details.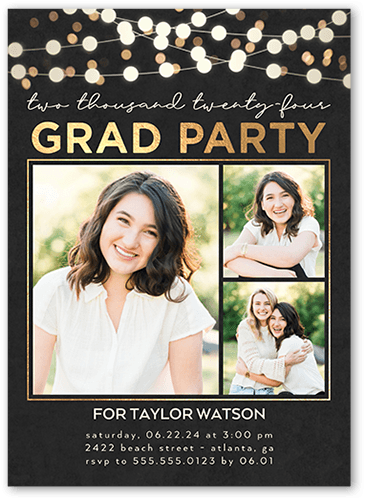 Festive Bokeh Lights 5x7 Stationery Card by Shutterfly. Invite the guests to the celebration with stylish graduation invitations. Personalize with all the event details.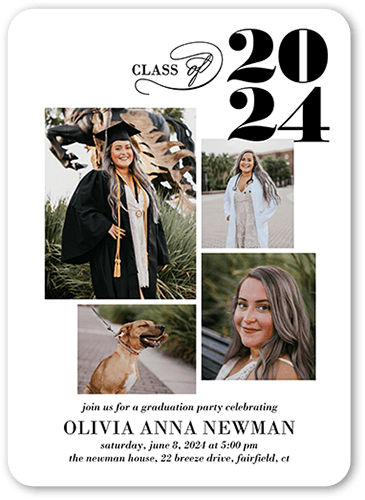 Script Class 5x7 Stationery Card by Yours Truly. Invite the guests to the celebration with stylish graduation invitations. Personalize with all the event details.