Multi Photo Graduation Party Invitations
What customers have to say about our Graduation Invitations
January 22, 2019
Perfect!
"These are just right for any invitation. Very beautiful. We loved them"
January 18, 2019
Great product and shipped quickly!
"I used this for my graduation announcements. The quality of the product was great."
January 15, 2019
Perfect quality.
"We used these for my husband's graduation invitations.. they came out so perfect! We loved putting our in touch on them versus the plain ones the University would of sent out."
November 29, 2018
Definitely recommend!!
"Deloivery was fast! Everything came in a week! Got them delivered off and everyone loved them!"
November 29, 2018
Color is perfect
"They turn out just how I pictured them"
Design Multi Photo Graduation Invitations
A high school or college graduation is a great accomplishment, and you should share the joy with beautiful graduation party invitations. Get your family and friends excited by sending out multi photo graduation invitations. These invitations are ideal for showing off those senior portraits. Picking your favorite portrait can be hard. Feature them all by selecting a collage design. Everyone receiving this announcement will love the personal touches. They will even post them on their refrigerator for months to come.
Customizing Your Multi-Photo Graduation Invitations
These multi-photo graduation invitations are easy to customize to match your party theme or proudly display your favorite photos. Start by selecting a paper for your invitation. Shutterfly offers both traditional cardstock and pearl shimmer cardstock so you can find the right texture for your needs. Depending on how many photos you'd like to use, you'll also be able to choose from a variety of different layouts. Choose photo on photo styles for a unique collage layout that features a focal photo along with other smaller images. The layout is perfect for a variety of options from a graduation photoshoot. The sparkle and shine themes are especially great for adding a little celebratory confetti to the party invitation. If you don't have a party theme, you can always keep it neutral with a simple design that's all about your photos and messaging. Another great idea is choosing a collegiate invitation layout if you're hosting a highschool graduation party. Add your students' future school and design the invitation with the school colors to make it even more symbolic.
What to Write on Grad Party Invites
Once you've made sure your graduation invites look great visually, start deciding what to write inside the card. As with any graduation invite, you'll want to make sure you include the most important details such as the party date, time, and location. If your party is on the same day as the graduation ceremony, you may also want to include information about where and when the ceremony will be held. Add a fun message to your graduation invitation cards if there's room. You'll likely have plenty of space if you create a tri-fold invitation or a larger 6x8 invitation card. The message on your grad invites can be about your future plans, or you can add a sweet graduation quote about the next chapter of life.
Shop Custom Graduation Decor
Honor your graduate the right way. Invite all your friends and family to come to a graduation party in celebration. Your custom graduation invitation will get them excited to celebrate and honor the grad. With a photo graduation invite, it can also double as a unique keepsake to tribute such a big time in your life. As many personalization options as you have with your grad party invites, you'll have the same opportunity to customize your party decor as well. Create a custom party banner with the grad's name and their future school or graduation year. You can also customize garden flags with the grad's school colors to show off that you have a grad at home. Guests and neighbors will love the special touch of decor.
Related Products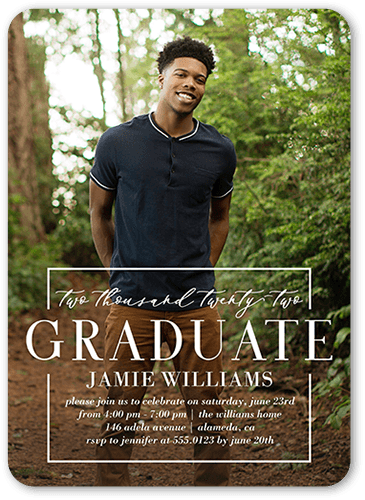 Modern Squared Grad 5x7 Stationery Card by Float Paperie. Invite the guests to the celebration with stylish graduation invitations. Personalize with all the event details.