4th of July Invitations
What customers have to say about our 4th of July Invitations
July 3, 2018
Greeting Cards
"I am very pleased with these greeting cards, like always. I try to get a batch out at main holidays every few months and always come to Shutterfly as I know they have quality products with a lot of special offers."
"Gorgeous cards! I love how all Shutterfly cards are such high quality!"
June 26, 2018
Just what I needed
"I like to send out photo cards thought the year not just at Christmas. The upload your own design option allows me to send cards at times when there isn't a premade template and gives me option to add many photos since I have a large family. Especially for Halloween, Easter or the 4th of July. I always get so many compliments on the cards I send out and my family loves getting the more frequent cards with pictures of my kids since we don't get to see everyone as often as we would like."
June 1, 2018
Turned out beautifully!
"These turned out better than expected! The quality is very nice, it was very easy to work with the formatting and they arrived in a timely manner."
May 28, 2018
Beautiful invitation
"We ordered this invitation with the "ticket" style (corners notched out) - and it's absolutely beautiful. Easy to read, nice layout and heavy card-stock."
Celebrate With Custom 4th of July Invitations
Prepare to celebrate Independence Day with 4th of July party invitations. Whether you're having a BBQ cookout, a pool party, or a stars and stripes-themed soiree, you can invite your guests with custom 4th of July invites that are perfect for any summer bash. With our red, white, and blue templates, share the info for your 4th of July celebration with all of your guests so they're ready to party. You can customize your invites with photos and text, so your greeting cards will wow your guests when they arrive in the mail. Your patriotic party will be a blast when you plan it with Shutterfly.
Designing Independence Day Invitations
From poolside fun to fireworks shows, Shutterfly has you covered better than waterproof bug spray when it comes to designing custom 4th of July invitations for summertime soirees. You can easily upload one or a few of your favorite photos to one of the simple-to-use templates. Customize your Independence Day party invitations with your favorite fonts, colors, and other design elements. Be sure to include the location and the time your party starts on your fourth of July invitations. Bonus tip, include a RSVP (and RSVP contact info) to help ease your party planning. Make certain that you note if it's a potluck or if you will be providing all refreshments. Whether it's a backyard BBQ or something more formal, you can create the best party invites with Shutterfly. Aim to send out your patriotic party invitations at least three weeks before the festivities to allow your friends and family to make arrangements to attend your event.
Plan the Party With 4th of July Party Invitations
Once you've sent out your fourth of July party invitations and have an idea about the RSVPs, you will have a better idea about how you should plan your celebration. Not sure about the decorations? Stock up on things that are red, white and blue. Get your backyard, deck or patio party-ready with custom outdoor pillows. Also, serving trays will help you easily get drinks from one place to another. Personalized mason jars make sturdy mason jars and fun takeaways for your summer party. The Fourth of July is the pinnacle of summer and your party is guaranteed to be a blast. Stock up on sparklers, cool treats and party snacks for a summer party no one will forget. Shutterfly is here to help your party go off without an explosion. If you're a guest, you can even bring personalized gifts for the host to thank them for their hospitality.
Related Products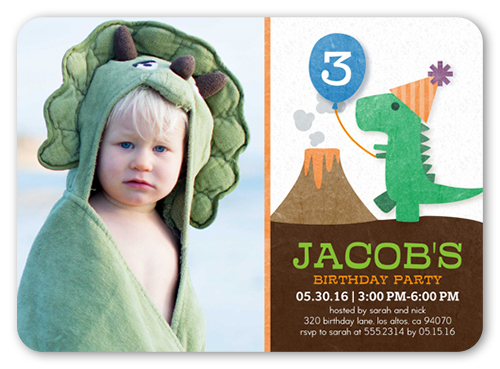 Party Dinosaur 5x7 Boy Birthday Invitations. Invite all the guests with this stylish birthday invitation. Just add your favorite photos and all the event details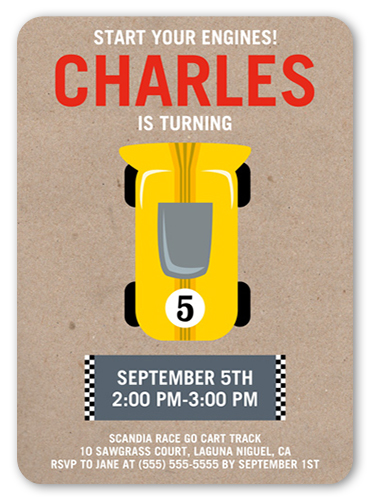 Race Car Party 5x7 Boy Birthday Invitations. Invite all the guests with this stylish birthday invitation. Just add your favorite photos and all the event details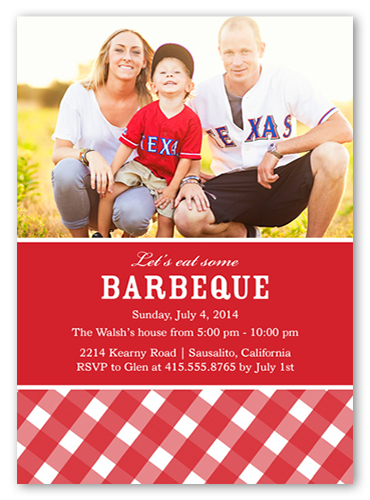 BBQ 5x7 Surprise Party Invitations. The heat is on. A picnic-perfect print adds a jolt of color to this summer barbecue invitation. The party details appear on a bright red background