5x7 Bridal Shower Invitations
What customers have to say about our Bridal Shower Invitations
January 22, 2019
Personalized Card Bliss
"Great quality card made from personal photo and personalized captions. Sometimes a store bought card doesn't capture the sentiment you're trying to portray. This is a fantastic option to create your own!"
January 22, 2019
Beautiful!!
"Easy to design. Great communication. Super fast printing and delivery. Invitations were shipped next day."
January 21, 2019
Love them!
"They are great quality and look perfect."
January 20, 2019
Great quality!
"The invites for my cousins bridal shower were perfect. Great quality and fast shipping."
January 18, 2019
I was very pleased with the invitations!
"I needed invitations for a bridal shower and someone recommended Shutterfly. They were easy to order and came in a timely manner."
5x7 Bridal Shower Invitations
If you're looking for a bridal shower invitation design that perfectly showcases your personality and style – and coordinates with the theme of your event – you'll find what you need in this beautiful collection. Shutterfly's 5x7 bridal shower invitation collection offers a wide selection of styles, from classic and elegant to modern and trendy. But it doesn't stop with finding a template you love! Our online customization tool features various options that enable you to personalize your stunning bridal shower invitations and make them truly unique to you.
Design Custom Bridal Shower Invitations
In our collection of 5x7 bridal shower invitations, you'll find a design that's perfectly suited to you and your event – from classic, timeless designs to chic, contemporary ones. All of our invitation designs can be personalized with ease, making it convenient for you to create a one-of-a-kind, memorable bridal shower invite that will delight your recipients. Choose from various colors, font styles, and sizes, trim options and more. After selecting your customization options, write your own personalized message, and, if you wish, you can also upload a special photo of you and your significant other. Invitees are sure to love the additional personalized touch adding a photo brings. In your 5x7 bridal shower invitations, remember to include all of the important information your invitees need to know, such as the date, time and place your bridal shower will take place – as well as any dress code, if applicable. To help you plan properly for your event, include an RSVP-by date, contact name, phone number and email address. If you've received an invite, don't forget to personalize unique bridal shower gifts for the bride-to-be in your life.
Eye-Catching Stationery for Your Bridal Shower Invites
Highlight your bridal shower invitations by adding style and personality to the envelopes. Shutterfly offers beautiful, coordinating personalized address labels and stickers that will make your envelopes stand out in the mail. When you dress up your envelopes with these simple additional touches, your bridal shower invitations will be sure to grab the attention of your invitees before they even open them! Create a cohesive look for all your wedding stationery needs by designing everything with Shutterfly. When you're wedding planning, we have stylish designs for what you need before and after your wedding or elopement, as well as for your wedding day. Check out our save the dates, thank you cards, programs, menus, place cards, napkins and more.
Related Products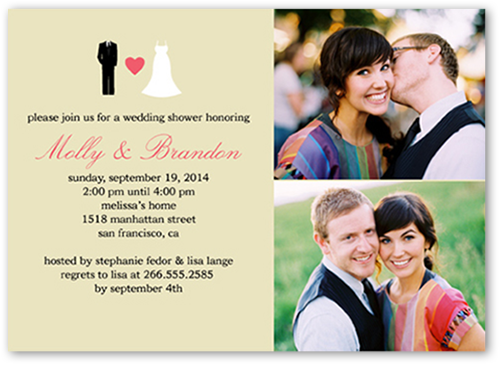 Cake Toppers 5x7 Bridal Shower Invitations. This sweet bridal shower invitations takes the cake. Whimsical cake toppers and a sweet heart top off the names of the bride and groom and all the invitation details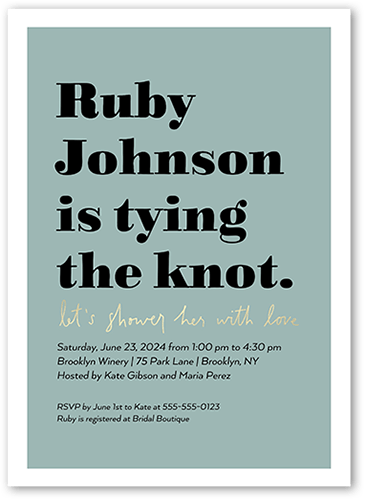 Celebrate The Tying 5x7 Stationery Card by Petite Alma. Celebrate the bride-to-be with this bridal shower invitation. Add the celebration details and a favorite photo.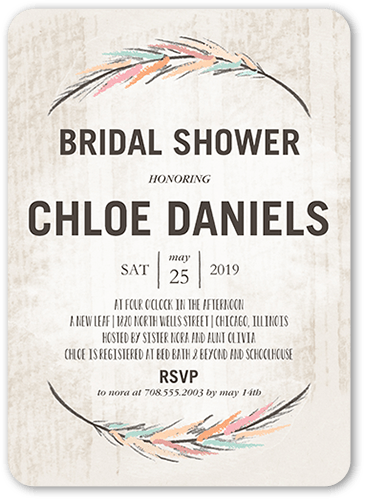 Classic Fringe 5x7 Stationery Card by Float Paperie. Celebrate the bride-to-be with this bridal shower invitation. Add the celebration details and a favorite photo.