What customers have to say about our Bridal Shower Invitations
January 22, 2019
Personalized Card Bliss
"Great quality card made from personal photo and personalized captions. Sometimes a store bought card doesn't capture the sentiment you're trying to portray. This is a fantastic option to create your own!"
January 22, 2019
Beautiful!!
"Easy to design. Great communication. Super fast printing and delivery. Invitations were shipped next day."
January 21, 2019
Love them!
"They are great quality and look perfect."
January 20, 2019
Great quality!
"The invites for my cousins bridal shower were perfect. Great quality and fast shipping."
January 18, 2019
I was very pleased with the invitations!
"I needed invitations for a bridal shower and someone recommended Shutterfly. They were easy to order and came in a timely manner."
The Right Bridal Shower Invitations at the Right Price
Planning a wedding can be a stressful process for almost any bride. That's why it's often left to you, as the bride's family, friends or maid-of-honor, to relieve a little bit of that stress with a fun and exciting bridal shower. If this reasoning serves to add pressure on you to pull off such a party without a hitch, don't worry; you have Shutterfly here to help. After all, you can't have a bridal shower to-be-remembered without first having high-quality invitations.
We understand that with all the financial requirements that come with preparing for a wedding the budget you have available for your bridal shower might be somewhat limited. At the same time, you still want to create a beautiful invitation that sets the tone and theme of your shower off right. Shutterfly offers the best of both worlds: affordable bridal shower invitations crafted with the best materials using professional tools and resources.
Well-Priced Products That Are Sure to Impress
The key to creating affordable bridal shower invitations is first considering your available budget and then choosing the right combination of theme, style and materials. Invitations offered through Shutterfly are printed on durable signature or pearl shimmer cardstock or high-quality photo paper. Depending on your theme, you can choose from a wide array of styles, including:
Floral prints
Rustic designs
Champagne-inspired graphics
Chalkboard designs
Tuxedo-wedding dress prints
While you may believe it to be impossible to include a photo with affordable bridal shower invitations, we are here to tell you otherwise. Simply upload a picture from your camera, computer, tablet or smartphone (or you can pull one of your bride's engagement or bridal photos directly from Facebook or Instagram). We have prompts in place to help you complete the customization process, and many of our customizable invitations (with photos) are available for as little as $0.36 each.
Our blue bridal shower invitations can be customized with almost any design or message you can come up with up. Yet even if your creative juices aren't flowing freely, we offer a section dedicated to invitation ideas such as suggestions on appropriate bridal shower invitation wording and etiquette.
Our Happiness Guarantee
The common school of thought may be that to get affordable bridal shower invitations, you may have to accept certain features you're not happy with. That's not the case when you work with us. In fact, your satisfaction with your invitations is assured. We stand by the Shutterfly 100% Happiness Guarantee, which ensures we'll do whatever we can to address issues with your order that you may not be happy with.
It's time to save your bride-to-be from the wedding planning process, if only for a few hours. Shutterfly is here to easily help you do that.
Related Products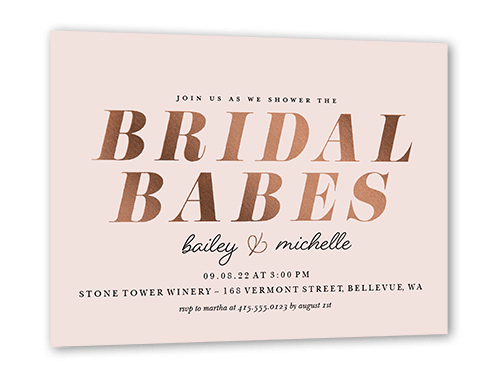 Bridal Babes 5x7 Stationery Card by Elk Design. Celebrate the bride-to-be with this bridal shower invitation. Add the celebration details and a favorite photo.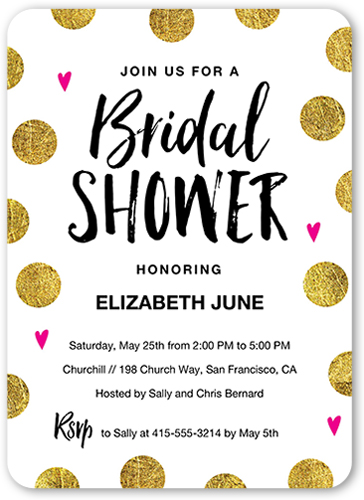 Brilliant Dots 5x7 Flat Bridal Shower Invitations. Celebrate the bride-to-be with this bridal shower invitation. Add the celebration details and a favorite photo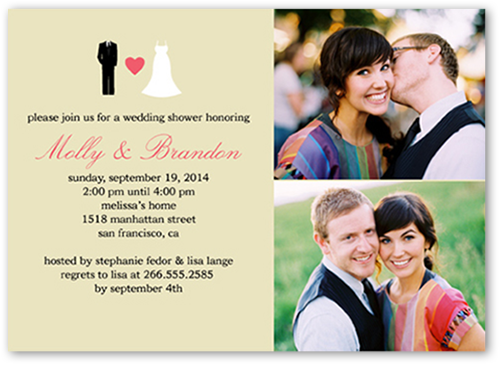 Cake Toppers 5x7 Bridal Shower Invitations. This sweet bridal shower invitations takes the cake. Whimsical cake toppers and a sweet heart top off the names of the bride and groom and all the invitation details