Affordable Bridal Shower Invitations
What customers have to say about our Bridal Shower Invitations
January 22, 2019
Personalized Card Bliss
"Great quality card made from personal photo and personalized captions. Sometimes a store bought card doesn't capture the sentiment you're trying to portray. This is a fantastic option to create your own!"
January 22, 2019
Beautiful!!
"Easy to design. Great communication. Super fast printing and delivery. Invitations were shipped next day."
January 21, 2019
Love them!
"They are great quality and look perfect."
January 20, 2019
Great quality!
"The invites for my cousins bridal shower were perfect. Great quality and fast shipping."
January 18, 2019
I was very pleased with the invitations!
"I needed invitations for a bridal shower and someone recommended Shutterfly. They were easy to order and came in a timely manner."
Affordable Bridal Shower Invitations
Design stunning bridal shower invitations for an affordable price with Shutterfly. Planning a wedding can be a stressful process for almost any bride. That's why it's often left to you, as the bride's family, friends or maid-of-honor, to relieve a little bit of that stress with a fun and exciting bridal shower. If this reasoning serves to add pressure on you to pull off such a party without a hitch, don't worry; you have Shutterfly here to help. After all, you can't have a bridal shower to-be-remembered without first having high-quality bridal shower invitations. We understand that with all the financial requirements that come with preparing for a wedding the budget you have available for your bridal shower might be somewhat limited. At the same time, you still want to create beautiful invites that set the tone and theme of your shower off right. Shutterfly offers the best of both worlds: affordable bridal shower invitations crafted with the best materials using professional tools and resources.
Custom Bridal Shower Invitations for the Right Price
The key to creating affordable bridal shower invitations is first considering your available budget and then choosing the right combination of theme, style and materials. Invitations offered through Shutterfly are printed on durable signature or pearl shimmer cardstock or high-quality photo paper. Depending on your theme, you can choose from a wide array of styles, including floral bridal shower invitations, rustic designs, formal styles, watercolor bridal shower invitations, and more. When you're ready to personalize your bridal shower invites, don't forget to add a beautiful photo for the occasion. Simply upload a picture from your camera, computer, tablet or smartphone (or you can pull one of your bride's engagement or bridal photos directly from Facebook or Instagram). Our blue bridal shower invitations can be customized with almost any design or message you can come up with. Once they're sent out, your recipients will be wowed by your stunning wedding shower invitations designed by you. For more wedding stationery, customize bachelorette party invitations, wedding invites, RSVP cards, thank you cards, and more with Shutterfly.
Bridal Shower Invitation Themes
Get ready to celebrate the bride-to-be in your life. If you're a bridesmaid, you'll be a part of the bridal shower party planning and should help customize the bridal shower invitations. Whether you're organizing a large daytime celebration or going small with a simple and chic brunch, Shutterfly carries an assortment of bridal shower invitation styles and photo card designs to match. If you're looking for dainty and rustic bridal shower invitations, choose from an array of lovely floral shower designs, inspired by all things garden. Our wide selection of floral bridal shower invitations make for a memorable tea party bridal shower theme or a rustic shower soiree! Choose from gorgeous typography and brunch invitation styles to make the perfect bridal shower invitation that will live on as a memorable keepsake from her big day. To treat the bride-to-be in your life, browse through our bridal shower gifts that she will cherish for years to come.
Related Products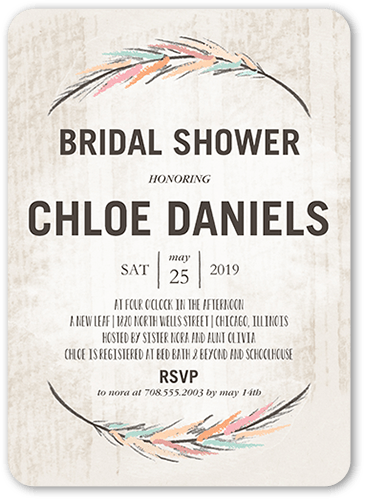 Classic Fringe 5x7 Stationery Card by Float Paperie. Celebrate the bride-to-be with this bridal shower invitation. Add the celebration details and a favorite photo.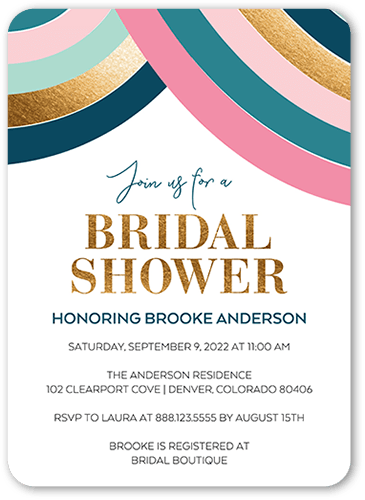 Colorful Circles 5x7 Stationery Card by jillgo. Celebrate the bride-to-be with this bridal shower invitation. Add the celebration details and a favorite photo.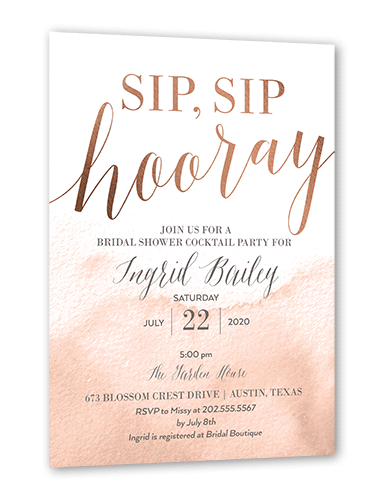 Gleaming Hooray 5x7 Stationery Card by Jenny Romanski. Celebrate the bride-to-be with this bridal shower invitation. Add the celebration details and a favorite photo.