All Occasion Invitations
What customers have to say about our All Occasion Invitations
October 21, 2018
Very please with invitations
"Very happy with the invitations. Easy to read and the photos on the back turn out great. Appreciate that we were able to purchase a small number of invitations and not more than we need."
May 9, 2018
Always good quality.
"I love making my own cards, it gives the recipient something special only I can give with pictures I took myself."
"Super cute and can use this card for all occasions"
April 11, 2018
I will buy again !
"Create awesome cards for family occasions. Love the convenience of being able to create them on the website and send directly to the recipient. However, I wish their was a link that asked when you want the card sent to the recipient ao I could order some cards earlier. For example, my niece's birthday is May 2 but do not want her to receive the card this early. So I am waiting until the end of the month to order the card because I like to send her's directly to her via Shutterfly's mail service as well."
February 5, 2018
Always Awesome
"Easy to order. Great service. Nice products. Fast shipping!"
Personalize Your Own All-Occasion Invitations
Celebrate life's momentous occasions with the people near and dear to you. Whether you're planning a birthday dinner for 10, an intimate wedding for 40 or a New Year's bash for the entire neighborhood, invite your family and friends to any occasion in style with personalized invitations from Shutterfly.
Invitations That Make an Impact
It's easier than ever to make your event extra special by inviting everyone to the party with personalized invitations. Choose a custom design that will not only coordinate with your theme but will also be easy to create – in minutes. While you're at it, write a unique message to give your invitation a personal touch sure to have your guests RSVP'ing in no time.
With Shutterfly, you'll find hundreds of original and imaginative options for creating your personalized invitations. You can upload photos, choose from an assortment of layouts, backgrounds, colors and more to create custom, memorable invitations. Shutterfly has a design for every style and budget.
After the party, discover fun and inventive options for creating unique stationery you can use as thank you cards for all who celebrated with you. Turn your favorite group picture of the party into beautiful thank you cards.
Shutterfly also makes it easy to mail out party and event invitations in sophisticated style. Showcase your unique style with a set of custom return mailing address labels. With several different design options, you are sure to find the perfect way to finish off both your invitations and thank you cards.
Related Products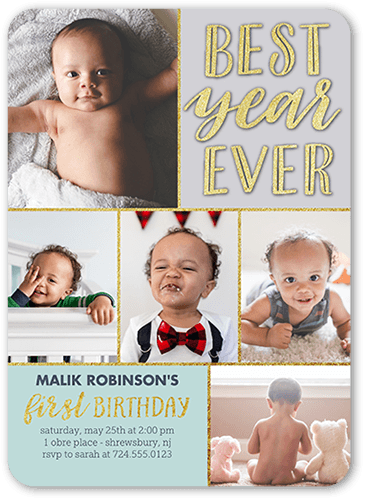 The Best Boy 5x7 Photo Card by Shutterfly. Another year older. Another year of fun. Invite all the guests with this stylish birthday invitation. Just add your favorite photos and all the event details.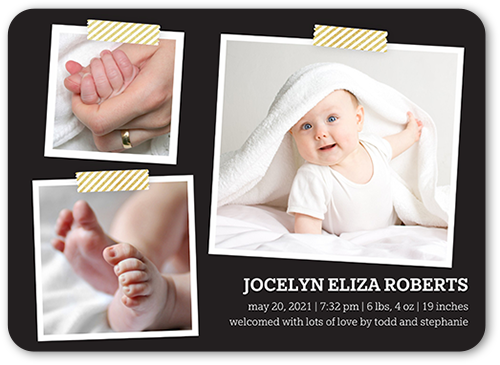 Little Beginning 5x7 Photo Card by Shutterfly. Announce your newest arrival with this stylish birth announcement. Add your baby's name, a favorite photo and the news everyone's been waiting for.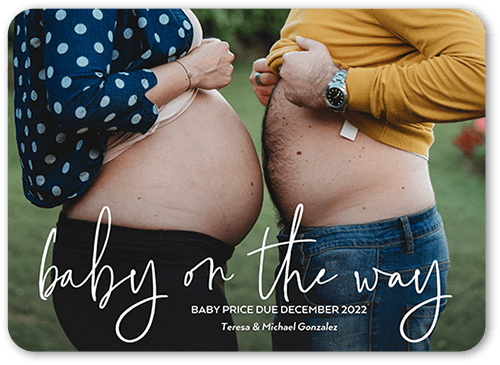 On The Way Here 5x7 Photo Card by Shutterfly. Share your exciting news with this cheerful pregnancy announcement. Let others know your little one is on the way with a happy baby belly, your favorite picture and an expected arrival ...