What customers have to say about our Baptism Invitations
January 23, 2019
Adorable!
"Exactly what we were looking for in an invitation for our son's baptism. The paper and print quality was fantastic!"
January 5, 2019
Beautiful quality cards
"I love these cards and have ordered many over the years. The paper is very nice and heavy for both the cards and envelopes."
December 27, 2018
Yippee Skippee!
"Just PERFECT as to what I wanted... Brilliantly depicted. Graciously received..."
December 23, 2018
This website for placing a simple card order is the worst.
"Impossible. All the other reviews that express frustration with using the Shutterfly website are correct. It is worse than frustrating."
December 18, 2018
Turned out great!
"These invites turned out great. I would definitely recommend!"
Create Custom Baptism Invitations
Shutterfly wants to be here for all of the monumental moments in your life. While typically done at a very early age, a baptism is one of the most important events for your child. Invite your friends, family and loved ones to your baby's baptism with custom baptism invitations from Shutterfly.
Designing Personalized Baptism Invitations
Your precious child's christening is a cherished moment. Shutterfly is here to help you design the perfect invitation to invite the ones you love to share this special day. With over 100 design options, Shutterfly has a baptism invitation you are guaranteed to love.
Feature your favorite photograph of your son or daughter on the invitation. Shutterfly makes it easier than ever to upload it to the template you like best. The customization process is easy. Pick your favorite fonts, colors and design accents for invitations that are as darling as your little one. You can even include a special baptism quote to inspire faith.
It's important to know what to write on your baptism card. Our baptism party ideas are a great place to start. Are you throwing a party at your house afterward? List the time, date and location of the church (and your house, if necessary). Let your guests know if there will be refreshments provided. If you are hosting a celebration at your home, make sure you include an RSVP by date and contact information so you can plan the party with ease.
Preparing Your Home for a Baptism Celebration
If you are planning on having your friends and family over to celebrate your little one's christening, Shutterfly is here to help decorate for this special occasion. Turn your favorite photograph into a beautifully framed print that will feature your darling little one on their big day. If you are planning on doing snacks and treats buffet style, a personalized photo table runner is a lovely way to feature your favorite photographs of your child.
Hopefully, you have your camera charged and ready for the big day. You can capture photos of your baby and all of the loved ones who stop in to share their love. After the baptism and party, turn the best pictures from the day into a one-of-a-kind photo book. When your child is older, they will be able to flip through the pages and see how much love was there on the day of their christening.
A baby's baptism is a wonderful day, made even better by sharing it with loved ones. For your baby's christening, custom baptism invitations from Shutterfly are the perfect way to invite loved ones to share in this big day.
Related Products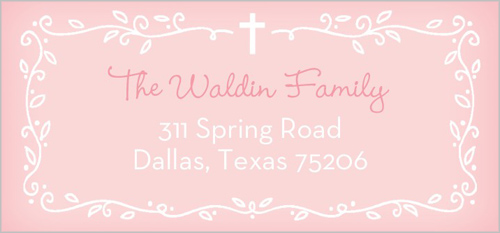 Precious Vine Baby Address Labels. Address your envelopes with stylish address labels. Corresponding invitations, gift tags and thank you cards are also available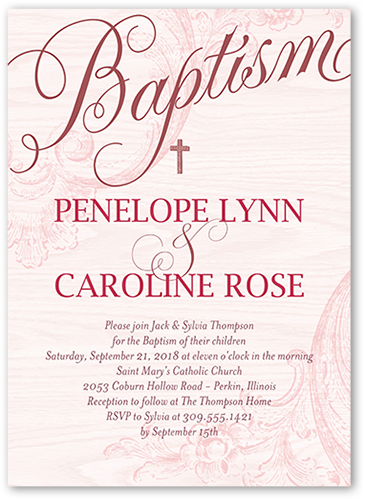 Baptism Invitations 5x7 Invitations. Invite everyone to this memorable and blessed occasion. Personalize this baptism invitation with all the event details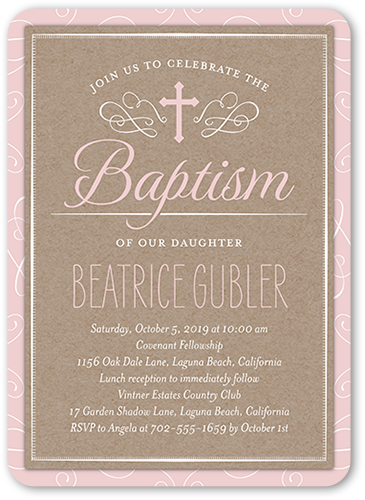 Bordered Christening Girl 5x7 Stationery Card by Blonde Designs. Invite everyone to this memorable and blessed occasion. Personalize this baptism invitation with all the event details.