BBQ Invitations
What customers have to say about our BBQ Invitations
June 26, 2018
Just what I needed
"I like to send out photo cards thought the year not just at Christmas. The upload your own design option allows me to send cards at times when there isn't a premade template and gives me option to add many photos since I have a large family. Especially for Halloween, Easter or the 4th of July. I always get so many compliments on the cards I send out and my family loves getting the more frequent cards with pictures of my kids since we don't get to see everyone as often as we would like."
June 1, 2018
Turned out beautifully!
"These turned out better than expected! The quality is very nice, it was very easy to work with the formatting and they arrived in a timely manner."
May 28, 2018
Beautiful invitation
"We ordered this invitation with the "ticket" style (corners notched out) - and it's absolutely beautiful. Easy to read, nice layout and heavy card-stock."
August 22, 2017
Shutterfly is a great site.
"There are so many photo package options. I really like all of the backgrounds, stickers, borders, and so much more. Great deals."
August 19, 2017
Great job. Quick turnaround! Love it
"Party invitations. Great job"
Throw a Summer Party with Barbecue Invitations
You don't really need a reason to throw a BBQ party, do you? If you've got a grill and handful of good friends and neighbors, you're probably ready to fire off a BBQ party invitation so everyone can rsvp! Holiday or 4th of July BBQs are fun, memorable, delicious. You don't need an excuse to throw a BBQ and send personalized barbecue invitations. Find a cute barbecue invitation, pick a couple sides, start stirring up your famous sauce and fire up the grill for all your friends.
Make Your Summer BBQ about Friends and Family
Got a great group shot or memorable photos from the last BBQ? Or maybe it's been awhile since everyone has been to a barbecue party or cookout together, so all your recent pictures are just you and the kids. Pick your favorite images and put your smiling faces on a cool custom BBQ party invitation that lets them know so they can rsvp and spend time with the people who matter. Shutterfly's BBQ invitation templates will help you design printable invites everyone will love. When you make your BBQ party invitation about everyday fun, people are bound to flock to your grilling extravaganza. The hot dogs won't be the only things cooking. Set up a table with runners, flowers in a personalized flower pot, and other simple rustic decorations to start cooking up memories, too.
Barbecue Party Invitations Make Backyard Parties Special
A warm summer night, a cool breeze, and a few of your favorite people is enough for a backyard party or BBQ birthday you won't forget. But when you send backyard party invitations, those favorite people of yours know how you feel, because you took the time to make the everyday BBQ cookout special. It's just because they make your everyday special, too, but, either way, it's about to be one incredible BBQ. Shutterfly will help you make your summer cookout or pig roast an event to remember with great BBQ invites.
Summer Party Invitations for Personal BBQ Celebrations
Everyone gets together for BBQs for Memorial Day, a family reunion or 4th of July picnic party. You've probably already got your calendars marked for the next one. But you can throw a diy backyard BBQ party or pool party for all kinds of personal celebrations, too. Celebrate the everyday occasions that make life sweet. Engagements, promotions, an awesome end-of-year report card, or just a whole summer of good behavior from the kids are all worth sending out the picnic invitations to pack the backyard for fun. Let Shutterfly make your next backyard BBQ bash one for the ages.
Related Products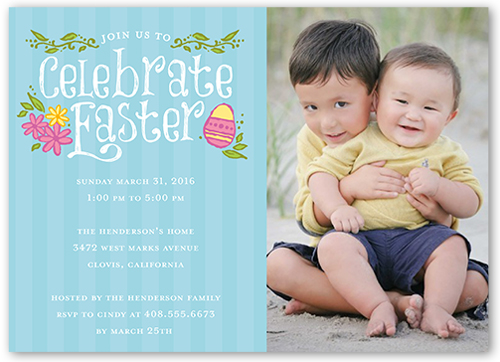 Celebrate Easter 5x7 Easter Party Invitations. A lovely vintage brocade in a pink palette decorates this greeting card. The elegant and classic style is perfect for showing off a favorite picture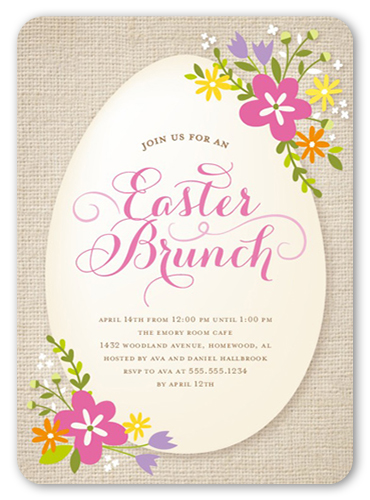 Easter Blooms Easter Party Invitations. A lovely vintage yellow brocade decorates this greeting card. The elegant and classic style is perfect for showing off a favorite picture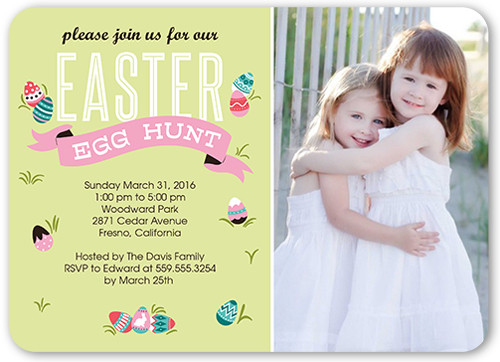 Egg Hunt Banner Easter Party Invitations. This charming Easter invitation chirps its way into our hearts. Event details appear in elegant script lettering below the iconic Easter chick