Black Bridal Shower Invitations
What customers have to say about our Bridal Shower Invitations
January 22, 2019
Personalized Card Bliss
"Great quality card made from personal photo and personalized captions. Sometimes a store bought card doesn't capture the sentiment you're trying to portray. This is a fantastic option to create your own!"
January 22, 2019
Beautiful!!
"Easy to design. Great communication. Super fast printing and delivery. Invitations were shipped next day."
January 21, 2019
Love them!
"They are great quality and look perfect."
January 20, 2019
Great quality!
"The invites for my cousins bridal shower were perfect. Great quality and fast shipping."
January 18, 2019
I was very pleased with the invitations!
"I needed invitations for a bridal shower and someone recommended Shutterfly. They were easy to order and came in a timely manner."
Black Bridal Shower Invitations are a Classic Choice
If you are thinking that black is an unusual choice for bridal shower invitations, think again. The classic color provides the perfect backdrop for all sorts of color combinations and evokes an elegant feel that many brides embrace. At Shutterfly, we love the classic look of black and white together, but we also have created options that include metallics, pastels and other combos.
You can set the tone for the party by designing affordable bridal shower invitations that perfectly match the personality of the bride. And just because the background hue is stark doesn't mean the whole invitation has to be that way. There are endless design directions you might go.
Black Invitation Combos
Black as a color just cries out to be embellished with a complementary hue. Depending on the wedding color scheme or just the whim of the shower host, black can be paired with other shades to create all kinds of elegant looks. Check out these options:
Add a touch of florals or a flowing "handwritten" script to soften the edges.
The chalkboard trend is still going strong. Design the invitation to look as though you wrote the text yourself; Everyone will compliment your handwriting!
Metallics, particularly gold, will up the elegance ante on any black bridal shower invitations.
Tailored patterns such as stripes on the invites can evoke an urban feel for big-city brides.
Bridal Shower Trends
In the past, bridal showers have been all about celebrating the upcoming wedding with the bride. Attendees were all female, and the bridesmaids did all the planning and hosting. Recently, though, the trend has been for the groom to attend the celebration as well, and some of the guests are men. In fact, many couples choose to host their own bridal shower. They present the event as more of a party, some with backyard barbecues and others with pool parties.
No matter which of these options you choose, you still will need invitations for the guests. Fortunately, all of our classic bridal shower invitations are fully customizable, so you can tailor the message to convey just the type of event you have planned. Shutterfly provides great tips to help you know what to write in your bridal shower card.
Start Designing Today
When you are ready to get the party started, check out our ideas blog and start designing the perfect invitations for the shindig. A black backdrop is waiting for you, ready to accept whatever style you want to add. After you are finished with your masterpiece, check out our shipping options so you can have the invitations on your doorstep in days.
Related Products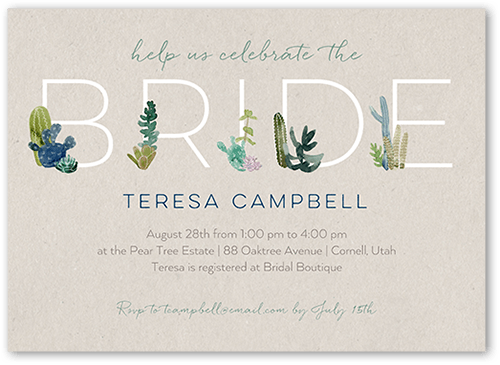 Desert Greenery 5x7 Stationery Card by Clover. Celebrate the bride-to-be with this bridal shower invitation. Add the celebration details and a favorite photo.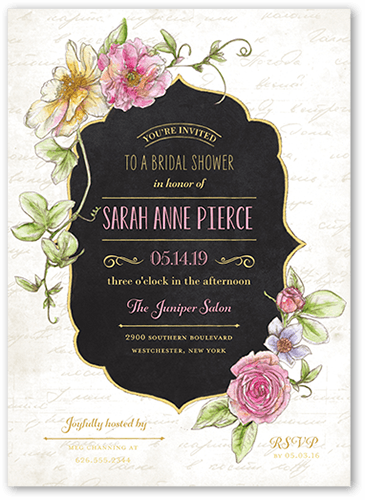 Enchanting Shower 5x7 Stationery Card by Lady Jae. Celebrate the bride-to-be with this bridal shower invitation. Add the celebration details and a favorite photo.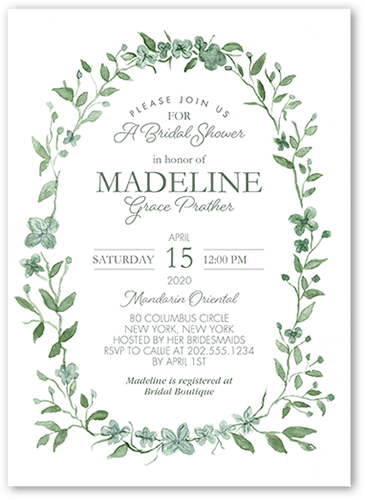 Ethereal Wreath 5x7 Stationery Card by Jenny Romanski. Celebrate the bride-to-be with this bridal shower invitation. Add the celebration details and a favorite photo.