Blue Bridal Shower Invitations
What customers have to say about our Bridal Shower Invitations
January 22, 2019
Personalized Card Bliss
"Great quality card made from personal photo and personalized captions. Sometimes a store bought card doesn't capture the sentiment you're trying to portray. This is a fantastic option to create your own!"
January 22, 2019
Beautiful!!
"Easy to design. Great communication. Super fast printing and delivery. Invitations were shipped next day."
January 21, 2019
Love them!
"They are great quality and look perfect."
January 20, 2019
Great quality!
"The invites for my cousins bridal shower were perfect. Great quality and fast shipping."
January 18, 2019
I was very pleased with the invitations!
"I needed invitations for a bridal shower and someone recommended Shutterfly. They were easy to order and came in a timely manner."
Go Blue with Your Bridal Shower Invitations
A bridal shower is a once-in-a-lifetime event designed to help prepare a bride-to-be for her big day while also celebrating memories from her single life. Shutterfly is in the business of helping people pull off memorable bridal showers attended by the most important people in your family member or friend's life. How do you make sure those people are there? With outstanding bridal shower invitations.
When creating your bridal shower invites, the first thing to do is settle on a theme. If you haven't been given a specific one by your bride-to-be, consider something simple like a song or color (this gives you more flexibility when planning the party). For example, you can go many different ways with a blue themed bridal shower. We offer no shortage of blue bridal shower invitations for you to choose from.
Getting the Most Out of Your Blue Theme
When we say blue bridal shower invitations, we don't mean simply basic invitations printed on blue paper, but rather the countless variations of blue available through the many designs, prints and trims we offer. All our invites are available in several sizes, and with materials such as:
Photo paper
Pearl shimmer cardstock
Signature cardstock
Time is often of the essence when planning your bridal shower. Therefore, you need to rely on your blue bridal shower invitations being there when you need them. Shutterfly offers several different shipping options for you to choose from, including rush and international deliveries. If you need to track your order, you can by simply logging into our website. If your budget is tight, we also offer several ways to help save on your order. For instance, we feature several Shutterfly coupons and even discounts for referring us to your friends.
Help in Creating Your Custom Invitations
You really can't go wrong when it comes to creating your blue bridal shower invitations. However, the pressure of throwing the absolute best bridal shower possible can often put a damper on your creativity. If that's the case, not to worry, Shutterfly has you covered. We've created a section of our website specifically dedicated to offering you ideas and inspiration on how to create the ideal custom invitations. For example, we offer information on what should be included in your bridal shower invitations, which offers tips on the basic setup of an invitation, including:
Introducing yourself and the event
Thanking invitees in advance for their attendance and participation
Detailing where the bride is registered
We at Shutterfly consider helping you organize and achieve the best parties, showers and events as being part of our job. It's our hope you'll let us help make your bridal shower memorable.
Related Products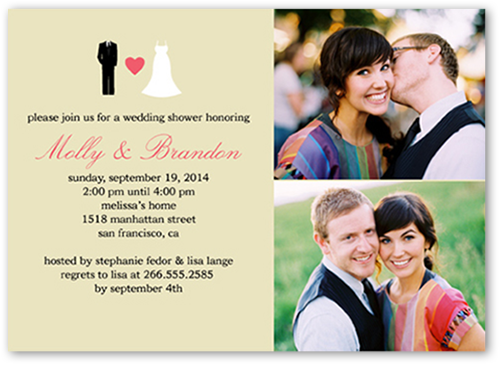 Cake Toppers 5x7 Bridal Shower Invitations. This sweet bridal shower invitations takes the cake. Whimsical cake toppers and a sweet heart top off the names of the bride and groom and all the invitation details
Coupled Leaves 5x7 Stationery Card by Éclair Paper Company. Celebrate the bride-to-be with this bridal shower invitation. Add the celebration details and a favorite photo.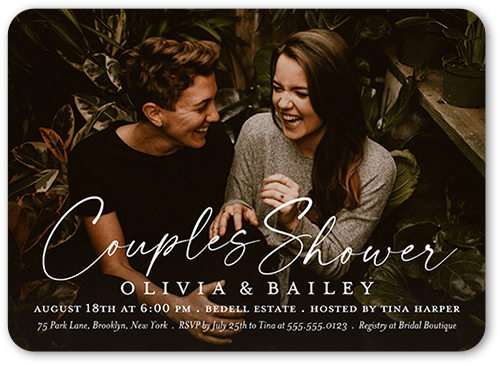 Couples Shower 5x7 Stationery Card by Yours Truly. Celebrate the bride-to-be with this bridal shower invitation. Add the celebration details and a favorite photo.