Bridal Shower Invitations
What customers have to say about our Bridal Shower Invitations
January 22, 2019
Personalized Card Bliss
"Great quality card made from personal photo and personalized captions. Sometimes a store bought card doesn't capture the sentiment you're trying to portray. This is a fantastic option to create your own!"
January 22, 2019
Beautiful!!
"Easy to design. Great communication. Super fast printing and delivery. Invitations were shipped next day."
January 21, 2019
Love them!
"They are great quality and look perfect."
January 20, 2019
Great quality!
"The invites for my cousins bridal shower were perfect. Great quality and fast shipping."
January 18, 2019
I was very pleased with the invitations!
"I needed invitations for a bridal shower and someone recommended Shutterfly. They were easy to order and came in a timely manner."
Custom Bridal Shower Invitations
Begin your path to planning the perfect bridal shower by choosing unique bridal shower invitations that represent the bride-to-be. As the bride is wedding planning for her big day, throwing an unforgettable bridal shower can help alleviate some of her wedding stress. Taking the time to choose a bridal shower invitation and plan out the details makes all the difference when honoring your friend, sister, or loved one. From watercolor templates to floral party invitations, you can customize a bridal shower invitation that suits the bride's style and is one-of-a-kind just like she is.
Selecting a Custom Bridal Shower Invitation Theme
Shutterfly offers a vast collection of bridal shower invite themes for every type of bride. Pop the confetti! It's time to celebrate the bride in your life. If you're a bridesmaid, you'll be a part of the bridal shower party planning and should help customize the invitations. Whether you're organizing a large daytime celebration or going small with a simple and chic brunch, Shutterfly carries an assortment of bridal shower invitation styles and photo card designs to match. If you're looking for dainty and rustic bridal shower invitations, choose from an array of lovely floral shower designs, inspired by all things garden. Our wide selection of floral bridal shower invitations make for a memorable tea party bridal shower theme or a rustic shower soiree! Choose from gorgeous typography and brunch invitation styles to make the perfect bridal shower invitation that will live on as a memorable keepsake from her big day.
Designing Unique Bridal Shower Invites
If the bride has a large and bubbly personality, opt for a colorful and modern bridal shower invitation with champagne-inspired graphics or pretty polka dots to stand out. You can also celebrate the bride with a photo bridal shower invitation. Select your favorite photo or re-use her engagement photos to craft a fun and personalized bridal shower invitation. We also offer fun and themed shower invitations such as chalkboard or wedding dress invitations, perfect for complementing your bridal shower theme. If you don't know what to write in the bridal shower card, leave a heartfelt message or an inspirational quote. To treat the bride-to-be in your life, browse through our bridal shower gifts that she will cherish for years to come.
Creating High-Quality Wedding Shower Invitations
Finalize the bride-to-be's bridal shower invite by selecting a paper type from our high-quality paper options, such as premium cardstock paper or pearl shimmer cardstock. Our card paper is beautiful, sturdy, and reliable for helping you spread the wedding bell words. Whether you're going all out or keeping the shower quaint, sending bridal shower invitations signifies that love is in the air. If you haven't selected a bridal shower theme, you can use a bridal shower invitation as your source of inspiration to kick off your ideas for bridal shower decor, colors, and games. Let the shower planning begin! If the bride is looking to create a cohesive feel and theme for everything related to her big day, our save the dates and custom wedding invitations are great options. Browse our bachelorette party invitations, RSVP cards, and rehearsal dinner invites when you check out our collection of personalized wedding stationery.
Related Products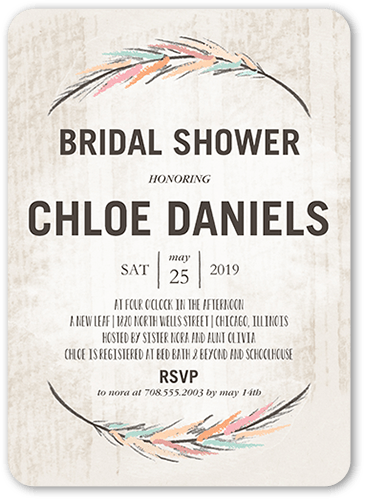 Classic Fringe 5x7 Stationery Card by Float Paperie. Celebrate the bride-to-be with this bridal shower invitation. Add the celebration details and a favorite photo.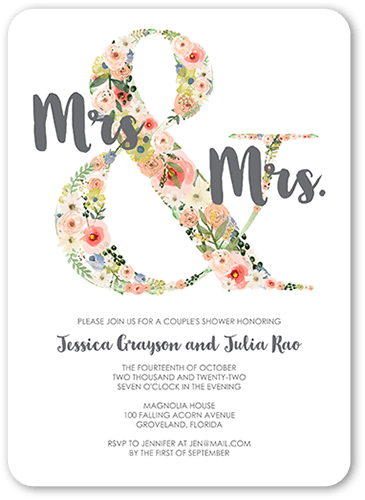 Elegant Ampersand 5x7 Stationery Card by Allie Munroe. Celebrate the bride-to-be with this bridal shower invitation. Add the celebration details and a favorite photo.
Frond Frame 5x7 Stationery Card by Poppy Studio. Celebrate the bride-to-be with this bridal shower invitation. Add the celebration details and a favorite photo.