Classic Bridal Shower Invitations
What customers have to say about our Bridal Shower Invitations
January 22, 2019
Personalized Card Bliss
"Great quality card made from personal photo and personalized captions. Sometimes a store bought card doesn't capture the sentiment you're trying to portray. This is a fantastic option to create your own!"
January 22, 2019
Beautiful!!
"Easy to design. Great communication. Super fast printing and delivery. Invitations were shipped next day."
January 21, 2019
Love them!
"They are great quality and look perfect."
January 20, 2019
Great quality!
"The invites for my cousins bridal shower were perfect. Great quality and fast shipping."
January 18, 2019
I was very pleased with the invitations!
"I needed invitations for a bridal shower and someone recommended Shutterfly. They were easy to order and came in a timely manner."
Capture Classic Style with Bridal Shower Invites
One of the best parts of planning a bridal shower is infusing the event with style and flair that reflect your personal tastes. If you want a rustic ceremony that evokes fairy tales and notions of magic, you can do exactly that. If you would rather err on the classic side and host a refined affair, you can do that, too.

In fact, if the latter reflects your preferences for your bridal shower, you may be on the hunt for classic bridal shower invitations. Finding simple yet stylish options that still contain a personal touch can be difficult, but Shutterfly has everything you need to make the invitation that will meet your needs.
Create a Classic Theme
The stationery you use plays a big part in the impression guests have of your wedding and the related events. Sending beautiful save the date cards to friends and family gives you the chance to share your exciting news, and you can thank them for attending with gorgeous wedding thank you cards after the wedding or shower.

Your bridal shower invites are particularly important because they represent a celebration before the wedding that is reserved for the bride's closest family and friends. Be sure to use proper bridal shower etiquette when creating the invitation. Sending out classic bridal shower invitations is a great way to reach out to those you love and invite them to share in your joy and impending nuptials, and with Shutterfly's range of classic design styles, you can do so with a look that is uniquely you.
Make it Personal
What makes the difference between a forgettable shower invite and one that makes an impression? If you want to steer clear of generic and make your classic bridal shower invitations just as exciting as the party will be, the secret is personalization. You can make your invitations yours by utilizing the range of customization tools Shutterfly offers on all designs. We care about providing you with the conveniences you need. Choose from super rush or next day delivery options to ensure your invites arrive on time.
We make it easy to design a card that reflects your unique style and conveys a personal touch to guests. You never need to compromise and decide between great design or custom details when you opt for classic bridal shower invitations from our selection of incredible stationery. Some of the ways you can personalize your invites include the following options:
Add your own custom text
Upload photos and add to card
Choose paper, size and typeface
Select design style
Start creating your personalized classic bridal shower invitations today. Our representatives are standing by to provide you any help along the way.
Related Products
Bright Couple 5x7 Personalized Foil Card by Sarah Hawkins. Celebrate the bride-to-be with this bridal shower invitation. Add the celebration details and a favorite photo.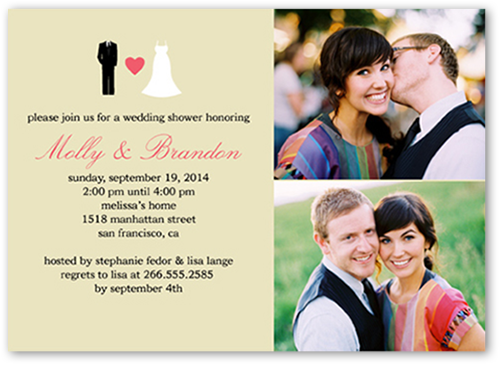 Cake Toppers 5x7 Bridal Shower Invitations. This sweet bridal shower invitations takes the cake. Whimsical cake toppers and a sweet heart top off the names of the bride and groom and all the invitation details
Coupled Leaves 5x7 Stationery Card by Éclair Paper Company. Celebrate the bride-to-be with this bridal shower invitation. Add the celebration details and a favorite photo.