Contemporary Graduation Party Invitations
What customers have to say about our Graduation Invitations
January 22, 2019
Perfect!
"These are just right for any invitation. Very beautiful. We loved them"
January 18, 2019
Great product and shipped quickly!
"I used this for my graduation announcements. The quality of the product was great."
January 15, 2019
Perfect quality.
"We used these for my husband's graduation invitations.. they came out so perfect! We loved putting our in touch on them versus the plain ones the University would of sent out."
November 29, 2018
Definitely recommend!!
"Deloivery was fast! Everything came in a week! Got them delivered off and everyone loved them!"
November 29, 2018
Color is perfect
"They turn out just how I pictured them"
Honor the Student with Contemporary Graduation Invitations
Graduation from high school, college, or any other program is an incredible accomplishment. Honor the student in your life with modern graduation invitations designed to fit their personality. Welcome your friends and family members to celebrate along with you by inviting them to a graduation party. With custom graduation invitations this stunning, they're sure to be refrigerator-worthy. Customizing Shutterfly monogram graduation invitations couldn't be easier. Picking your favorite design from the wide selection is the hardest part.
Personalizing Your Contemporary Graduation Invitations
Shutterfly offers a style to suit every personality. Whether you love the modern and clean look of a single image with text overlay or the eye-catching look of a photo collage arrangement, you're sure to find a style that speaks to your student's style. Almost every aspect of theses designs allows for your personal touch. Colors, sizes, and paper type are a few of the things you select prior to adding a photo or text. Clicking the little orange "personalize" button starts the real fun.
Shutterfly guides you through the fun process of uploading photos and adding graduation part information. What a fun way to share those senior portraits. Your finished design arrives at your door in a matter of days. The first time you hold it you'll love with the quality. Address the included envelopes and send them out to friends and family. If you don't want to spend the time addressing all those envelopes, provide your guest list to Shutterfly and they will send them out for you.
Add Coordinating Thank You Notes
Don't forget to take a second to order custom thank you notes to coordinate with your graduation invitations. Your party guests will bring gifts for the graduate. Teach them to show their appreciation the right way by providing them with custom thank you notes to send out. You can even get the information you need about graduation gift etiquette and what to write inside the card.
Planning An Incredible Graduation Party
After the ceremony, it's time to party with your recent graduate. Plan a party that represents their personality with the help of the Shutterfly ideas page. Their blog provides fun and festive party planning, decorating, and gift ideas relating to your graduate. With all this information, it's sure to become your go-to source for party planning.
Related Products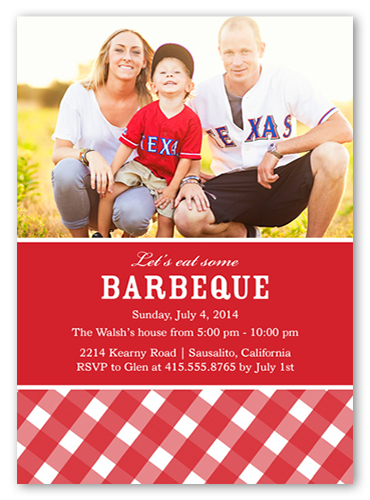 BBQ 5x7 Surprise Party Invitations. The heat is on. A picnic-perfect print adds a jolt of color to this summer barbecue invitation. The party details appear on a bright red background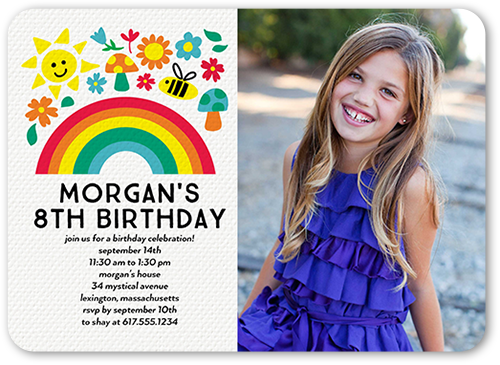 Joyous Celebration 5x7 Girls Party Invitations. Invite all the guests with this stylish birthday invitation. Just add your favorite photos and all the event details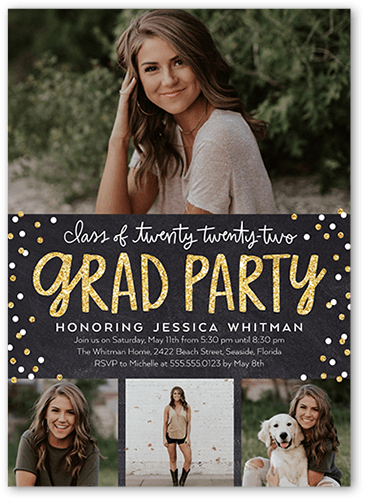 Bokeh Grad Party 5x7 Stationery Card by Stacy Claire Boyd. Invite the guests to the celebration with stylish graduation invitations. Personalize with all the event details.