Floral Baptism Invitations
What customers have to say about our Baptism Invitations
January 23, 2019
Adorable!
"Exactly what we were looking for in an invitation for our son's baptism. The paper and print quality was fantastic!"
January 5, 2019
Beautiful quality cards
"I love these cards and have ordered many over the years. The paper is very nice and heavy for both the cards and envelopes."
December 27, 2018
Yippee Skippee!
"Just PERFECT as to what I wanted... Brilliantly depicted. Graciously received..."
December 23, 2018
This website for placing a simple card order is the worst.
"Impossible. All the other reviews that express frustration with using the Shutterfly website are correct. It is worse than frustrating."
December 18, 2018
Turned out great!
"These invites turned out great. I would definitely recommend!"
Make a Statement with Floral Baptism Invitations
A baptism is a special day both for a child and the family; it can represent everything from an introduction to a faith to the official giving of a name. If you're planning a baptism celebration, our floral baptism invitations are a great way to spread the word.
Planning a Party
If you're planning a baptism, reception, or party, there are a number of factors you need to take into account. You should think about a theme for the party, the location and date, the guest list, and food or entertainment. We offer a handy planning guide to help you organize a fantastic baptism event. One of the most important things to consider, though, is your invitations—the right card can set the tone and start your planning efforts on the right foot.
Important Information
There's a lot of important information you should remember to include in a contemporary baptism invitation, such as:
Time
Date
Location
RSVP instructions
Contact information
However, it's also a good idea to include a sweet personal message that helps you share your joy with your guests. Our invitations offer you a great deal of flexibility so you can say what you want, how you want.
Fantastic Floral
The delicate floral designs on these invitations are an excellent choice for showcasing the beauty of your child. The understated patterns offer the unique feeling of floral print without becoming overwhelming, perfectly framing a photo of your baby. You can choose the color palette, going with pink or blue baptism invitations. (This is particularly useful if your baby's gender is not immediately apparent from her or his name.)
Perfect Pictures
These floral baptism invitations aren't complete without the perfect picture of your child. When you're trying to take—or choose—a photograph, there are a few important things to keep in mind. First of all, most pictures of babies look best when they're close-up shots because it helps people feel a better connection with the child. Also, be sure the picture doesn't show an unhappy baby; it can be difficult to get a newborn to smile, but you can often get an adorable picture simply by photographing your sleeping baby. Finally, decide whether you want a color shot or a black and white image; while color shots look highly realistic, black and white images can make the invitation look more polished and elegant.
Here at Shutterfly, we want to make sure your invitations satisfy you and impress your guests. Just browse our selection of floral baptism invitations to get started.
Related Products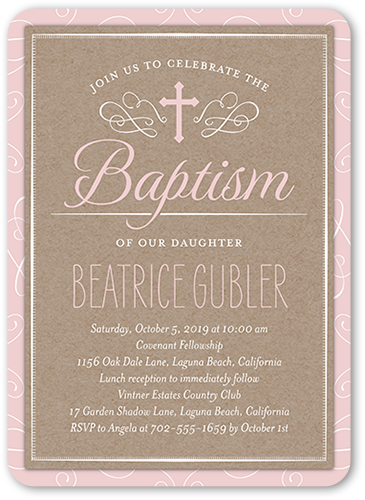 Bordered Christening Girl 5x7 Stationery Card by Blonde Designs. Invite everyone to this memorable and blessed occasion. Personalize this baptism invitation with all the event details.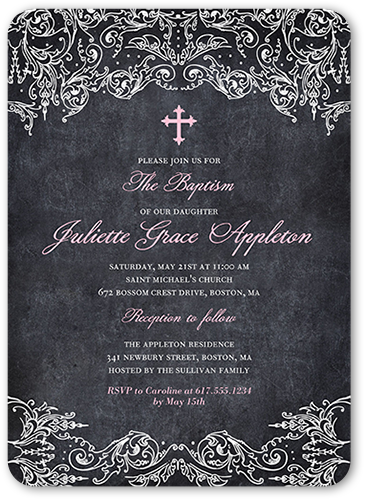 Divine Chalk Girl 5x7 Christening Invitations. Invite everyone to this memorable and blessed occasion. Personalize this baptism invitation with all the event details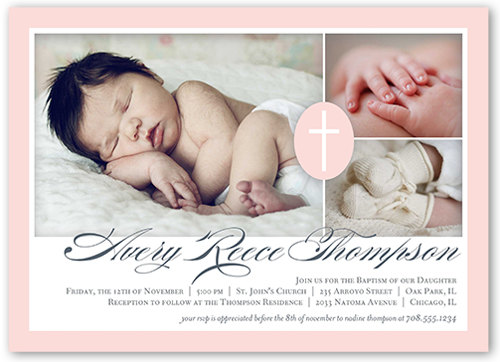 Faithful Cross Girl 5x7 Christening Invitations. Invite everyone to this memorable and blessed occasion. Personalize this baptism invitation with all the event details