Rose Gold Bridal Shower Invitations
What customers have to say about our Bridal Shower Invitations
January 22, 2019
Personalized Card Bliss
"Great quality card made from personal photo and personalized captions. Sometimes a store bought card doesn't capture the sentiment you're trying to portray. This is a fantastic option to create your own!"
January 22, 2019
Beautiful!!
"Easy to design. Great communication. Super fast printing and delivery. Invitations were shipped next day."
January 21, 2019
Love them!
"They are great quality and look perfect."
January 20, 2019
Great quality!
"The invites for my cousins bridal shower were perfect. Great quality and fast shipping."
January 18, 2019
I was very pleased with the invitations!
"I needed invitations for a bridal shower and someone recommended Shutterfly. They were easy to order and came in a timely manner."
Rosy Gold Touches for Your Bridal Shower Invites
Although rose gold seems like a recent trend, this pinkish, metallic hue dates back to ancient Greece, making it both a timeless classic and a fashion-forward choice. You want to make your friend's bridal shower unforgettable, and Shutterfly's rose gold bridal shower invitations are the perfect way to get your invitees' attention.
Sophisticated and Beautiful Invitations
Customizing your rosy gold bridal shower invites is quick and easy. Each card style comes with its own selections of colors, so you can choose a hue that coordinates with your party theme. Most cards also allow you to pick from five distinct types of edge options, including square or round corners, and scalloped, bracket or ticket-style trim. After you write and fine-tune your text, the preview panel lets you review your handiwork before putting the finished product in your cart. We print every card on high-quality, heavy cardstock, and you can impart an extra touch of elegance by selecting the pearl shimmer cardstock option on each design. White envelopes are also included with every card style.
Complete the Look With Personalized Address Labels
Shutterfly also makes it easy to find address label designs that coordinate with your invitations. We sort all our paper products by theme type, and you'll notice these listed under the filters column on the left-hand side of the page. As you browse our address labels, you can use these category filters to narrow by theme as well as color, designer, and other parameters. So if you want a pink sparkly address label to go with the invite you designed, Shutterfly's got you covered.
Shutterfly stocks millions or personalized cards, stationery items, photo books calendars, home décor products and other great items. You'll never lack for ideas when it comes to choosing an unforgettable gift, adding unique touches to your home or letting a special someone know you're thinking about him or her.
Related Products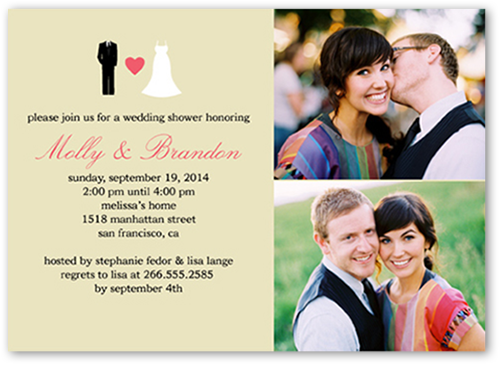 Cake Toppers 5x7 Bridal Shower Invitations. This sweet bridal shower invitations takes the cake. Whimsical cake toppers and a sweet heart top off the names of the bride and groom and all the invitation details
Coupled Leaves 5x7 Stationery Card by Éclair Paper Company. Celebrate the bride-to-be with this bridal shower invitation. Add the celebration details and a favorite photo.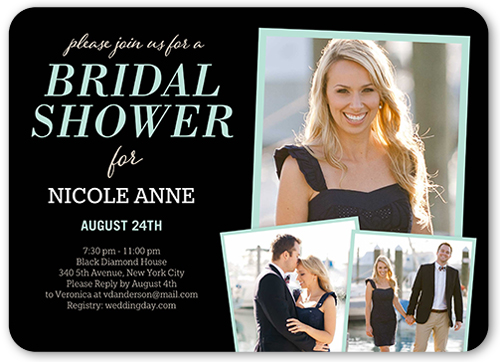 Lovely Montage 5x7 Flat Bridal Shower Invitations. Celebrate the bride-to-be with this bridal shower invitation. Add the celebration details and a favorite photo