Foil Stamped Graduation Party Invitations
What customers have to say about our Graduation Invitations
January 22, 2019
Perfect!
"These are just right for any invitation. Very beautiful. We loved them"
January 18, 2019
Great product and shipped quickly!
"I used this for my graduation announcements. The quality of the product was great."
January 15, 2019
Perfect quality.
"We used these for my husband's graduation invitations.. they came out so perfect! We loved putting our in touch on them versus the plain ones the University would of sent out."
November 29, 2018
Definitely recommend!!
"Deloivery was fast! Everything came in a week! Got them delivered off and everyone loved them!"
November 29, 2018
Color is perfect
"They turn out just how I pictured them"
Make Your Graduation Shine with Custom Foil Stamped Invitations
You've finally made it through school and the big graduation day is about to arrive. Make it a time to remember with a customized announcement or invite from Shutterfly enhanced with shimmering foil stamping. Whether you love classic and elegant looks or prefer modern touches, we have it all and offer complete control over your design. With just a few clicks of the mouse, you can create something that's amazing and impressive to send to your beloved guests.
Get Shiny with Your Invites
The foil stamped cards from Shutterfly have real foil debossed accents for a dazzling look that sparkles as much as you do. Choose your favorite metallic color including gold and silver to classic rose gold or bold red. The foil accent gives your invitation a truly unique touch. Pick out a template and then upload your precious photos so your personality shines through. If you play sports, add a team photo or a picture of yourself in uniform. Remember, the goal is to highlight your many important achievements. Use these graduation announcement wording ideas to help you add some awesome text to the design.
Making Your Custom Graduation Invitation
Use our step-by-step prompts to guide you as you go along. It's easy and fun! For the foil stamped options, try one of these impressive options:
• Simple gleaming frame: This design features a wide frame crafted of foil. Surround your photo with a shimmering border using this design. It's the perfect way to highlight your achievements with a sleek look.
• Opulent class frame: Upload one or several photos to your announcement template. The foil stamped border lends it a nice metallic • shimmering touch. Dazzle everyone when you include your class year stamped in foil. This is a great choice for those grads who really want to shine.
• Ornate class: Invite guests with a splash of metallic color. This layout showcases your favorite pictures and the text features beautiful foil stamping for a brilliant touch.
Never Forget Your Big Day
Graduation is a life moment you will always cherish. Make sure you announce it with pride with a look unique to your style. We offer online photo storage so you can stash your favorite snapshots and keep them here in high-resolution. Come and see what other fantastic personalized products you can design. Don't forget to send a graduation thank you card to those who support you on this oh-so special day!
Related Products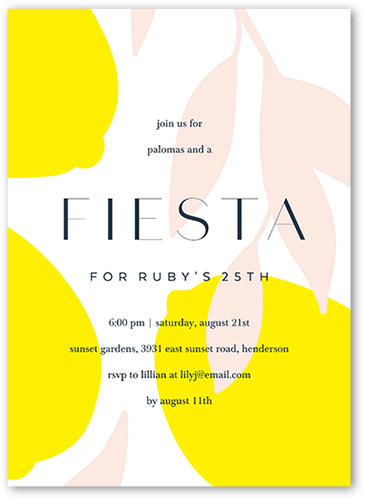 Citrus Celebration 5x7 Stationery Card by Kelli Hall. Another year older. Another year of fun. Invite all the guests with this stylish birthday invitation. Just add your favorite photos and all the event details.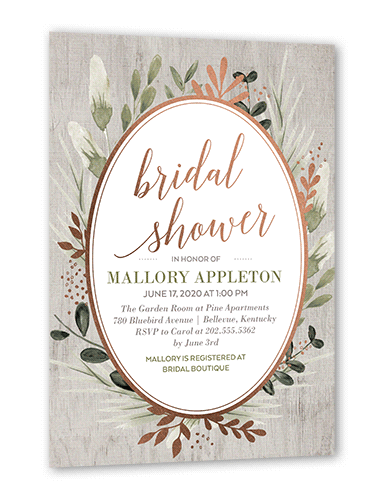 Bountiful Greenery 5x7 Stationery Card by Jenny Romanski. Celebrate the bride-to-be with this bridal shower invitation. Add the celebration details and a favorite photo.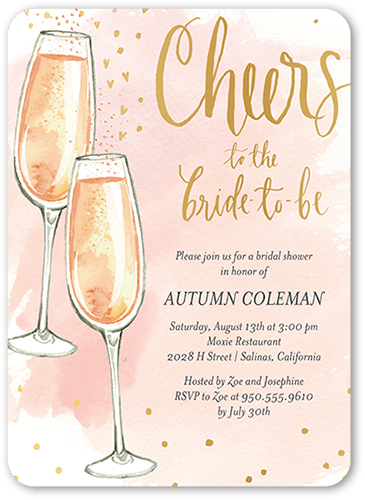 Cheery Fizz 5x7 Stationery Card by Bonnie Marcus. Celebrate the bride-to-be with this bridal shower invitation. Add the celebration details and a favorite photo.