What customers have to say about our Graduation Invitations
January 22, 2019
Perfect!
"These are just right for any invitation. Very beautiful. We loved them"
January 18, 2019
Great product and shipped quickly!
"I used this for my graduation announcements. The quality of the product was great."
January 15, 2019
Perfect quality.
"We used these for my husband's graduation invitations.. they came out so perfect! We loved putting our in touch on them versus the plain ones the University would of sent out."
November 29, 2018
Definitely recommend!!
"Deloivery was fast! Everything came in a week! Got them delivered off and everyone loved them!"
November 29, 2018
Color is perfect
"They turn out just how I pictured them"
Graduation Invitations
Celebrate your student's achievements with custom graduation invitations. It's time to start getting ready for graduations and the celebration that comes with them. Since no graduation party is complete without some fun and festive graduation invitations, why not turn things up a notch by creating some personalized graduation invitations and college send off invitations that capture the mood and spirit just right. Share with your family, friends, loved ones, and colleagues your college or high school senior's proud moments. Let everyone know just how hard they worked to achieve their goals and of their success and accomplishments. Whether you're inviting loved ones to a graduation ceremony or need to design graduation party invitations for a celebration, you can create the perfect cards with Shutterfly's vast collection of unique design templates.
Send Graduation Party Invitations for Your Celebration
If you're throwing a graduation party at home or an online virtual celebration, invite friends and family to celebrate with you with personalized graduation party invitations. Whether you're celebrating a kindergarten, high school, or college graduation, you can design one-of-a-kind graduation invites with Shutterfly. Upload your favorite photos to our graduation invitation templates, customize it with your school colors, and share the details of how you're celebrating with your guests. Make sure to include the date, time, address, and how to RSVP. Your friends and family will love seeing your smiling face on a stunning greeting card they can keep on the fridge. If you're unable to host a graduation party, make sure to still send out graduation announcements so you can still share the big news with your loved ones.
How to Make Graduation Invitations
Highlighting your grad's accomplishments throughout the years can really enhance your announcements or invitations. All you need are some pictures, ideas, images, or funny captions to transform your invitations into professional masterpieces each and every time. The best part is you have all of the things you need at your fingertips. Whether you are looking to plan a small get together or something more elaborate, you can plan everything you need to make the perfect graduation party invitations without leaving your computer. Get creative, explore, and experiment until you decide on something that matches your interests, style choices, goals and budget. Upload your photos now and use them as your starting point. Our wide selection of photo enhancement options, colors, and themes make it easy for you to find the custom design you want for unique graduation invitations. You can even add beautiful silver, rose gold, and gold foil to your graduation party invitations to make them stand out among the stack. After the big day don't forget to send thank you cards to your guests to show your gratitude and appreciation.
Invitations and Personalized Graduation Gifts
If you're getting ready for graduation season and the many parties, Shutterfly offers many custom items perfect to give as graduation gifts. Don't forget to look at our beautiful collection of gifts for additional ideas. Whether it's wall art for their dorm room, a photo book to highlight their best memories, or a personalized blanket to keep warm, Shutterfly offers a vast collection of graduation gifts you can customize to suit their personality.
Related Products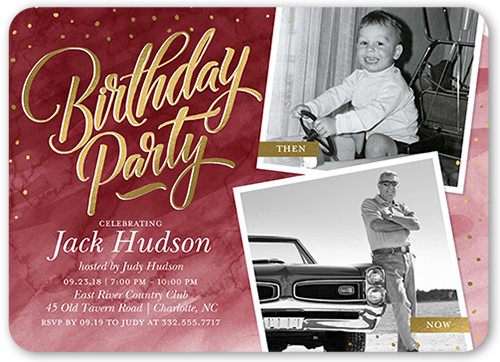 Watercolor Celebration 5x7 Stationery Card by Petite Lemon. Another year older. Another year of fun. Invite all the guests with this stylish birthday invitation. Just add your favorite photos and all the event details.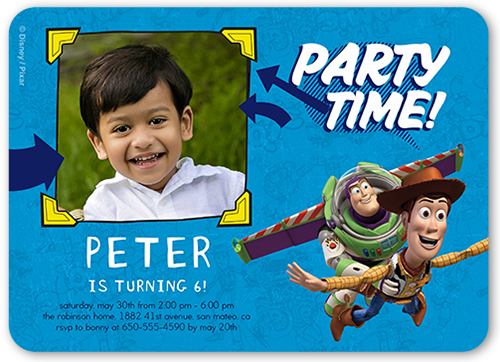 Disney-Pixar Toy Story Celebration 5x7 Stationery Card by Yours Truly. Another year older. Another year of fun. Invite all the guests with this stylish birthday invitation. Just add your favorite photos and all the event details.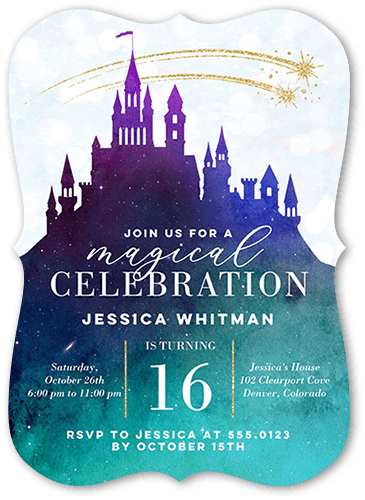 Kingdom Celebration 5x7 Stationery Card by Poppy Studio. Another year older. Another year of fun. Invite all the guests with this stylish birthday invitation. Just add your favorite photos and all the event details.