Green Bridal Shower Invitations
What customers have to say about our Bridal Shower Invitations
January 22, 2019
Personalized Card Bliss
"Great quality card made from personal photo and personalized captions. Sometimes a store bought card doesn't capture the sentiment you're trying to portray. This is a fantastic option to create your own!"
January 22, 2019
Beautiful!!
"Easy to design. Great communication. Super fast printing and delivery. Invitations were shipped next day."
January 21, 2019
Love them!
"They are great quality and look perfect."
January 20, 2019
Great quality!
"The invites for my cousins bridal shower were perfect. Great quality and fast shipping."
January 18, 2019
I was very pleased with the invitations!
"I needed invitations for a bridal shower and someone recommended Shutterfly. They were easy to order and came in a timely manner."
Bridal Shower Invites That Match Your Style
Preparing for your wedding is doubtlessly one of the most exciting times of your life, and at Shutterfly, we know you want to share it with the people you love the most. You can do so by throwing a bridal shower and gathering all of your closest friends and family to celebrate the news of your impending nuptials. Whether you plan an elegant soiree or a casual brunch, you will want it to reflect your personal style.

A big part of expressing your style is choosing stationery that fits your tastes, too. You can find the perfect green bridal shower invitations from Shutterfly and customize them to perfectly announce your upcoming shower. We make it easy and fun to do so by giving you complete control over design.
Planning the Perfect Shower
The invitations you send out will reflect what kind of bridal shower your guests can expect to attend. Planning the perfect bridal shower can be overwhelming. If you send out simple green bridal shower invitations, you can convey that it will be a low-key gathering of friends. Alternately, you can impart a more stylish vibe by selecting a floral motif or lace-framed look.

If you're overwhelmed by all of the options that are available (and who wouldn't be?), consider exactly what kind of shower you have planned. Will there be mimosas or movies? Will your guests be mostly friends, mostly family or a mix of both? Envisioning these elements can help you envision the kind of invitation that would best represent the event.
Personalize Shower Invites
Once you have decided what kind of green bridal shower invitations will best suit your plans, you can personalize them and make them just as unique as you are. We know how important it is that every part of your nuptial planning contain a personal touch. We put the power in your hands to customize each piece of stationery you select. Some of the elements you can customize include the following:
Paper type
Format
Size
Color palette
Design style
With options like these, making the green bridal shower invitations you want has never been easier. We aim to empower each of our customers with the ability to craft unique and meaningful wedding invitations, thank you cards, save the dates and with that ability, there's no limit to what you can create. In addition to the intuitive design tools you will find, we offer shipping options like super rush and next day to make sure your order experience with Shutterfly is just as convenient as it is personal.
Related Products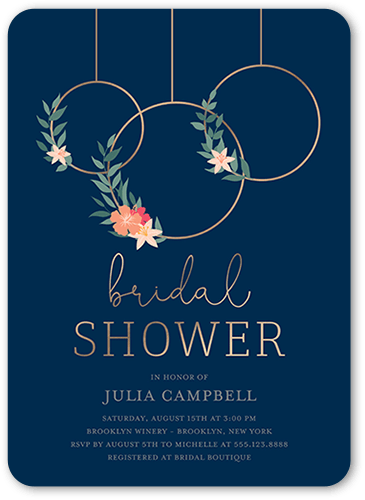 Blossom Rings 5x7 Stationery Card by Berry Berry Sweet. Celebrate the bride-to-be with this bridal shower invitation. Add the celebration details and a favorite photo.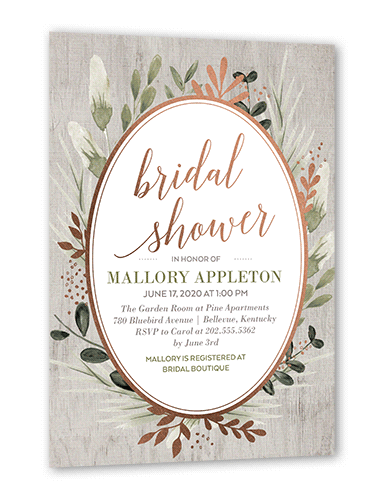 Bountiful Greenery 5x7 Stationery Card by Jenny Romanski. Celebrate the bride-to-be with this bridal shower invitation. Add the celebration details and a favorite photo.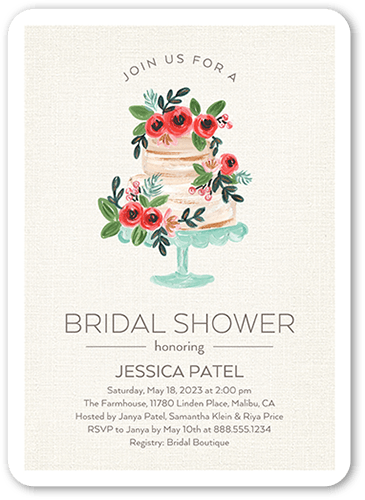 Decorative Cake 5x7 Stationery Card by Stacy Claire Boyd. Celebrate the bride-to-be with this bridal shower invitation. Add the celebration details and a favorite photo.