Luau Invitations
What customers have to say about our Luau Invitations
May 29, 2018
I would buy this again
"Brought for a 10th anniversary party in a Hawaiian theme. So pretty and vibrant in the turquoise and white writing. Wish the invitation writing area was a little bit bigger.."
August 22, 2017
Great card stock product. Blank on back
"Great product"
July 8, 2013
Summer IOnvitation
"Quick and easy ! Free shipping. A nice invitation, easy to customize. Thanks!"
Luau Party Invitations for A Summer Party
When's the last time you went to a full-on Hawaiian themed summer party? Probably been awhile, right? So you should throw one! Make your own hawaiian luau party invitations with tiki torches and palm trees in a snap and send them out to everyone you know and love. Say Aloha to people you haven't seen in awhile and let them know where to show up in their brightest Hawaiian shirt and lei. Don't forget to shop our assortment of gifts for great custom pool party favors that will make your Hawaiian party a hit. It's time to mark your calendars for sending luau party invites your friends won't ever forget!
What Do You Need to Throw A Tiki Party?
If you're planning to throw a luau, or Hawaiian themed pool party, you can create an amazing Pacific island atmosphere with just a few touches. First off, you need luau party invitations. These set the vibe for your luau birthday party with splashy flowers, flamingos and a big greeting, plus they make sure everyone saves the date. If you want to include a luau cocktail party photo in your luau invite, feel free to dress up in tropical-inspired beach party colors or put flowers in your hair. Once you've got your luau invites sent off to everyone, you can start to think about other luau party decorations. Pick up leis, palm leaves or hulas to give to all your guests as they enter the party. Set your tabletop with bright colors, a punch bowl, and Hawaiian-inspired snacks, like pineapple pizza. You can probably dig up a Hawaiian luau playlist on the Internet that includes cool tropical party music like ukulele jams or other Hawaiian tunes. If you're feeling ambitious, you can roast a pig, or maybe one of your neighbors is great on the grill and will volunteer to help you with all the luau birthday party fun. Your tropical party invitations will start things off by letting everyone know it's tiki time and to rsvp for your pineapple party.
Everyday Parties Are Better with Luau Party Invitations
You get together a lot -- or maybe you don't get together enough! You don't always need a reason to have a theme party or bbq. Sometimes, you just want to see the people you love and miss or have fun introducing different social circles or even playing matchmaker. A Hawaiian luau complete with a few party supplies can be a great way to do this. Even though a luau tropical party is a great way to celebrate birthdays, anniversaries or graduations, they make a perfect everyday tropical party, too. The theme is the reason to celebrate, so send Hawaiian luau invites for everyone to come to your place. It's summer party time - luau style! Check out Shutterfly's selection of cards and stationery for any occasion or party.
Related Products
Backyard BBQ 5x7 Surprise Party Invitations. Celebrate summer with this stylish barbecue invitation. Make a splash with your photos and all the event details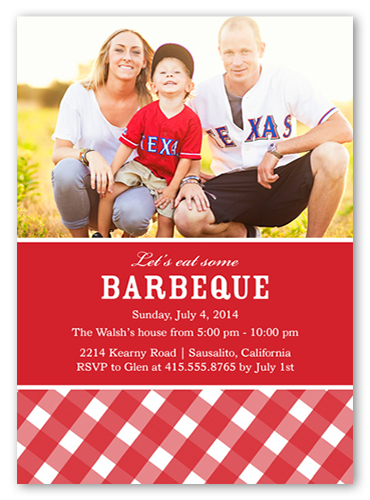 BBQ 5x7 Surprise Party Invitations. The heat is on. A picnic-perfect print adds a jolt of color to this summer barbecue invitation. The party details appear on a bright red background
It's The Fourth Surprise Party Invitations. What's in a number? Playful dots and a candy-striped number 4 gets everyone in the mood for the holiday. This Fourth of July summer invitation offers room for event details against a blue background ...