Pink Bridal Shower Invitations
What customers have to say about our Bridal Shower Invitations
January 22, 2019
Personalized Card Bliss
"Great quality card made from personal photo and personalized captions. Sometimes a store bought card doesn't capture the sentiment you're trying to portray. This is a fantastic option to create your own!"
January 22, 2019
Beautiful!!
"Easy to design. Great communication. Super fast printing and delivery. Invitations were shipped next day."
January 21, 2019
Love them!
"They are great quality and look perfect."
January 20, 2019
Great quality!
"The invites for my cousins bridal shower were perfect. Great quality and fast shipping."
January 18, 2019
I was very pleased with the invitations!
"I needed invitations for a bridal shower and someone recommended Shutterfly. They were easy to order and came in a timely manner."
The Ins and Outs of Bridal Showers
You can help a close friend or family member celebrate upcoming nuptials by hosting a bridal shower. Here at Shutterfly, we want to make your party planning simple, so we offer stationery in a wide range of colors, such as purple, gray, beige, red, brown and pink bridal shower invitations. Everyone can find something to fit their needs.
As you plan the bridal shower party, you need to ask yourself some questions about the couple. Are they traditional or modern? A traditional couple may expect a ladies-only party, while a modern couple may want men and women together. The exact details of the shower should be based on the interests of the bride-to-be or couple, if you plan on hosting a gender-neutral shower.
Pick a Theme
Before you get too far into invitation creation, you may want to settle on a theme for your bridal shower. This can help inspire the style of your pink bridal shower invitations as well as the decorations, games and food you get for the party. There are a lot of themes you could choose, such as:
Wine Tasting: The perfect way to incorporate wine and mingling into your shower.
Bicycles: Whether you ride them or simply use them to decorate, a bicycle-themed shower is for the adventurous.
Arts and Crafts: You can have the guests make a craft to take home or something for the bride to use at the wedding.
Beach: A beach shower can be achieved by going to a beach or decorating with umbrellas.
Tea Party: This elegant party could be perfect for the afternoon.
You can get even more inspiration by checking out our ideas page.
Create an Invitation
Creating your pink bridal shower invitations does not have to be hard. Pick out your favorite style and follow the prompts as you personalize the card. Always try to include pertinent information, including the following:
The name of the host
The bride-to-be's name
The name and address of the venue
The date and time of the shower
The dress code
With all this information, your guests will know exactly what is expected of them and how to get in touch with you if any questions arise. When you get invitations from Shutterfly, they can be more than informative, they can be dazzling and enthralling. You can create fun stationery that will impress your guests before they even open the envelope when you use personalized custom address labels and personalized postage stamps.
Get your invitations and accessories from Shutterfly. Start shopping today!
Related Products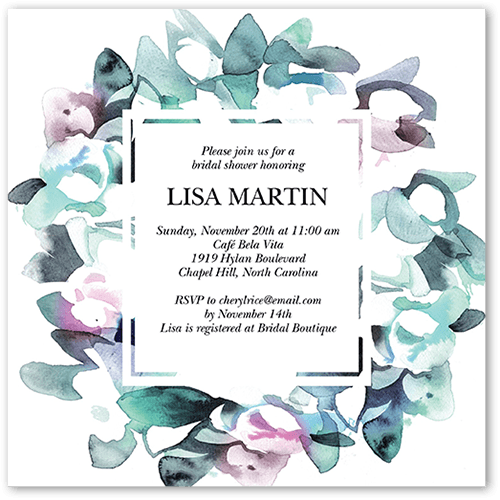 Alluring Wreath 5x5 Flat Stationery Card by Stina Persson. Celebrate the bride-to-be with this bridal shower invitation. Add the celebration details and a favorite photo.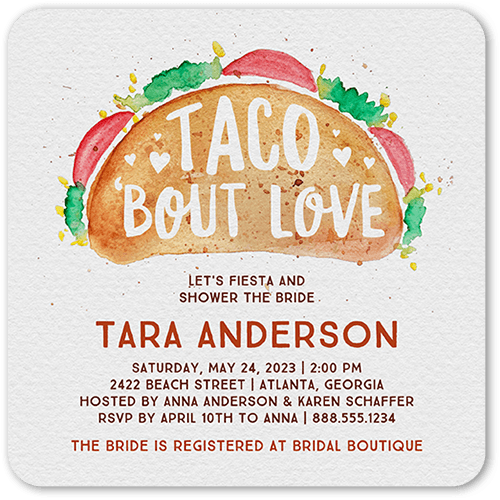 Awesome Tacos 5x5 Flat Stationery Card by Éclair Paper Company. Celebrate the bride-to-be with this bridal shower invitation. Add the celebration details and a favorite photo.
Bright Couple 5x7 Personalized Foil Card by Sarah Hawkins. Celebrate the bride-to-be with this bridal shower invitation. Add the celebration details and a favorite photo.