Purple Photo Invitations
What customers have to say about our All Occasion Invitations
October 21, 2018
Very please with invitations
"Very happy with the invitations. Easy to read and the photos on the back turn out great. Appreciate that we were able to purchase a small number of invitations and not more than we need."
May 9, 2018
Always good quality.
"I love making my own cards, it gives the recipient something special only I can give with pictures I took myself."
"Super cute and can use this card for all occasions"
April 11, 2018
I will buy again !
"Create awesome cards for family occasions. Love the convenience of being able to create them on the website and send directly to the recipient. However, I wish their was a link that asked when you want the card sent to the recipient ao I could order some cards earlier. For example, my niece's birthday is May 2 but do not want her to receive the card this early. So I am waiting until the end of the month to order the card because I like to send her's directly to her via Shutterfly's mail service as well."
February 5, 2018
Always Awesome
"Easy to order. Great service. Nice products. Fast shipping!"
Purple is Quite Versatile
Purple is a color with a lot of meaning attached to it and can be a great choice for your next party invitations. Purple photo invitations are perfect for any occasion, so here is how to use this vibrant color to suit your needs.
Light Purple Means Beauty
While historically, lavender and light purple spoke more to feminine beauty, its modern meaning is beauty in all forms. What a wonderful way to celebrate a milestone in your child's life by using a color that symbolizes how beautiful he or she is in your eyes. Consider light purple for first-day-of-school announcements and milestone birthdays such as 13, 15 and 16.
Mid-Purple Means Power
When you use a purple that is not too dark and not too light, it often comes across powerful. This is great for graduation announcements and celebrating a new job or promotion. You can use purple as part of a custom pallet for a notepad gifted to a new employee.
Deep Purple Means Spirituality
Deep purple has customarily been used in the robes of royalty and spiritual leaders. When choosing a card for a spiritual or religious occasion, why not consider the color purple? Purple is great for bar mitzvahs, first communion, baptisms and more.
Purple Gemstones Mean Creativity
For creatively driven events, such as wine and paint parties or a child's party with a crafty focus, a sparkly purple invitation looks original and fun. You can either have your invites mailed directly to your guest list, or have them sent to you so you can jazz up the sparkle with some actual glued-on rhinestones.
A purple photo invitation is as fun to design as it is to get in the mail, so you might want to keep this playful color in mind for your next event. If you find a layout you want to use over and over, you can save it to your Shutterfly account and come back to it whenever you want to.
Related Products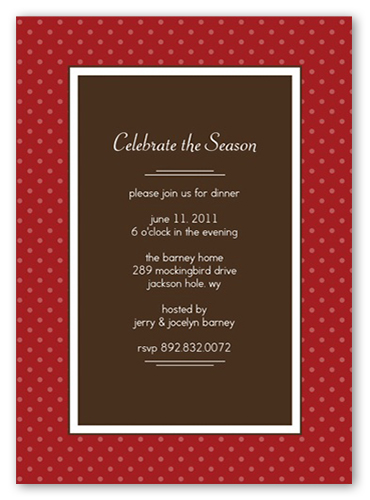 Berry Dots Party Photograph Invitations. An understated, yet elegant invitation for any seasonal celebration. This dark-chocolate colored card is surrounded by a field of cranberry-red polka dots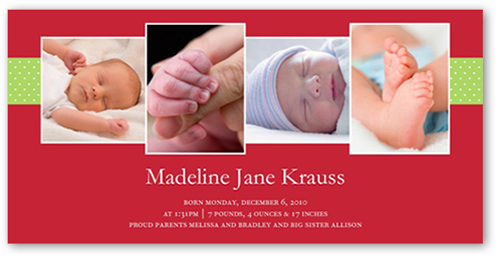 Perfect Holiday Gift Birthday Invitations. Present your most perfect holiday gift in this sweet holiday Boy baby announcement card. Add your baby's name and a favorite photo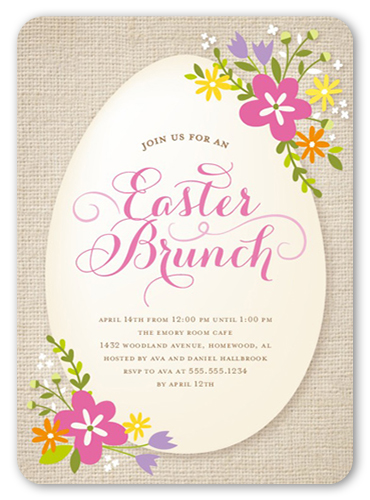 Easter Blooms Easter Party Invitations. A lovely vintage yellow brocade decorates this greeting card. The elegant and classic style is perfect for showing off a favorite picture