Sparkle and Shine Graduation Invitations
What customers have to say about our Graduation Invitations
January 22, 2019
Perfect!
"These are just right for any invitation. Very beautiful. We loved them"
January 18, 2019
Great product and shipped quickly!
"I used this for my graduation announcements. The quality of the product was great."
January 15, 2019
Perfect quality.
"We used these for my husband's graduation invitations.. they came out so perfect! We loved putting our in touch on them versus the plain ones the University would of sent out."
November 29, 2018
Definitely recommend!!
"Deloivery was fast! Everything came in a week! Got them delivered off and everyone loved them!"
November 29, 2018
Color is perfect
"They turn out just how I pictured them"
Sparkle and Shine Graduation Invitations
If you or someone in your life, whether a child, spouse or another special person, has an upcoming graduation, be sure to start this milestone event off on the right foot by designing custom graduation invitations to announce this day to loved ones. Shutterfly makes it fun and easy to share the news of this momentous occasion with close family and friends. You're sure to find a design you love in this stylish sparkle and shine graduation invitation collection, ensuring you get the date of the ceremony and/or party on everyone's calendars with plenty of advance notice. Our line of sparkle and shine custom graduation invitations offers the perfect way to communicate the excitement of this special day to your loved ones, who will be thrilled to receive such a unique invite.
Designing Custom Graduation Invitations
Enjoy browsing our collection of sparkle and shine graduation invitation designs. Shutterfly offers a diverse range of options, making it easy to find a style that suits your grad's personality and interests. Once you've selected your favorite design template, tap into your creativity and have fun customizing your graduation invitations with our array of personalization options. Choose from our various color options, font styles and sizes, trims, cardstock type and more. Add a special message and don't forget to include details about your event. To make your graduation invites even more memorable and sentimental, upload one or more special photos of the grad!
Graduation Invitation Envelopes That Pop
After you've designed one-of-a-kind graduation invitations you love, why not add some personality and style to the envelopes too? Our custom address labels and custom stickers are a great way to do just that – and will ensure your graduation invites stand out in the mail and grab the attention of your recipients! Don't forget to communicate your gratitude with loved ones after your event. Plan ahead and order personalized graduation thank you cards. By ordering them along with your graduation invitations, they'll be ready to go after the celebration, helping you avoid sending them out late – or not sending them at all!
Graduation Gift Ideas
After receiving a graduation invite from a loved one, you'll want to create a custom graduation gift that suits their style. For a milestone occasion such as a graduation, you'll want to get a thoughtful gift for the grad. Check out our unique DIY graduation gifts, offering ideas for every type of grad. For even more ideas and inspiration, check out our best graduation gift ideas for her and our best graduation gift ideas for him!
Related Products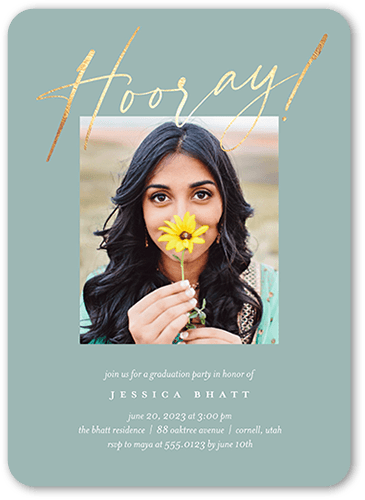 Lively Penmanship 5x7 Stationery Card by Yours Truly. Invite the guests to the celebration with stylish graduation invitations. Personalize with all the event details.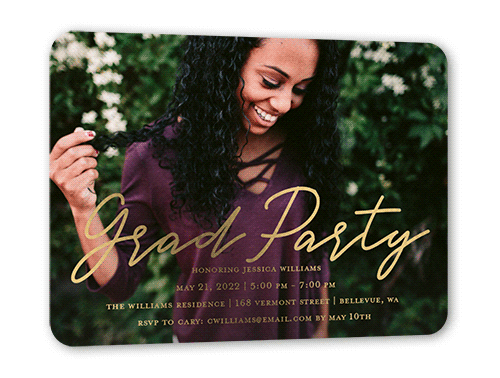 Scholar Script 5x7 Personalized Foil Card by Between Friends. Invite the guests to the celebration with stylish graduation invitations. Personalize with all the event details.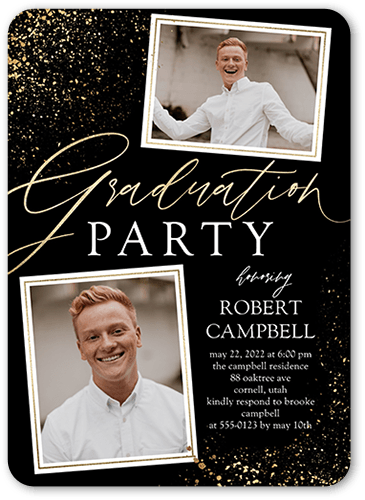 Sparkle Grad 5x7 Stationery Card by Éclair Paper Company. Invite the guests to the celebration with stylish graduation invitations. Personalize with all the event details.