Thanksgiving Invitations
What customers have to say about our Thanksgiving Invitations
November 18, 2018
Lovely product. Very professional and stylish
"Made Thanksgiving invitations which turned out super adorable. Very happy with the product. Great quality, great price, will shop again"
November 14, 2018
Fun and Easy to Order
"I needed some quick invitations to send out inviting my family to dinner at our house. They're coming from all across the country. What I liked about ordering from Shutterfly was that you could order in small quantities. All my family members who received them, loved them!"
November 2, 2018
Great gifts
"Love my Shutterfly"
October 28, 2018
Turkey Day Invited
"Was so easy to make and were mailed right away, loved how they turned out. Description was right on spot"
October 16, 2018
Awesome product!
"This product was very nice, professionally done and arrived quickly! Love Shutterfly!"
Create Custom Thanksgiving Invitations
Make your own Thanksgiving invitations with Shutterfly. There is no better way to show your loved ones how much they mean to you than to invite them over for the holiday most famous for expressing gratitude. This Thanksgiving, invite your friends and family over to your home with personalized Thanksgiving party invitations from Shutterfly. Our collection of fall party invites and photo cards are the best way to say Happy Thanksgiving to your loved ones. Your recipients will be eager to come over to your place and celebrate this special day with you and your household.
Designing Your Personalized Thanksgiving Invitations
Shutterfly has everything you need to turn your favorite photographs into custom Thanksgiving invitations and Friendsgiving invites. Whether you want to feature one or five of the best pictures of your family, Shutterfly has the perfect Thanksgiving invitation template to match the unique personality of your family. Our designs feature fall leaves, acorns, pumpkin pies, turkeys, and more Thanksgiving-themed artistry so you can give thanks in style. Once you've picked your favorite photo card template and narrowed down your favorite image choices, the design assistant will walk you through the simple customization process. You can pick your favorite fonts, colors, and messages for invitations that will reflect your personality. When creating Thanksgiving cards and invitations, it is always crucial to include vital information. Your address and the time the gathering begins are a great place to start. Including an RSVP by date and contact information will help you to plan your Thanksgiving feast with ease. It can be very beneficial to coordinate who is bringing what dish (unless you plan on undertaking it all by yourself). If you know friends or family members that are prone to allergies or dietary restrictions it can be helpful to include this information on the party invitations. Your thoughtfully designed invitations will help ensure that everyone has a lovely Thanksgiving.
Thanksgiving Invitations and Home Decor
After you send out your custom Thanksgiving invitations or Friendsgiving invitations and hear back on how many people will be coming to your event, you have to prepare your home. One of the first things to consider is having a chair and a plate for each guest. Once you have that basic necessity covered, you can think about decorating your home for this special occasion. Shutterfly has hundreds of unique home decor items and home accents to make your house feel like home for you and your guests this Thanksgiving. No Thanksgiving table would be complete without a centerpiece. Use mason jars to hold floral arrangements, or put together a collection of framed prints from Shutterfly can showcase all of your favorite images and pull your table together. Hosting an event like Thanksgiving is the perfect excuse to invest in new photo blankets, which are sure to be the sleeper hit of your gathering. This holiday season, invite your friends and family over with custom Thanksgiving invitations from Shutterfly. For every holiday, Shutterfly has everything you need to send thoughtful, personalized greetings. After Thanksgiving, send out custom holiday cards, Christmas cards, Hanukkah cards, and New Year's cards to the ones you love most.
Related Products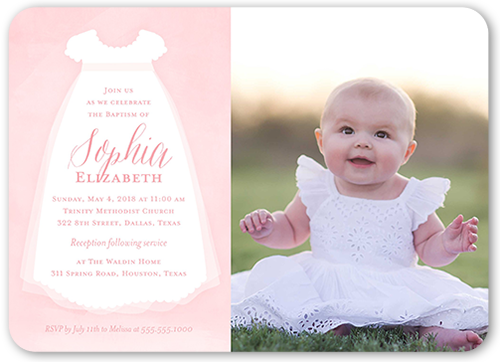 Lovely Purification Girl 5x7 Stationery Card by Stacy Claire Boyd. Invite everyone to this memorable and blessed occasion. Personalize this baptism invitation with all the event details.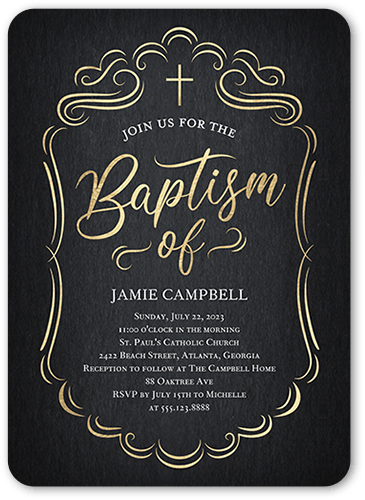 Ornate Stage 5x7 Stationery Card by Stacy Claire Boyd. Invite everyone to this memorable and blessed occasion. Personalize this baptism invitation with all the event details.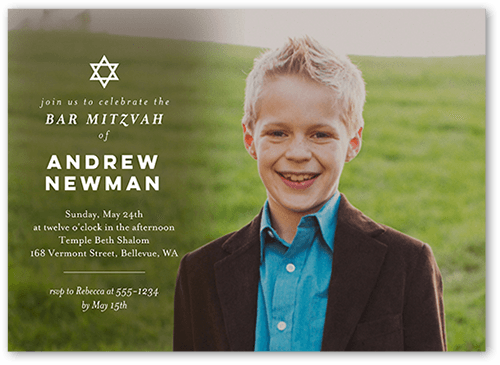 Pure Text 5x7 Stationery Card by Blonde Designs. Mazel Tov! Celebrate your son's Bar Mitzvah with a personalized Bar Mitzvah invitation. Just add his photos and event details.