DIY Bridal Shower Invitations
What customers have to say about our Bridal Shower Invitations
January 22, 2019
Personalized Card Bliss
"Great quality card made from personal photo and personalized captions. Sometimes a store bought card doesn't capture the sentiment you're trying to portray. This is a fantastic option to create your own!"
January 22, 2019
Beautiful!!
"Easy to design. Great communication. Super fast printing and delivery. Invitations were shipped next day."
January 21, 2019
Love them!
"They are great quality and look perfect."
January 20, 2019
Great quality!
"The invites for my cousins bridal shower were perfect. Great quality and fast shipping."
January 18, 2019
I was very pleased with the invitations!
"I needed invitations for a bridal shower and someone recommended Shutterfly. They were easy to order and came in a timely manner."
DIY Bridal Shower Invitations
When you want your wedding to be perfect, it is a good idea to take care of the details yourself. From the engagement party to the big day, create stunning personalized invitations complete with your own photos and text. At Shutterfly, you design and print your own stationery the way you want it. We have a wide selection of DIY bridal shower invitations to help celebrate the happy news. These are the moments that make memories which last a lifetime.
Be Your Own Wedding Planner
Weddings are expensive, especially when you have someone else in control. For your special day, you can take the reins and realize the vision for your dream wedding. Shutterfly makes it easy to create as many invitations as you need. First, Shutterfly gives you the option to choose your favorite template or upload your own design. Next, you can upload your favorite photos, add your text and submit. In minutes, your DIY bridal shower invitation is complete and on its way to your guests.
Personality Meets Quality
You deserve the best for your special day. At Shutterfly, you have access to professional printing on high-quality card stock. Plus, you can also choose the perfect finish for your invitations to give it added flair. Options include high gloss, matte, and even foil-backed finishes. Our durable cardstock ensures your recipients receive a card they can keep and display.
Turn Memories Into Mementos
Every creation you design at Shutterfly has the potential to become a lasting treasure. When you can turn your special photos and custom designs into hundreds of creative gift ideas, home décor items and prints, you have the opportunity to preserve every memory. This year, why not turn your memories into something tangible? Whether its customized wall art or a family photo throw pillow, you can find the perfect way to encapsulate the moments you cherish most. Shutterfly helps you transform your inspiration into a one-of-a-kind token to share with those most meaningful in your life.
Related Products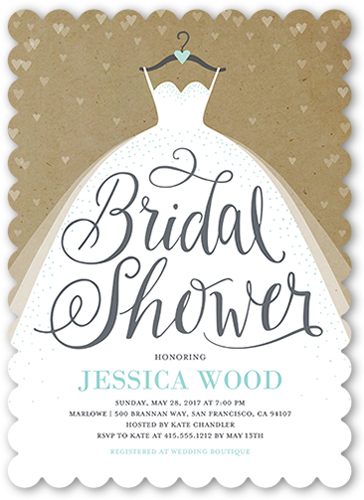 Dreamy Wedding Dress 5x7 Bridal Shower Invitations. Celebrate the bride-to-be with this bridal shower invitation. Add the celebration details and a favorite photo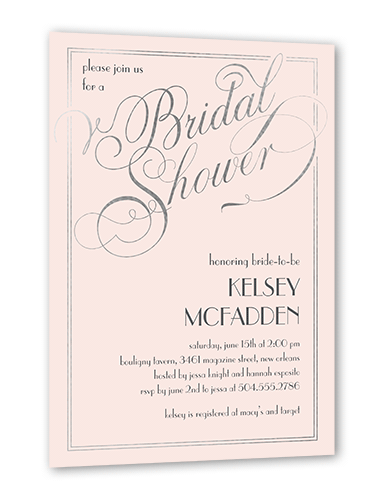 Framed Elegant Wishes 5x7 Bridal Shower Invitation. Celebrate the bride-to-be with this bridal shower invitation. Add the celebration details and a favorite photo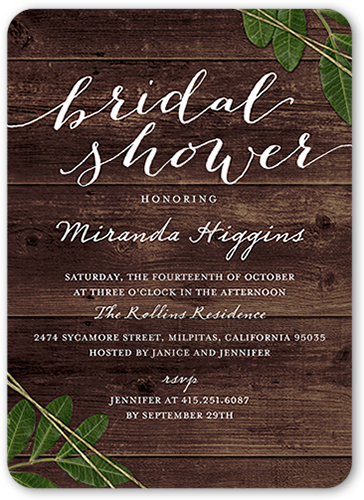 Leafy Frame 5x7 Stationery Bridal Shower Invitations. Celebrate the bride-to-be with this bridal shower invitation. Add the celebration details and a favorite photo