Yellow Bridal Shower Invitations
What customers have to say about our Bridal Shower Invitations
January 22, 2019
Personalized Card Bliss
"Great quality card made from personal photo and personalized captions. Sometimes a store bought card doesn't capture the sentiment you're trying to portray. This is a fantastic option to create your own!"
January 22, 2019
Beautiful!!
"Easy to design. Great communication. Super fast printing and delivery. Invitations were shipped next day."
January 21, 2019
Love them!
"They are great quality and look perfect."
January 20, 2019
Great quality!
"The invites for my cousins bridal shower were perfect. Great quality and fast shipping."
January 18, 2019
I was very pleased with the invitations!
"I needed invitations for a bridal shower and someone recommended Shutterfly. They were easy to order and came in a timely manner."
Love Those Yellow Bridal Shower Invitations
If you are going to host a shower for a bride-to-be, your first thought may be about theme. If a spring or summer wedding is being planned, you have a wealth of ideas from which to choose. You might go with a seaside or tropical theme. On the other hand, flowers, gardens and sunshine come to mind, and this leads you to yellow as the core of the design you envision. You begin thinking of daisies and daffodils, a sunny day and sheer happiness. The more you think about the idea, the better it seems, and soon you begin planning yellow bridal shower invitations.
Invitation Planning Made Easy
Here at Shutterfly, we understand that there are many details involved with hosting a shower, so we try to make the planning of your invitations as easy as possible. We offer the most comprehensive collection of designs anywhere, and you have customization options such as glitter and foil to give your invitations a standout appearance. For example, you can change the background color of a design you like from pink or aqua to yellow. In addition to color, you can choose:
Paper type
Card format
Theme
Style
Perhaps a personalized photo card would be perfect for those yellow bridal shower invitations. You can upload your favorite photo of the bride-to-be from your computer, tablet, camera or mobile phone. You can also upload from Facebook or Instagram. We will then guide you through the process of personalizing the invitation and show you a sample of the finished product.
The Envelope, Please
Once you have selected your invitations, you will want to choose envelopes, and we will be glad to help. Dressing up your envelopes is the next step. May we suggest lovely yellow address labels? You might also consider monogrammed stickers featuring the surname first letter of the wedding couple to affix to the back of your envelopes. By the way, you can make these even more eye-catching by using a photo on which the letter can be superimposed!
Mellow Yellow Memories
From springtime flowers to summer sunshine, yellow is a color that just makes you feel like celebrating. If you are well-organized, you will probably just need standard shipping of five to seven days for your order from Shutterfly. However, we also offer Expedite, Rush or Super-Rush options, if you really need that package in a hurry. Our experienced, caring team will do its part to help you make your event memorable, starting with stunning yellow bridal shower invitations.
Related Products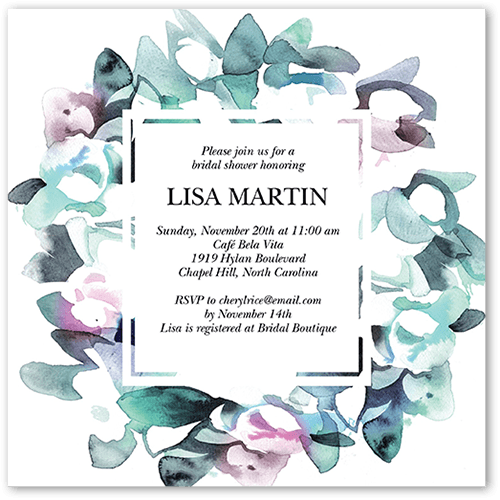 Alluring Wreath 5x5 Flat Stationery Card by Stina Persson. Celebrate the bride-to-be with this bridal shower invitation. Add the celebration details and a favorite photo.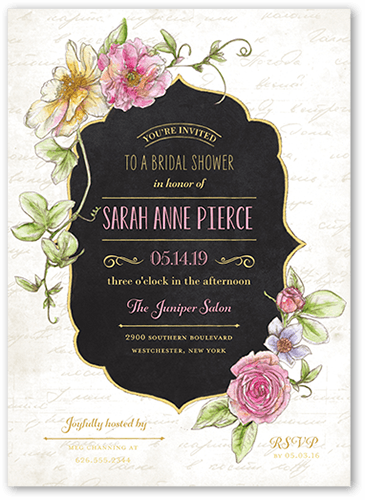 Enchanting Shower 5x7 Stationery Card by Lady Jae. Celebrate the bride-to-be with this bridal shower invitation. Add the celebration details and a favorite photo.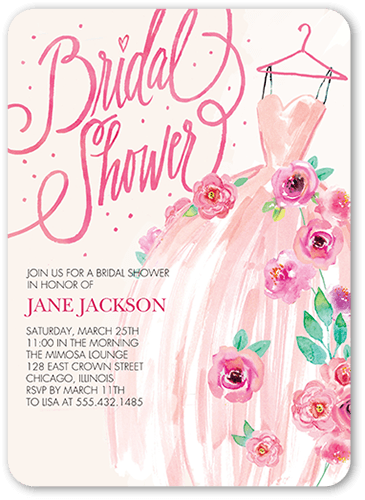 Floral Ensemble 5x7 Stationery Card by Bonnie Marcus. Celebrate the bride-to-be with this bridal shower invitation. Add the celebration details and a favorite photo.