Yellow Graduation Party Invitations
What customers have to say about our Graduation Invitations
January 22, 2019
Perfect!
"These are just right for any invitation. Very beautiful. We loved them"
January 18, 2019
Great product and shipped quickly!
"I used this for my graduation announcements. The quality of the product was great."
January 15, 2019
Perfect quality.
"We used these for my husband's graduation invitations.. they came out so perfect! We loved putting our in touch on them versus the plain ones the University would of sent out."
November 29, 2018
Definitely recommend!!
"Deloivery was fast! Everything came in a week! Got them delivered off and everyone loved them!"
November 29, 2018
Color is perfect
"They turn out just how I pictured them"
Let the Graduate Shine with Yellow Graduation Invitations
Graduation is the shining moment for any student. Welcome friends and family to join in the celebration with custom graduation invitations featuring a yellow color scheme. This common school hue brights a bright and warm touch to each of these stylish Shutterfly designs. Browse them all to find the one that speaks to your student's personal design style.
Customizing Your Yellow Graduation Invitations
The Shutterfly designs call for your custom touches. What a great way to get those senior photos and professional portraits in the hands of friends and family. Complete the look by adding custom text with all the essential party details. The custom details don't stop with photos and text. You can choose between the classic luxury of the signature cardstock or add a contemporary femininity with the pearl shimmer card stock.
Click that little orange "Personalize" button to get started on the guided process of adding your personal touch. Shutterfly offers a preview of your finished design prior to ordering, making it easy to envision the final result. You can't appreciate the quality of these yellow graduation invitations until you hold them in your hands. They arrive at your home within days, along with all envelopes needed for mailing. Stamp and address them yourself or provide Shutterfly with the guest list at checkout and cross that chore off your list.
Complete the Purchase with Coordinating Thank You Cards
With a personalization process as fun as this one, you aren't going to want to stop with graduation invitations. Add custom graduation thank you cards to your purchase. The card designs coordinate with your yellow graduation invitations and offer a refined way to thank everyone for their generous graduation gifts. If you aren't sure what to write in the thank you cards, head over to the Shutterfly ideas page and check out the blogs on ideas for thank you card messages. Not only does it give a quick review of card etiquette, but it also provides inspiration for how to write a proper thank you note.
Plan An Incredible Graduation Party
If you're sending out yellow graduation invitations, chances are you're throwing an incredible party to honor the graduate. Find party planning, decorating, and entertainment ideas on the ideas page too. This resource provides everything from party inspiration to valuable graduation information, such as which side to wear your tassel on.
Related Products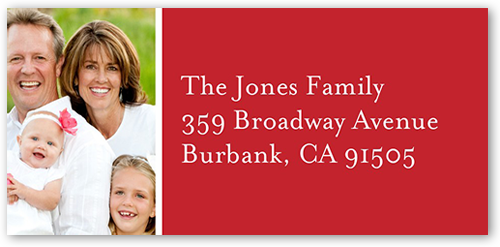 Say goodbye to handwriting your address on every single envelope. Whether you send a lot of correspondence throughout the year or you're getting ready to send invitations or cards for a special occasion, address labels make the process quick, fun ...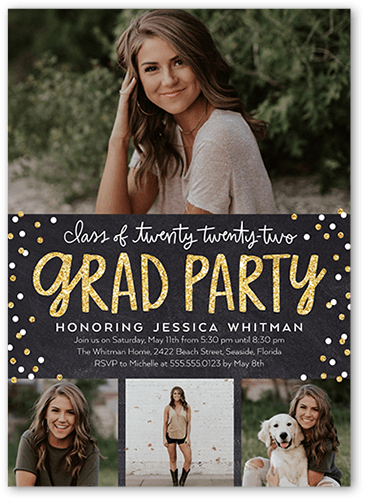 Bokeh Grad Party 5x7 Stationery Card by Stacy Claire Boyd. Invite the guests to the celebration with stylish graduation invitations. Personalize with all the event details.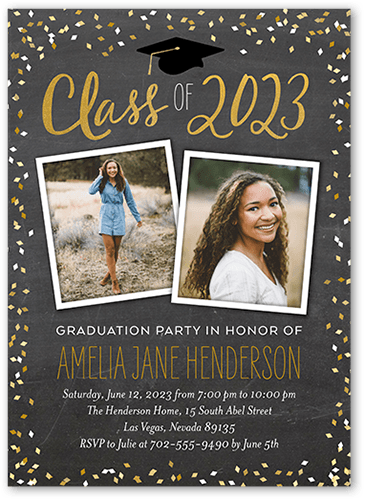 Chalked Confetti Class 5x7 Graduation Party Invitations. Invite the guests to the celebration with stylish graduation invitations. Personalize with all the event details