What customers have to say about our Valentine's Day Cards & Stationery
January 23, 2019
The cards were great
"Shutterfly does a great job on their products --I have gotten, from prints, cards, calendars and art."
January 22, 2019
Personalized Card Bliss
"Great quality card made from personal photo and personalized captions. Sometimes a store bought card doesn't capture the sentiment you're trying to portray. This is a fantastic option to create your own!"
January 22, 2019
Personalized Valentines Day Cards
"My daughter will be handing these cards out to her classmates for Valentines."
January 20, 2019
Absolutely loved my purchase
"Omg....i ordered a personalized valentines day card for my boyfriend and when I tell you I am so in love with it. I absolutely love it. Great job and I will definitely be using your services again. I love it and I know he will love it. Thank you so so much."
January 17, 2019
Please Update the year to 2019!!!
"Hi! I love your design and am hoping to use it for my daughter's valentines cards. Is there anyway you can update the design?! I tried to find a way to email you directly but was unable to. Thanks :)"
Valentine's Day Cards for Kids
Send love to your kiddo's classmates with personalized Valentine's Day cards for kids. With Shutterfly, your little one can design unique classroom Valentine's that are one-of-a-kind. With our personalization tools for greeting cards, you can make creating DIY Valentine's Day cards a fun online craft for your child. Let them choose a unique design, a favorite photo, and a Happy Valentine's Day message for your kids Valentine's Day cards. These kids classroom Valentine's Day cards will be a standout at school this year. Plus, you can hold onto them as a special keepsake you can cherish as your little one grows up.
Make Your Own DIY Kids Valentine's Day Cards
With Shutterfly, it's easy to create the perfect Valentine.Use our customization tools to make a handmade card online. To get started, browse through out collection of cute Valentine's day themed cards and choose one that fits your child's personality. We have a wide selection of kids Valentine's Day card themes, such as floral, monogram and hearts, that can be used for kids and adults alike. However, the cards specifically designed with children in mind have superheroes, sweets, sparkles, kisses, dinosaurs and airplanes, which might be a little more appealing to the younger crowd. Are none of these options quite right? Not to worry, you can create your own design! Use our customization tools to make your kids Valentine's day cards completely yours. Upload a photo, add your child's and a sweet message to make a fun Valentine that they love. From unicorn Valentine's day cards to dino-mite and under the sea themes, you can create the perfect school Valentine for you and your child.
Send Kids Valentine's Day Cards With Treats
Is your child in school? Some classrooms pass out Valentine treats each year, and these cards could be the perfect addition to traditional candy. Attach a lollipop, conversation hearts, cupcakes, or other non-candy treats that can be a perfect Valentine's Day party favor to go along with your card. While classmates may like this adorable kids Valentine card, grandparents, aunts, uncles and other loved ones are sure to love the personalized stationery. You can include a small photo book, a mug, an iPhone case or a calendar as a thoughtful and unique Valentine's Day gift to really show your family and friends what your kiddos have been up to over the past year.
Accessorize Personalized Valentine's Day Cards for Kids
You can really make your kids Valentine Day cards a hit by using some of the accessories offered here at Shutterfly. When your kids exchange cards in their classroom or among their friends, these accessories will make your kids Valentine's day cards stand out. It may be helpful to use the following products to make Valentine's Day cards for kids that stand out:
Stickers: You can use this on the back of your envelope to keep the flap closed and add personality.
Rubber Stamps: Self-inking rubber stamps can add character to your envelope and provide use down the road, too.
Address Labels: If you plan on sending out a lot of Valentines, you may want to reduce the hassle with address labels.
Making all these personalized stationery items is easy because of the simple photo upload tool and the customization-friendly designs, but there are still plenty of options. Whether you want to create a kids Valentine's Day card, thank you or greeting card, Shutterfly has lots of design elements and collections to choose from. Start creating your one-of-a-kind stationery today.
Related Products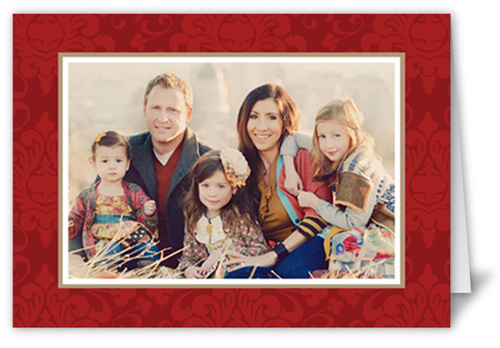 Brocade Red Thank You Cards. A lovely vintage pink brocade decorates this greeting card. The elegant and classic style is perfect for showing off a favorite picture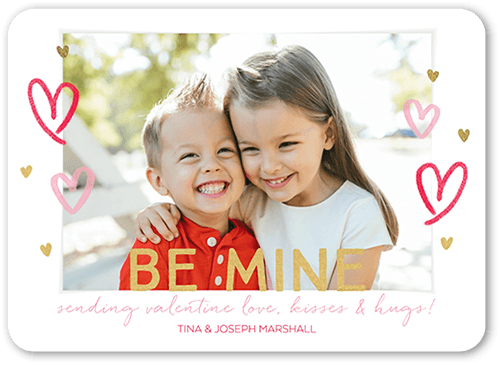 Be My Heart 5x7 Stationery Card by Petite Lemon. Be mine, Valentine. Fall in love with this sweet Valentine's card. Add your favorite photo and hugs, kisses and wishes.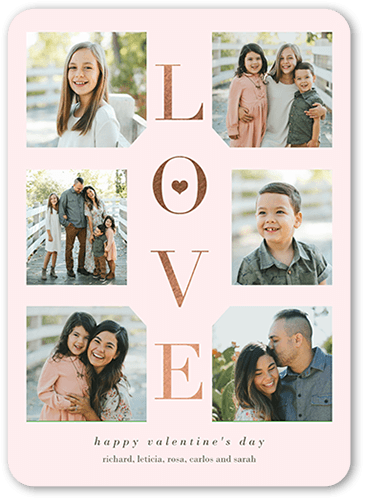 Love Gallery 5x7 Stationery Card by Poppy Studio. Be mine, Valentine. Fall in love with this sweet Valentine's card. Add your favorite photo and hugs, kisses and wishes.