What customers have to say about our Christmas Cards
January 27, 2019
I highly recommend this card!!
"Absolutely love this card they came out perfect!"
January 23, 2019
good purchase
"Paper is excellent quality as is the envelope. Shipping can be high unless you are ordering a larger number of cards but I only bought one."
January 23, 2019
I will absolutely use this product again.
"The first time I have used Shutterfly for our annual greeting card. Very pleased and will use again."
January 22, 2019
Chinese New Year
"Christmas came too soon. No cards went out. New Year's came and went! Still no cards were sent out. But thanx to Shutterfly, made it for a Chinese Greeting! Beautiful cards front and back with pictures of family sent! Halleluah!!!!!"
January 22, 2019
I looved these cards and they arrived so quickly!
"Shutterfly makes last minute projects easy .. I love these holiday cards and continue to make photo books each month with their app as well as edits on desktop site. I love Shutterfly!"
Create Christmas Cards for Kids
These cute kids Christmas cards give your kids an opportunity to weigh in on a treasured holiday tradition for their first Christmas and beyond. Shutterfly has a wide range of colorful and adorable templates to choose from, featuring bright colors, kid-friendly designs, and popular Christmas images like snowflakes, snowmen, and reindeers. These cards leave plenty of room for personal photos, so they are also a great chance to show off pictures of all your kids for the holidays. Making holiday greeting cards together is a fun and easy Christmas craft for kids of all ages. Let friends and loved ones know they are on the minds of everyone in your family this holiday season when you send them these customizable Merry Christmas cards for kids.
Christmas Card Ideas for Kids
Our Christmas photo cards for kids come in a wide range of unique designs. Several templates feature recognizable characters that kids love. Each Christmas and holiday card template comes with several color and size options so you can customize cards before you buy them and make them uniquely yours. Choose from custom Christmas cards for kids that feature a snowman, reindeer, Santa Claus, and Christmas tree card designs to celebrate the holiday season with your little ones involved. Whether you have preschoolers or older kids, making fun Christmas cards together will be a highlight of your year. Your kids will love being a part of making Christmas cards this year, and these fun Christmas crafts for kids make special keepsakes you can look back on when they're older.
How to Make Custom Kids Christmas Cards
We make it easy to personalize your DIY Christmas cards with an intuitive wizard that walks you through all customization settings. Simply select a kids Christmas card template you like, then choose your preferred color and size from the options listed on the page. Click the "Personalize" option, and then select photos or art that you want to include on your card. You can upload photos directly from your computer, or choose to import them from various social media sites. Most templates also give you the option of including a short personal message on the front of the card. Making Christmas cards together is one of the best ideas for kids who are creative and love showing their artistic side. Help them choose the photos they want to feature this year so you can send a festive card to loved ones this holiday season. If they enjoyed creating Christmas card, help them make Christmas ornaments for the tree or personalized Christmas gifts for friends and family members.
Ordering and Shipping Your Kids Christmas Cards
We sell personalized Christmas cards in bulk with a discount on each card when you buy more. Choose to send the kids Christmas cards straight to you so you can address and send them at your leisure, or share your contact information with us and let us do the work of addressing and mailing your cards for you. Get your kids into a holiday mood with kids Christmas cards in a variety of different designs.
Related Products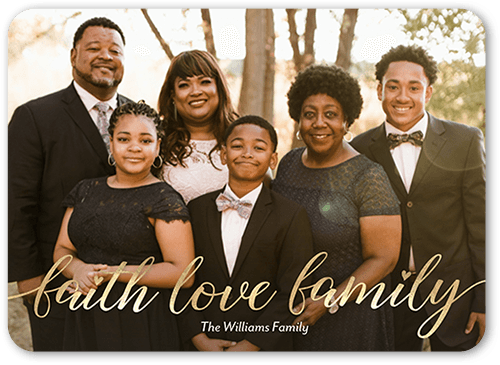 Familiar Sentiment 5x7 Photo Card by Shutterfly. Send cheer to friends and family with this Christmas card. Add your own greeting and everyone's names.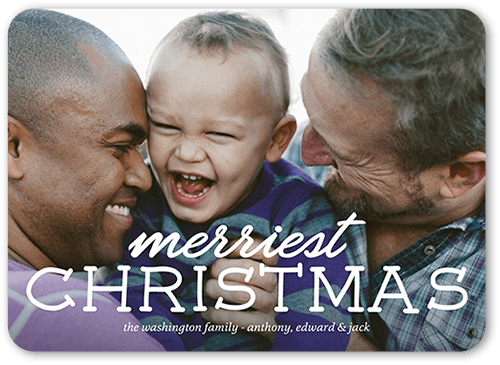 Joyful Sentiment 5x7 Photo Card by Shutterfly. Send cheer to friends and family with this Christmas card. Add your own greeting and everyone's names.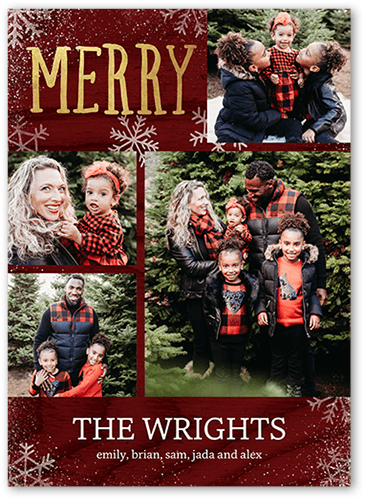 Ruby Glee 5x7 Photo Card by Shutterfly. Send cheer to friends and family with this Christmas card. Add your own greeting and everyone's names.