Teen Thank You Cards
What customers have to say about our Teen Thank You Cards
January 27, 2019
Love these cards.
"Shutterfly always does a great job."
January 26, 2019
These turned out so CUTE!!!
"The card stock is very heavy and makes it a nice writing experience. Quality, thick, great bright colors on the card. This is a great product and a wonderful purchase."
January 26, 2019
Love these to send to friends.
"These are so personal. It really makes for a nice way to say hello and thank you in a personal way."
January 22, 2019
Personalized Card Bliss
"Great quality card made from personal photo and personalized captions. Sometimes a store bought card doesn't capture the sentiment you're trying to portray. This is a fantastic option to create your own!"
January 19, 2019
They LOVED my Thank-You Card!
"I made a couple of thank-you cards for my grandkids and my daughter. It was easy to make a professional-looking card and the paper was of good quality"
Help Your Teen Share Their Thanks with Custom Cards
Even though raising a teenager might be one of the most difficult things you will experience, teaching them the valuable lesson of saying thank you doesn't have to be. Encourage positive habits with your teen through custom thank you stationery sets from Shutterfly. It's easier than ever to help your teen learn the valuable lesson of showing gratitude with personalized thank you cards for any occasion.
Designing the Custom Thank You Card
Even if you and your teen have very different tastes, it is easy to create classy and elegant cards you both will appreciate. Your son or daughter can upload their best photographs and artwork into their favorite template to create a card that you both will approve of. They can choose to highlight their favorite pictures from sports or school, or they can showcase their own artwork and designs. Shutterfly makes it easy to use the design assistant to pick your teen's favorites from a variety of colors, fonts, custom messaging and cardstock options.
Teaching your teen to send thank you cards after a birthday, graduation or other occasion is a valuable lesson they will thank you for someday (even if you have to wait until they're all grown up).
Highlight Your Teen's Unique Personality with Custom Items
Whether your teen is easy to please or a handful, you can help them feel special by featuring their favorite memories. For the teen that loves snapping photos of their daily life, a custom collage made into a canvas print is a unique and elegant way to display their favorite photos. (These also make the perfect best-friend gift). Encourage your teen to hydrate with a stylish, personalized photo water bottle, perfect to use at extra-curricular activities or sporting events. For the teen on the go, a custom reusable bag will guarantee all their belongings make it from point A to B.
Even though it might be difficult to get through to your teen, Shutterfly is here to help ease the process. Custom thank you cards are an easy step in the right direction. Let Shutterfly turn your favorite teen's memories into beautifully printed products that any recipient will appreciate.
Related Products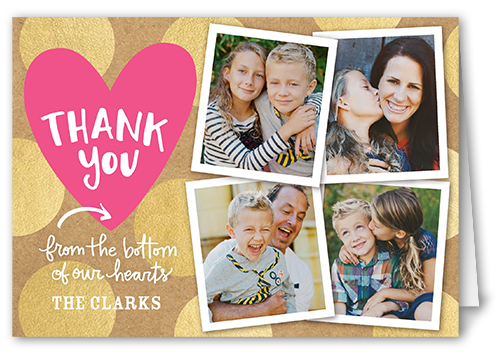 Bottom Of Our Hearts 3x5 Thank You Card. Show just how much you appreciate them with this stylish thank you card. Add your favorite photos and a message of thanks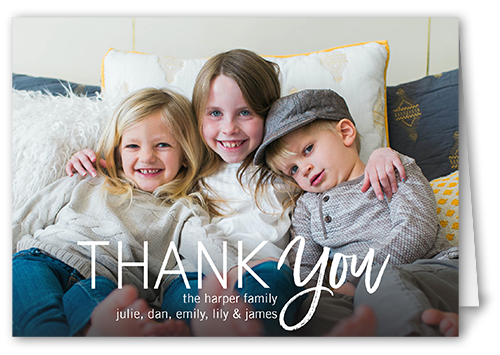 Classic Gratitude 3x5 Thank You Card. Show just how much you appreciate them with this stylish thank you card. Add your favorite photos and a message of thanks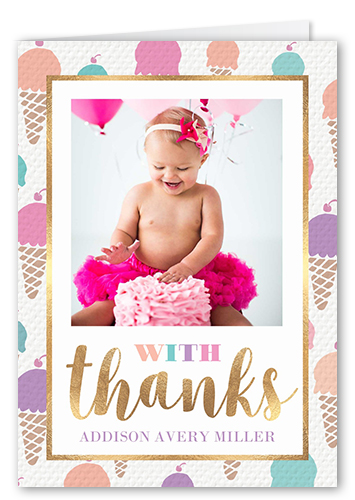 Cone Pattern 3x5 Thank You Cards. Show just how much you appreciate them with this stylish thank you card. Add your favorite photos and a message of thanks