Lace & Patterns Thank You Cards
What customers have to say about our Thank You Cards
January 27, 2019
Grateful for my thank you cards
"I ordered these cards to give out with my closing gifts to my buyers and I am so glad that I did. The quality is amazing and the print was perfect. Can't wait to use them!"
"Love the size, love the card stock, love how our photo fit so nicely."
January 27, 2019
Love these cards.
"Shutterfly always does a great job."
"Once again, Iove my end result from Shutterfly. The people love their personalized cards too."
January 26, 2019
These turned out so CUTE!!!
"The card stock is very heavy and makes it a nice writing experience. Quality, thick, great bright colors on the card. This is a great product and a wonderful purchase."
Lace & Patterns Thank You Cards
When you're looking to make an impression with thank you cards, you can't go wrong with Shutterfly's stunning lace & pattern designs. The unique style of these thank you cards, combined with your personalized message and custom design features, results in a unique and thoughtful way to show your gratitude for your loved ones. You can add a special photo and a sweet thank you note to your card that your recipients will appreciate. Whether you're sending a note of thanks to guests following a special event, or want to let a special person know how much you appreciate them, you'll find just the right card for the occasion in this collection.
Stylish Thank You Cards for Any Occasion
This lovely collection of thank you cards features eye-catching lace & pattern designs with stylish typography. You'll find it easy to customize our thank you card templates to match your personality, showcase your style and craft a heartfelt message of thanks that will make your recipients feel appreciated. Shutterfly's lace and pattern custom thank you cards are extremely versatile, being perfect for a variety of occasions, including weddings, showers, birthdays, baby showers, graduations, holidays and more! Other than special occasions and milestone events, it's always thoughtful to send a personalized thank you card for the small everyday acts of kindness you're on the receiving end of too.
Customize Your Lace & Pattern Thank You Card Design
Whether you want a non-photo design that's versatile enough to use for a range of occasions or you'd like to highlight one or more favorite photos from a special event on the front of your custom thank you card, you'll find our collection includes an array of styles, enabling you to easily find a design that matches the look you have in mind. Once you've selected your favorite design, make a thank you card that's one-of-a-kind with our easy-to-use online customization tool. Choose from various colors, font styles, trim options and other features. Add a special saying or thank you quote to enhance your message. If you want to include photos in your thank you card design, you can easily upload your favorite pics. No matter how you design your thank you note cards, the personal touches you add will bring smiles to your recipients when they receive them. Add even more of a personal touch by dressing up the envelopes with custom address labels that complement your thank you card design. You can customize your address labels with favorite photos, colors and text, so your personality and style shine through.
Related Products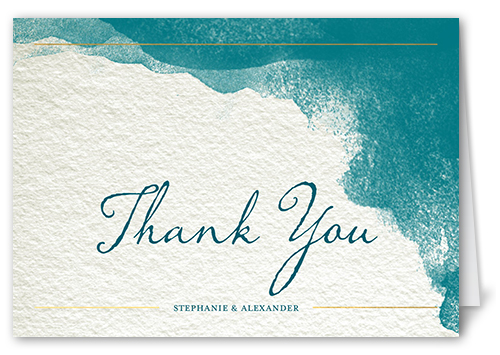 3x5 Folded Card by Petite Lemon. Show just how much you appreciate them with this stylish thank you card. Add your favorite photos and a message of thanks.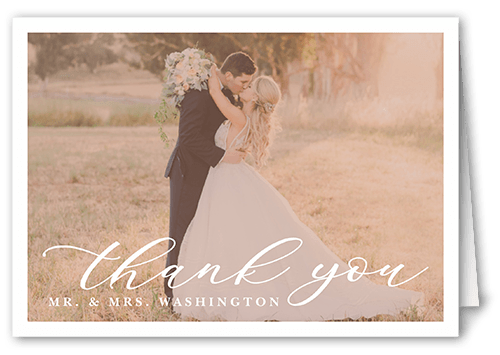 Brilliant Overlay 3x5 Folded Card by Yours Truly. Because they deserve it. Give them a personalized thank you card to express your gratitude.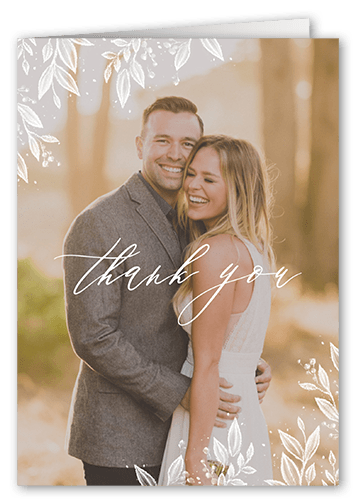 Garland Bliss 3x5 Folded Card by Petite Lemon. Because they deserve it. Give them a personalized thank you card to express your gratitude.