Address Labels for Her
What customers have to say about our Address Labels for Her
January 21, 2019
My family looks forward to this every year!
"Each year I make a calendar for my very large family and include the 75+ birthdays and anniversaries with pictures to enjoy. It's always a holiday favorite!"
January 19, 2019
I would order more labels if needed
"To mail out letters or cards to family & friends. Like the color & font"
January 16, 2019
Address Labels
"I love these address labels, they are so pretty. Everything was correct on the order and it came really quickly!"
January 15, 2019
Outstanding Holiday Cards
"Announcing our new address, retirment to Family & Friends - Wishing All a Happy New Year! Loved the full page text box for announcing big changes in our life and summary of year 2018."
January 6, 2019
I would buy this again
"Great bright colors"
Customize Stationery for Mother's Day – Create Personal Address Labels for Her
Mother's Day is the perfect time to rekindle correspondence with the most important woman in your life. This year, go beyond flowers that can wilt and customize a unique set of stationery for the light of your life. Give her a unique gift with the promise to respond to each letter she sends and be sure to include her very own set of return address labels for a complete gift.
For a bonus gift, include a small book of forever stamps to help her easily keep in touch with all of the important people in her life.
Designing the Stationery
In the same way that she knows every freckle on your face, you know your mother's favorite things. You can easily use Shutterfly to customize your gift of stationery with easy to use templates, feminine themes, classic designs and color options. The icing on the cake will be personalized return mailing address labels to complete this thoughtful gift.
Other Thoughtful Mother's Day Gifts
Mother's Day is a great time to share some of those precious photos of the little ones—and what better way than with a creative photo gift? Work with your kids to make the perfect poster for Grandma. Letters are appreciated throughout the year, so consider designing some mix and match thank you cards for the little ones to remind Grandma how thankful they are to have her in their life. (Sending thank you notes is a great way to help children learn to appreciate the people in their lives). Photo coasters and journals are also special and personal gifts that remind all of the women in your life how important they are to you.
Don't Forget to Give Mom or Grandma a Call
It is easy to forget to tell the people that we love just that – that we love them. Make the time and be sure to give Mom or Grandma a ring and just thank her for being there for all those big and small moments. Personalized stationery with matching address labels is a thoughtful gift that will have her smiling every time she writes a note.
Related Products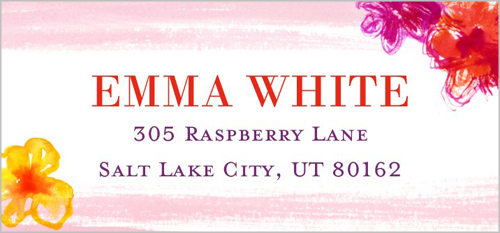 Brushstroke Bride Wedding Address Label. Address your envelopes with stylish address labels. Corresponding invitations, gift tags and thank you cards are also available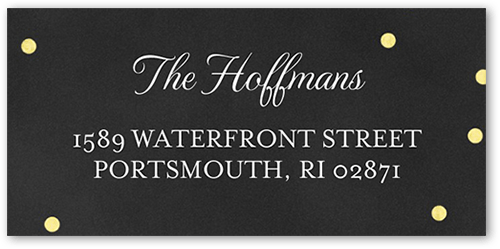 Dazzling Script Confetti Wedding Address Label. Address your envelopes with stylish address labels. Corresponding invitations, gift tags and thank you cards are also available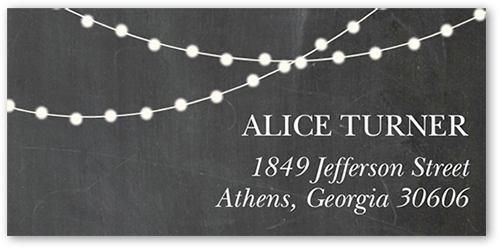 Hanging Lights Wedding Address Label. Address your envelopes with stylish address labels. Corresponding invitations, gift tags and thank you cards are also available