What customers have to say about our Mother's Day Cards
January 22, 2019
Personalized Card Bliss
"Great quality card made from personal photo and personalized captions. Sometimes a store bought card doesn't capture the sentiment you're trying to portray. This is a fantastic option to create your own!"
January 12, 2019
Shutterfly products always look great!
"If you love one of your photos, turn it into a card! Whether it's a Thank you card, a sympathy card, a birthday card or any other kind of card, it'll turn out great!"
January 10, 2019
It exceeded my expectations
"Great, professional results"
"quick and easy. Great pricing."
January 5, 2019
Beautiful quality cards
"I love these cards and have ordered many over the years. The paper is very nice and heavy for both the cards and envelopes."
Give Mom a Gift She'll Love
Mother's Day only comes around once a year even though your mom, wife or grandma plays the role all year round. Here at Shutterfly, we know you want to make this day special for the mothers in your life. That's why we offer tons of options from designers, like Brejer, Vanilla Print, Lia Griffith and Stacy Claire Boyd, to ensure you can find something she will love.
Whether you want the present to come from you or from the kids, we have you covered. You can choose from lots of themes to make sure the right sentiment is expressed. Our kids' Mother's Day cards are sure to leave mom or grandma awe-struck.
Add Personal Photos
Adding a personal photo is a great way to make sure that the card is loved. However, choosing just one picture can be a challenge, especially when your kids are so stinking cute. If you are having a hard time picking, don't worry. We have layouts that can include anywhere from one to nine pictures on the front of the card alone.
Even though you have space to include lots of photos, you still want to make sure you are using high-quality, good-looking pictures. They don't all have to be professionally done, though. Look for images where your kids' personalities are shining through. If you use a layout with more than one picture, consider mixing posed pictures with candid photos to give the card even more character.
Choose a Special Quote or Phrase
Once you pick out the right photo, you have to make sure your kids' Mother's Day cards say the right thing. Something as simple as 'Happy Mother's Day' may be enough, but if you want to go a little more in depth, consider choosing a thoughtful quote or phrase. Remember, if the sentiment of the phrase is spot on, the originality won't be as important.
Include an Extra Gift
Kids' Mother's Day cards are a great place to start your celebrations, but you do not need to stop there. Here at Shutterfly, we have lots of photo gifts you can give the moms in your life. Something like a personalized Mother's Day photo book is easy to make with our simple path feature, yet it is personal and heartwarming. If you are really strapped for time, you can even have a professional designer custom-make your photo book. If you do not end up buying it, you don't have to pay a thing!
Remember, there's no rule you have to wait for Mother's Day to get your mom a little something special. Start crafting a greeting card or photo gift today.
Related Products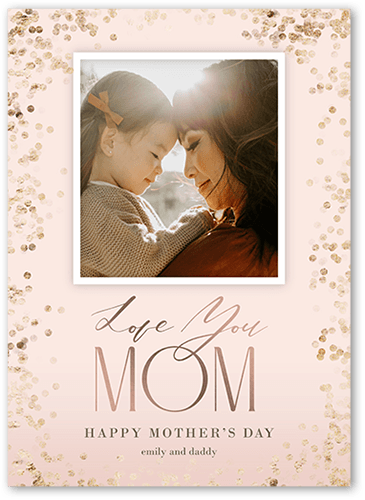 Elegant Border Bokeh 5x7 Stationery Card by Float Paperie. Because she deserves it. Send Mom a personalized Mother's Day card filled with a sweet message and favorite photos.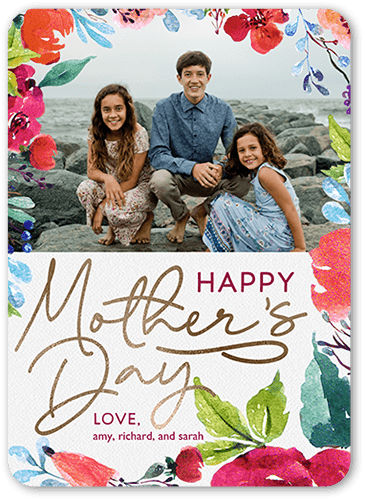 Floral Mom 5x7 Stationery Card by Éclair Paper Company. Because she deserves it. Send Mom a personalized Mother's Day card filled with a sweet message and favorite photos.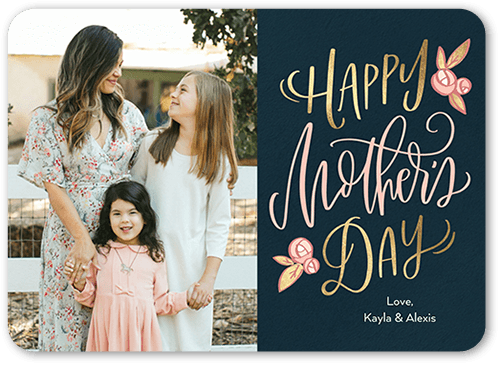 Maternal Rose 5x7 Stationery Card by Stacy Claire Boyd. Because she deserves it. Send Mom a personalized Mother's Day card filled with a sweet message and favorite photos.