What customers have to say about our Mother's Day Cards
January 22, 2019
Personalized Card Bliss
"Great quality card made from personal photo and personalized captions. Sometimes a store bought card doesn't capture the sentiment you're trying to portray. This is a fantastic option to create your own!"
January 12, 2019
Shutterfly products always look great!
"If you love one of your photos, turn it into a card! Whether it's a Thank you card, a sympathy card, a birthday card or any other kind of card, it'll turn out great!"
January 10, 2019
It exceeded my expectations
"Great, professional results"
"quick and easy. Great pricing."
January 5, 2019
Beautiful quality cards
"I love these cards and have ordered many over the years. The paper is very nice and heavy for both the cards and envelopes."
Give Mom Something She'll Love with a Custom Mother's Day Card
Make a one-of-a-kind custom Mother's Day card for the special women in your life. Whether you're looking for the perfect greeting card for your mom, grandma, mother-in-law, stepmom, or mom-figure, you can send the perfect happy Mother's Day message that says, "I love you." She's been there with you through every important moment in your life, so now it's time to show her how much she is appreciated. This year, instead of a typical store-bought card, design a one-of-a-kind Mother's Day card that lets her know that she's the best mom ever. For your mother or grandmother's special day, an adorable personalized photo card from you will show her just how much she means to you and your family.
Designing Custom Mother's Day Cards
Making a special happy Mother's Day card for a very important woman in your life can seem daunting, but Shutterfly makes it easy for everyone. Just upload your favorite family photographs and insert them into one of the customizable templates. From start to finish, your greeting card can be completed in a matter of minutes. Choose between classic themes, feminine designs, and delightful fonts to truly personalize your card. Your care will show in the lovely stationery that reflects the beauty you see in your mother—and she will appreciate just how much time and effort you put into her unique Mother's Day card. You can even personalize your Mother's Day message to her. At a loss for words? Our round-up of Mother's Day quotes is a great place to start and features everything from funny quips to heartfelt sayings.
Ideas for Mother's Day Cards
Say "I love you" with a unique Mother's Day card for your mom. With our personalization tools, there are endless ways to make the perfect card for the special woman in your life. You can upload her favorite photo of her kids and add custom Mother's Day messages from each of them. Or, make a funny Mother's Day card with a silly picture of her or the whole family. Another great idea for Mother's Day cards is to have the kids draw a picture for Mom and customize the greeting card to showcase their beautiful artwork. List the reasons why you love your mom and why she's so special to your family. She'll be left feeling like the best mom ever after receiving this card that's as special as any Mother's Day gift. Her heartfelt card will live on as a special keepsake she cherishes for years to come.
Mother's Day Gifts She'll Love
If a happy Mother's Day card can't even begin to tell the mom in your life how much she means to you, consider one of many delightful photo gift options. If you are a shutterbug with reels of pictures of the little ones, a Mother's Day photo book makes a great option. With Shutterfly, you can easily turn your favorite memories into framed or metal prints, which come ready to be hung or displayed. A fun idea for a Mother's Day gift for another mom is a set of stemless wine glasses. Photo gifts are great ways to remind the leading ladies in your life just how much you love and appreciate them, each time they use your present. These one-of-a-kind gifts of home decor, wall art, and photo albums will let them know how much of a great mom they are. She'll appreciate your Mother's Day greeting card and thoughtful gifts that she'll want to treasure forever. You can also make a thank you card that lets her know how much she is appreciated every single day.
Related Products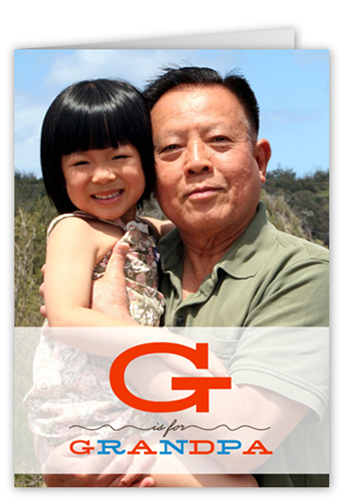 G For Grandpa 5x7 Fathers Day Cards. G is for Grandpa. Send him this bold and modern Father's Day card with a photo he will absolutely adore. Add your own personalized greeting inside to make his day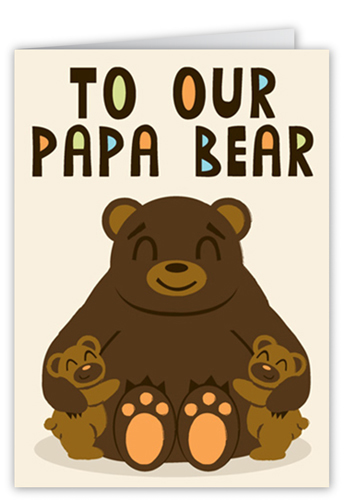 Papa Bear 5x7 Custom Fathers Day Cards. Make dad a truly unique Father's Day card by using his child or grandchild's artwork. Add a personalized message and more photos inside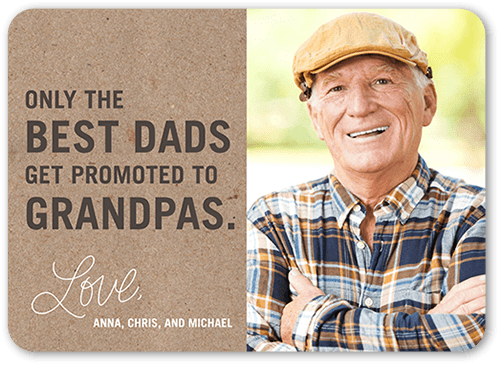 Promoted to Grandpa 5x7 Stationery Card by Blonde Designs. Because he deserves it. Send Dad a personalized Father's Day card filled with a sweet message and favorite photos.