Moving Announcement Christmas Cards
What customers have to say about our Christmas Cards
January 27, 2019
I highly recommend this card!!
"Absolutely love this card they came out perfect!"
January 23, 2019
good purchase
"Paper is excellent quality as is the envelope. Shipping can be high unless you are ordering a larger number of cards but I only bought one."
January 23, 2019
I will absolutely use this product again.
"The first time I have used Shutterfly for our annual greeting card. Very pleased and will use again."
January 22, 2019
Chinese New Year
"Christmas came too soon. No cards went out. New Year's came and went! Still no cards were sent out. But thanx to Shutterfly, made it for a Chinese Greeting! Beautiful cards front and back with pictures of family sent! Halleluah!!!!!"
January 22, 2019
I looved these cards and they arrived so quickly!
"Shutterfly makes last minute projects easy .. I love these holiday cards and continue to make photo books each month with their app as well as edits on desktop site. I love Shutterfly!"
Celebrate Your New Home With a Moving Announcement Christmas Card
Christmas and holiday cards make great family keepsakes. You'll find custom Christmas card templates on Shutterfly that seamlessly combine your annual holiday greeting with your new home announcement. Send out moving announcements and holiday cards that fit your family's eventful year, while offering your loved ones something simple that they can hold on to for years to come. Heirloom-quality moving announcement holiday cards that your friends and family can admire will help to weave years of memory together, as you and your family reflect back on them for years to come. Preparing your moving announcement Christmas card on Shutterfly is a celebratory task. With a curated selection of beautiful holiday photo card templates and an easy-to-use design studio, your announcement cards will turn out just how you like them. Your shopping experience will be nearly as fun as it was getting everyone together for the photos in front of your new home.
Moving Announcement Christmas Cards Put Your Family on the Map
When you make a move to a new home, it can be daunting to think of all the people you need to inform of your new address. However, when you create beautiful, moving announcement Christmas cards with Shutterfly, you'll be excited to share the details of your new location with the people in your life. Once you're all settled in this holiday season, send "We've moved!" cards to friends and family to share the big news. Sending moving announcement Christmas cards offers your recipient a great feeling: It reminds them that you love them. The act of sending and receiving cards also helps to keep your family linked with your community. Add an official feeling to your entire moving event, and firm your new address in your loved ones' minds with moving announcement Christmas cards from Shutterfly.
Create Holiday Moving Announcement Cards That Dazzle With Shutterfly
There's nothing quite like receiving personalized Christmas cards in the mail, especially when they're from friends and family you love. Return the favor with moving announcements and Christmas cards from Shutterfly. It's a breeze to design lovely cards your loved ones will appreciate. The quality of the photo cards will delight you. With high-quality printing and materials, your moving announcement Christmas cards will be dazzling. Whether you're decking new halls in your first home or new city, you can make holiday moving announcements that say Merry Christmas in a unique way. With such gorgeous quality, your loved ones will enjoy your Shutterfly photo moving announcement so much; they might be inspired to create their own.
To get started on your Christmas moving announcement cards and celebrate your new home sweet home, upload a number of photos to one of our Christmas photo card templates. Whether it's a photo of your family standing in front of your new house or a traditional family portrait, you can make personalized holiday cards that suit your style. Customize your card's trim and add your family name to make your holiday greeting one-of-a-kind. Don't forget to include your new address on the card, and make personalized address labels so your guests will know where they can find you.
Related Products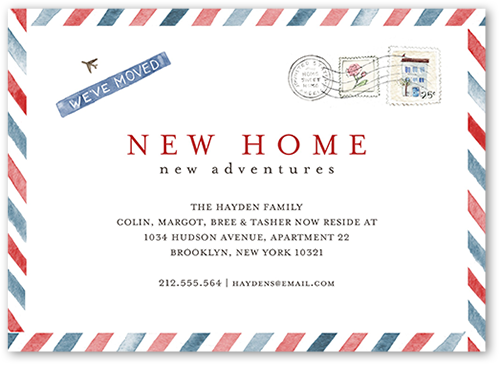 Air Mail Home 5x7 Moving Announcement Cards. Show your favorite picture in this elegant moving announcement. "Home sweet home" is superimposed on the photo along with your new address
Par Avion 5x7 Moving Announcement Cards. Show your favorite picture in this elegant moving announcement. "Home sweet home" is superimposed on the photo along with your new address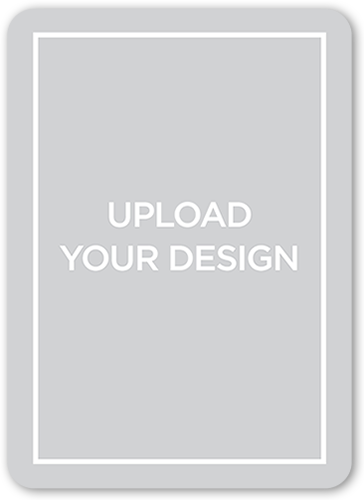 Upload Your Own Design 5x7 Moving Announcement Cards. Show your favorite picture in this elegant moving announcement. "Home sweet home" is superimposed on the photo along with your new address