What customers have to say about our Holiday Cards
January 27, 2019
I highly recommend this card!!
"Absolutely love this card they came out perfect!"
January 23, 2019
good purchase
"Paper is excellent quality as is the envelope. Shipping can be high unless you are ordering a larger number of cards but I only bought one."
January 23, 2019
I will absolutely use this product again.
"The first time I have used Shutterfly for our annual greeting card. Very pleased and will use again."
January 22, 2019
Chinese New Year
"Christmas came too soon. No cards went out. New Year's came and went! Still no cards were sent out. But thanx to Shutterfly, made it for a Chinese Greeting! Beautiful cards front and back with pictures of family sent! Halleluah!!!!!"
January 22, 2019
I looved these cards and they arrived so quickly!
"Shutterfly makes last minute projects easy .. I love these holiday cards and continue to make photo books each month with their app as well as edits on desktop site. I love Shutterfly!"
Two Greetings in One
If your family has moved recently, you need to update family and friends with your new address. Moving announcements are an easy way to spread the word about your family's move. They're even easier to create and send when you combine these moving announcements with your family's annual holiday card.
Shutterfly offers an array of moving announcement holiday card designs, allowing you to share your new address and send holiday greetings at the same time. These customizable designs allow you to feature favorite photos, choose different color schemes, and select the right paper type just for you.
Purpose of Moving Announcement Holiday Cards
Moving announcement holiday cards deliver two goals in one purchase. As a result, these cards are ideal to use once your family has settled into your new house during the holiday season. Since these contemporary Christmas cards deliver two greetings in one, you want to ensure you provide ample information on your card. First, include your family's new address so that your recipients can update their address book. Next, add holiday wishes to your card, along with your family members' names. With the convenience of just one card, you'll keep your friends and family updated on your family's changes while wishing them a happy holiday season at the same time.
Creation of Your Announcements
Shutterfly offers many moving announcement holiday card designs, allowing you to find one that speaks to your style. These flat cards come on two types of paper: Signature Cardstock or Pearl Shimmer Cardstock. Select from different trim options, including square, rounded, and scallop. Once you've chosen a design you love, it's time to start personalizing.
Shutterfly's design tools make this easy. You can adjust the orientation and layout of the card to your liking. Then, upload a favorite photo or multiple photos. Complete the text box to include your new address, family names, and holiday wishes. In these simple steps, you will create a stylish moving announcement Christmas card that your friends and relatives will love.
Practical and Festive Greeting
Shutterfly's moving announcement holiday cards help simplify your life. Rather than sending out two pieces of correspondence, opt for just one with this multifunctional card. While you're shopping, consider other cards and stationery products for life's important occasions.
Related Products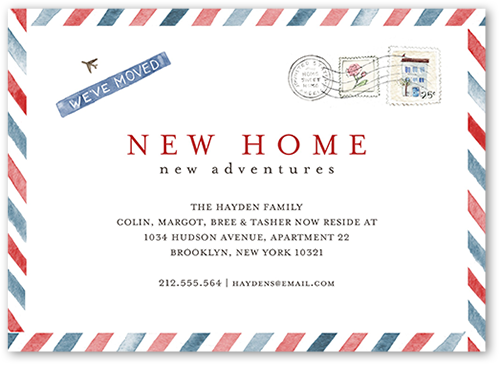 Air Mail Home 5x7 Moving Announcement Cards. Show your favorite picture in this elegant moving announcement. "Home sweet home" is superimposed on the photo along with your new address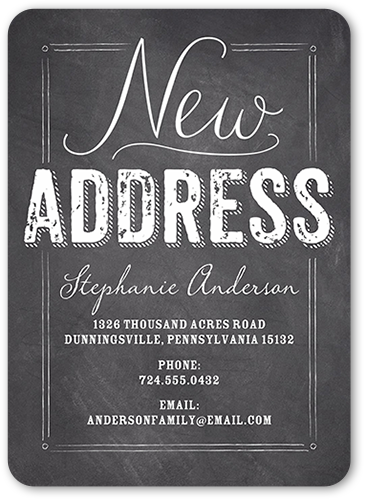 Chalkboard Home 5x7 Moving Announcement Cards. Show your favorite picture in this elegant moving announcement. "Home sweet home" is superimposed on the photo along with your new address
Par Avion 5x7 Moving Announcement Cards. Show your favorite picture in this elegant moving announcement. "Home sweet home" is superimposed on the photo along with your new address