Featured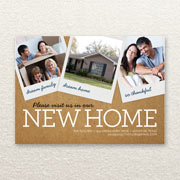 Let your family and friends know where to pay a visit with these moving announcements.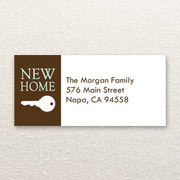 Let them know you're on the move with personalized address labels.

Moving Cards & Stationery
Share the big news about your move and new house with elegant and charming moving announcements and corresponding address labels. Shutterfly's collection of classic, modern and playful announcement card styles are sure to brighten the day of friends and family who are sad to see you go. These stylish new address cards will make it easy for them to stay in touch with you—and for them to make plans to visit you in your new home and present you with housewarming gifts!
Design Custom Change of Address Cards
Whether you're moving near or far, you'll have a blast designing your personalized moving announcements. Once you've selected your favorite design from Shutterfly's collection, it's quick and easy to customize your cards. With a variety of customization options, including colors, font styles, trim designs, card formats and more, you'll be able to create change of address cards that display your unique personality and style. If you want, you can also upload one or more photos to make your announcement card design even more sentimental. Opt to include a picture of your family waving goodbye or holding up a sign that says, "See you soon!" If you already have a picture of your new place, use that in your moving announcement as well to give loved ones a sneak peek. Last but certainly not least, add a custom message and don't forget to include your new address on your home card!
Personalized Moving Address Labels
With everyone getting so much mail nowadays, you'll want to do as much as possible to ensure your moving announcements aren't overlooked. The perfect way to make your change of address cards stand out and catch the attention of recipients is to add a little extra flair to your envelopes with our personalized address labels. Our address labels are available in a variety of creative designs. Select your favorite address announcement template and then make your we've moved postcard special with our custom font and color options—you can even upload a favorite picture. There's also an option to create your own address labels featuring your own unique design. Before completing your home announcement labels, be sure you've used your new mailing address!
Additional Moving Announcement Stationery
Want to go the extra mile and really make sure your change of address cards get noticed? Check out our other personalized stationery, photos, return address labels and customized moving envelopes to compliment your announcement postcards. Seal your envelopes in style with a customized self-inking home sweet home rubber stamp. Let Shutterfly make your we've moved cards a success and uniquely represent you as you settle into your new location.