Custom Self-Inking Rubber Stamps
What customers have to say about our Custom Self-Inking Rubber Stamps
January 18, 2019
Great stamper.
"Great Stamper. Comes out perfect every time. Nicely Sized too!"
"We love this! Our mail is going to be so cute now!"
January 14, 2019
I would buy this again
"Well made"
January 10, 2019
Love this stamp!
"We bought this to stamp our wedding thank you notes and it should work perfectly! Looks clean and professional. So glad I found this on Shutterfly!"
January 9, 2019
Has replaced my tacky sticker labels!
"I love sending letters but I've outgrown the sticker return labels. As an adult I'm investing in a sophicated stamp that makes letter writing fun again!"
Personalize Your Stationery With Custom Self-Inking Stamps
Save time during your busy day while getting creative with custom self-inking rubber stamps. Sending out numerous invitations, announcements or documents in the mail can take time, especially when you have to stamp each one of them. Whether you are planning to mail birth announcements, wedding invitations, holiday greetings or professional documents, an easier (not to mention more professional-looking and elegant) way to send your correspondence is with a custom self-inking stamp—a unique finishing touch that is sure to push the envelope. Each black inkpad is good for 800-1,000 uses, so you can use your custom design self-inking stamp for years as you send Christmas cards, party invitations, thank you cards, and more.
How to Make Custom Stamps
Shutterfly makes it easier than ever to create stationery that is truly you. From the card to the envelope, to custom mailing address labels and now rubber self-inking stamps, Shutterfly takes the cake when it comes to personalized stationery. It's easier than ever to upload your favorite memories and photographs for holiday greetings, wedding and birth announcements, moving notices, and birthday cards, to create greetings that are one-of-a-kind. Use the stamp design templates to select fonts, colors and messages for your custom stamp and you'll be set to finish each card, letter or greeting with your unique personalized touch. When you incorporate a custom rubber stamp on your correspondence it will wow your recipients. Make a self-inking address stamp with your monogram, your family's name, or with a unique design that will make a high-quality impression on your friends and family.
Uses for a Personalized Stamp
Personalized stamps make excellent gifts for just about everyone… especially for the favorite educator in your life (they work even better when paired with a special thank you card for teachers). You can use your own self-inking rubber stamp to make tags for your belongings, or things you want to sell in a store or even at a yard sale. A stamp can encourage your little ones to utilize best practices, such as sending thank you cards and other mail to friends, relatives and loved ones. You can even use this unique piece of stationery as a signature stamp you use on all of your mail and notes.
Custom Self-Inking Stamps Make the Best Personalized Stationery
A self-inking stamp with your address can help you make tags for both your and your kids' belongings. Between school, sports and friends, it is easy to get personal items mixed up. Help keep your child's backpack or lunchbox separated from the rest with a return address stamp (just in case it gets lost or misplaced). Shutterfly makes it easier than ever to translate your unique style, memories and pictures into stylish stationery, decorations and gifts. A personalized self-inking rubber stamp will keep you organized and help you mail your letters in style.
Related Products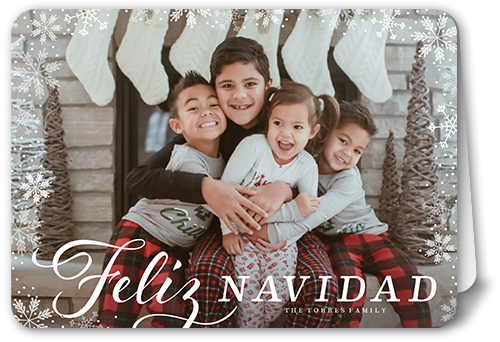 Sentimento Especial 5x7 Tarjeta de Navidad Card by Yours Truly. Share holiday memories con familia y amigos by adding a special personalized message to your customized tarjeta de Navidad – including all Spanish letras and acentos. It's the perfect regalito ...
Big Feliz 4x8 Photo Card by Shutterfly. Share holiday memories con familia y amigos by adding a special personalized message to your customized tarjeta de Navidad – including all Spanish letras and acentos. It's the perfect regalito for everyone on ...
Customized Sentiment 5x7 Personalized Foil Card by Yours Truly. Send a holiday card friends and family will love. Add your own greeting and everyone's names. There's room for more photos and wishes on the back, too.