New Home Address Labels
What customers have to say about our Address Labels
January 21, 2019
My family looks forward to this every year!
"Each year I make a calendar for my very large family and include the 75+ birthdays and anniversaries with pictures to enjoy. It's always a holiday favorite!"
January 19, 2019
I would order more labels if needed
"To mail out letters or cards to family & friends. Like the color & font"
January 16, 2019
Address Labels
"I love these address labels, they are so pretty. Everything was correct on the order and it came really quickly!"
January 15, 2019
Outstanding Holiday Cards
"Announcing our new address, retirment to Family & Friends - Wishing All a Happy New Year! Loved the full page text box for announcing big changes in our life and summary of year 2018."
January 7, 2019
My labels are ready for next year's Christmas cards! Love!
"They are pretty! I will use them on my Christmas cards."
New Home Custom Address Labels
Share the exciting news with new home personalized address labels. If you're moving – or just moved into your new home – congratulations on this exciting time! Before you start sending moving announcements or changes of address cards, you'll want to ensure change of address cards get noticed and opened by your friends and family members when they arrive in the mail. The perfect way to make your correspondence stand out and catch the attention of your recipients is to add a little extra flair to your envelopes with our new home address labels. Shutterfly's collection of stylish return address label designs will add personality and pop to your envelopes and wow your recipients.
Design New Home Personalized Return Address Labels
Our custom return address labels are available in a variety of creative designs. Select your favorite new home-themed address label template and then make it yours with our customization options. Once you've selected your favorite design from our collection, it's quick and easy to customize your new home address labels. With a wide array of customization options, including colors, font styles and font sizes, you'll be able to create one-of-a-kind return address labels that display your unique personality and style. Before completing your personalized address labels, be sure you've used your new mailing address and not your old one!
Cards & Stationery to Announce Your New Home
Want to go the extra mile and really make sure your moving announcements or change of address cards get noticed? Check out our personalized moving stationery items.Seal your envelopes in style with a customized self-inking rubber stamp. Add even more personality and style to any new address stationery item you send by designing custom stickers. When you combine our personalized address labels, rubber stamps and stickers, your mail won't be able to be ignored! These lovely add-on items will turn a plain envelope into an eye-catching one that begs to be opened. Loved ones will be delighted to receive and open your new home address announcements when you take just a bit of extra time to adorn your envelopes with style. And be prepared for them to make plans to visit you in your new home soon!
Related Products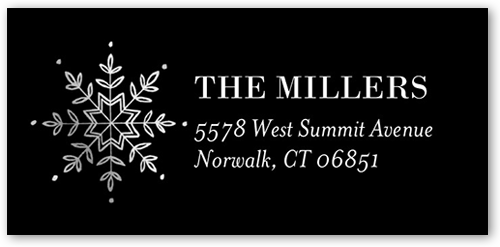 Gilded Snowflake Joy Christmas Return Address Labels. Address your envelopes with stylish address labels. Corresponding invitations, gift tags and thank you cards are available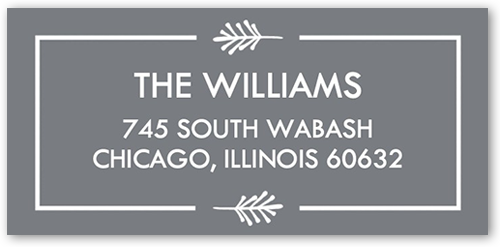 Merry Script Banner Christmas Return Address Labels. Address your envelopes with stylish address labels. Corresponding invitations, gift tags and thank you cards are also available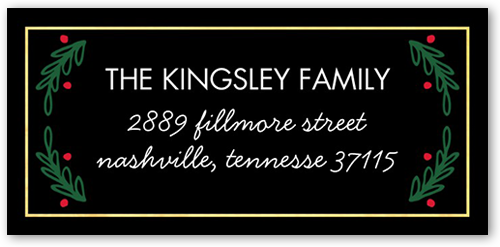 Simple Moments Christmas Return Address Labels. Address your envelopes with stylish address labels. Corresponding invitations, gift tags and thank you cards are also available