Photo Collage New Years Cards
What customers have to say about our New Year's Cards
January 27, 2019
I highly recommend this card!!
"Absolutely love this card they came out perfect!"
January 23, 2019
good purchase
"Paper is excellent quality as is the envelope. Shipping can be high unless you are ordering a larger number of cards but I only bought one."
January 23, 2019
I will absolutely use this product again.
"The first time I have used Shutterfly for our annual greeting card. Very pleased and will use again."
January 22, 2019
Chinese New Year
"Christmas came too soon. No cards went out. New Year's came and went! Still no cards were sent out. But thanx to Shutterfly, made it for a Chinese Greeting! Beautiful cards front and back with pictures of family sent! Halleluah!!!!!"
January 22, 2019
I looved these cards and they arrived so quickly!
"Shutterfly makes last minute projects easy .. I love these holiday cards and continue to make photo books each month with their app as well as edits on desktop site. I love Shutterfly!"
Photo Collage New Years Cards
Whether you want to talk about your new resolutions or it's just time to update your friends and extended relatives with new pictures of the family, photo collage New Years cards give you the flexibility and options you need to show off everything that has been going on in your life. The ability to select a few images brings the opportunity to capture the highlights of your year or your present goings-on, and photo New Years cards provide one more opportunity to connect for those who missed Christmas and holiday card postage dates.
Your Year, Your Style, Your State of Mind
The variety of options, layouts, colors, and fonts available for customizing your card means you will be able to find the fit with just the right attitude for you, and that lets you send a more personalized message that connects to your friends and family in ways that less personal methods of remembering rarely do. Choosing a card from sturdy cardstock means ensuring that it holds up for the display season, too, so it can be enjoyed throughout the holiday and into the new year.
Mixing In Gifts
When your New Years cards are going out along with seasonal gifts, it is easy to match the tone of one to the choice of the other by picking a color or a theme to fit them together. With keepsakes in elegant styles, you can easily add on a custom photo mug for each grandparent or a framed photograph for other relatives when you need a little something extra for those who are especially close to you.
No matter how your holiday remembrances go, remember that saying "Happy New Year" is a great way to connect with everybody, no matter how close or how loose an acquaintance, providing you with a great way to touch base as personally or as casually as you feel like things should be.
Throw a Party
If you decide on throwing a New Year's Eve party, there's a number of different New Year's party themes to choose from. If you enjoy mystery, a masquerade party would be the perfect theme. If the year has been a little tiring, then opt for a rest and relaxation party. For more New Year's Eve party ideas visit our blog.
Related Products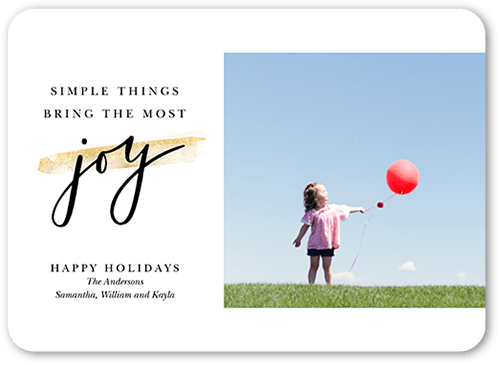 Honest Joy 5x7 Stationery Card by Yours Truly. Send a holiday card friends and family will love. Add your own greeting and everyone's names. There's room for more photos and wishes on the back, too.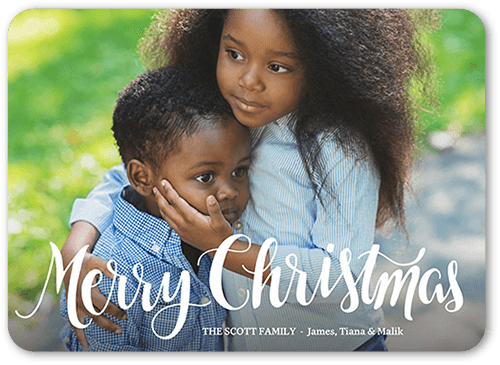 Simple Script Sentiment 5x7 Photo Card by Shutterfly. Send cheer to friends and family with this holiday card. Add your own greeting and everyone's names on the front.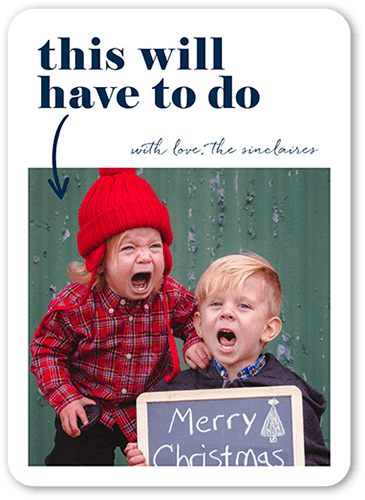 This Will Do 5x7 Stationery Card by Jill Smith. Send a holiday card friends and family will love. Add your own greeting and everyone's names. There's room for more photos and wishes on the back, too.